10 things you need to know today: November 12, 2018
California wildfire death toll rises to match the deadliest in state history, Democrats vow to protect Mueller's inquiry, and more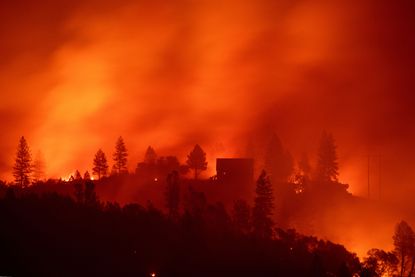 (Image credit: JOSH EDELSON/AFP/Getty Images)
1. Death toll in California wildfire rises to match state's deadliest
The death toll from several wildfires raging in California rose to at least 31 on Sunday. Twenty-nine people have died in the Camp Fire in Northern California, which matches the deadliest fire in state history. More than 200 people remain unaccounted for. The Woolsey Fire in Southern California has scorched 83,275 acres over the last few days, leaving at least two people dead. Top firefighters on Sunday pushed back against President Trump's tweets blaming California's deadly wildfires on "gross mismanagement." "His comments are reckless and insulting to the firefighters and people being affected," said Harold Schaitberger, president of the International Association of Fire Fighters. Brian K. Rice, president of the California Professional Firefighters, called Trump's threat to withhold federal aid unless state authorities improve forest management and prevent such disasters "ill-informed, ill-timed, and demeaning."
2. Democrats vow to prevent Whitaker from limiting Mueller
Democrats demanded on Sunday that President Trump's acting attorney general, Matthew Whitaker, recuse himself from overseeing Special Counsel Robert Mueller's investigation into Russia's election meddling and possible collusion by Trump campaign associates. Leading Democrats in the House vowed to use their new House majority to prevent the Trump administration from interfering with Mueller's work. Rep. Jerrold Nadler (D-N.Y.), incoming chairman of the House Judiciary Committee, said Whitaker, a Trump loyalist who has criticized Mueller's investigation, would be the first person the panel calls to testify when the new Congress convenes in January. Nadler said the committee would ask Whitaker how he can supervise the investigation when he has "expressed hostility" to it.
Subscribe to The Week
Escape your echo chamber. Get the facts behind the news, plus analysis from multiple perspectives.
SUBSCRIBE & SAVE
Sign up for The Week's Free Newsletters
From our morning news briefing to a weekly Good News Newsletter, get the best of The Week delivered directly to your inbox.
From our morning news briefing to a weekly Good News Newsletter, get the best of The Week delivered directly to your inbox.
3. Sinema's lead grows in Arizona Senate race
Democratic Rep. Kyrsten Sinema's lead in Arizona's too-close-to-call Senate race grew on Sunday. She is now 30,310 votes ahead of Republican Rep. Martha McSally, an edge of 1.4 percent out of the more than 2.1 million ballots counted, the Arizona secretary of state's office said. There are still days of vote counting ahead, and Sinema's campaign manager, Andrew Piatt, said Sinema's lead only stands to get bigger. "McSally can hope for a miracle tomorrow night but the data show it won't happen," he said. McSally campaign CEO Jim Bognet said there was "compelling evidence that the remaining uncounted ballots are favorable to Martha." Both sides called for all legal ballots to be counted. GOP officials backed away from President Trump's statements questioning the count's legitimacy.
4. Trump, Putin plan meeting in Argentina
President Trump and Russian President Vladimir Putin did not hold a meeting in Paris this weekend, as previously planned. Putin told RT France they decided "not to interrupt the schedule" of events commemorating the 100th anniversary of the armistice to end World War I. Yuri Ushakov, Putin's foreign affairs adviser, told Russian state television their planned meeting was canceled at the request of the French government. Trump and Putin did shake hands at a ceremony in front of the Arc de Triomphe. Putin said while this meeting didn't pan out, they are planning a one-on-one meeting for later this month when they are in Argentina at the G20 summit.
5. Republicans step up complaints over Florida recount
As Florida began recounts in its Senate and gubernatorial races, attorneys for Florida's Republican governor, Rick Scott, filed motions to force elections supervisors in heavily Democratic Palm Beach and Broward counties to hand over custody of vote-tabulation machines to law enforcement officials when they are not in use. The move came days after Scott, who narrowly leads in his effort to unseat Sen. Bill Nelson (D-Fla.), claimed without evidence that "unethical liberals" were trying to steal the election in the South Florida counties. Scott's edge over Nelson has slowly but steadily decreased since election day as more ballots are counted, as has Republican gubernatorial candidate Ron DeSantis' lead over Democrat Andrew Gillum.
6. Mississippi senator's joke about 'public hanging' sparks outrage
Sen. Cindy Hyde-Smith (R-Miss.) faced a swift backlash on Sunday after she was heard saying in a video posted to Twitter that she would "be on the front row" if a cattle rancher hosting a Nov. 2 event invited her to a "public hanging." The full context of the comment was not immediately clear, but Democrat Mike Espy, who faces Hyde-Smith in a Nov. 27 runoff, called the comment "reprehensible." Espy is vying to become the first black senator to represent Mississippi since Reconstruction. "With the history of lynching of Mississippi, you just don't say something like that," said Cristen Hemmins, chair of the Lafayette County Democrats. Hyde-Smith, who was appointed to replace Sen. Thad Cochran after he resigned for health reasons, said she was just expressing regard for the rancher, and "any attempt to turn this into a negative connotation is ridiculous."
7. China's Alibaba breaks Singles Day sales record
Chinese e-commerce giant Alibaba announced early Monday that it set another sales record on its Nov. 11 Singles Day promotion, the world's biggest shopping holiday of the year. Alibaba said it sold $30.8 billion worth of goods, easily beating last year's $25.3 billion Singles Day total. Singles Day sales have grown in recent years to exceed those racked up in the U.S. during the whole of Thanksgiving week. Despite the big number, Singles Day sales growth slowed in its 10th year, falling to 27 percent from 39 percent in 2017. Shoppers ordered more than 1 billion packages from 180,000 brands on Alibaba and its affiliated services.
The New York Times Yahoo Finance
8. 7 Palestinians, 1 Israeli officer die in Gaza operation
Seven Palestinians and one Israeli military officer were killed Sunday in an apparent Israeli intelligence operation that went wrong in the Palestinian-controlled Gaza Strip. One of the Palestinians who died was a senior commander in the military wing of Hamas, which runs Gaza. The Israeli who died was a lieutenant colonel. Another officer was wounded. The clash, which came despite a cease-fire, was the first known Israeli ground incursion into Gaza since an operation that sparked a seven-week war in July 2014. Palestinian witnesses said Israeli forces in an unmarked vehicle killed the Hamas commander. A gun battle erupted and Israelis responded with strikes by tanks and aircraft, the witnesses said. Palestinian militants responded by firing rockets into Israel.
9. 'Fake news' sparks protests over Pakistan blasphemy case
Pakistan's information minister, Fawad Chaudhry, warned Monday that "fake" images on social media purporting to show Aasia Bibi, a Christian woman acquitted of blasphemy charges after eight years on death row, leaving the country could spark violence. Chaudhry called the posts, including one claiming to show Bibi meeting Pope Francis, "fake news." Radical Islamists are demanding that Bibi be publicly executed. The government says Bibi is being kept at a secret location in Pakistan pending a review of her case. The country's Supreme Court on Oct. 21 acquitted the 54-year-old mother of five. Prime Minister Imran Khan has defended the court and warned radical religious groups against using the case to stir up street protests, but bent to Islamists by allowing a review of Bibi's acquittal.
10. The Grinch leads the weekend box office with a $66 million debut
Dr. Seuss' The Grinch led the box office with a $66 million haul on its opening weekend, according to studio estimates on Sunday. Queen biopic Bohemian Rhapsody, which opened at the top last week, fell to No. 2 with $31 million, bringing its total to $100 million. The latest take on the 1957 Dr. Seuss Christmas classic, a book that led to a 1966 TV special and later a 2000 live-action film starring Jim Carrey, was made by Illumination, the Universal Pictures animation arm behind The Minions and Despicable Me. The new Grinch film is narrated by Pharrell Williams and provides a backstory about the orphanage upbringing of the Grinch, who is voiced by Benedict Cumberbatch.

Continue reading for free
We hope you're enjoying The Week's refreshingly open-minded journalism.
Subscribed to The Week? Register your account with the same email as your subscription.