10 things you need to know today: November 16, 2018
Florida heads into manual recount of its tight Senate race, more than 600 missing as California's Camp Fire toll keeps rising, and more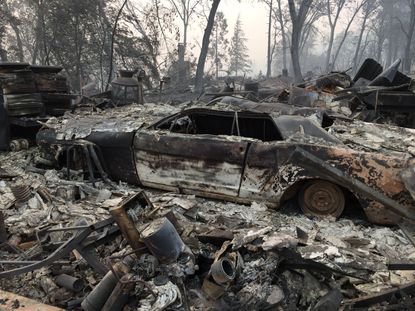 (Image credit: JAVIER TOVAR/AFP/Getty Images)
1. Hand recount ordered in Florida's Senate race
Florida's secretary of state on Thursday ordered an unprecedented statewide hand recount of ballots cast in the state's Senate race between incumbent Sen. Bill Nelson, a Democrat, and his Republican challenger, outgoing Gov. Rick Scott, after a machine recount showed little change to Scott's 12,600-vote, 0.15 percent lead. Florida law requires a hand recount when a race is within 0.25 percent. Republican Ron DeSantis held onto his 0.41 percent lead over Democrat Andrew Gillum in the gubernatorial race after the machine recount, falling outside the quarter-point threshold and indicating that DeSantis will be governor-elect, barring a legal challenge by Gillum. Canvassing boards in the state's 67 counties now have three days to review thousands of rejected ballots to get a final tally in the Senate race.
2. Northern California's Camp Fire death toll rises, more than 600 missing
Search crews found seven more bodies in the area burned by the Camp Fire in Northern California on Thursday, raising the death toll to at least 63 in what was already the deadliest fire in state history. Three of the bodies were found in Paradise, a town destroyed by the fire in a matter of hours. Authorities also announced a dramatic increase in the number of people unaccounted for, raising the number to 631 people from 130 the day before. The Camp Fire has destroyed 11,862 structures, and thousands of people are now living in shelters or tent cities. More than 140 Camp Fire evacuees at four shelters have been stricken with symptoms of norovirus, and 41 remain ill, according to Butte County Public Health Department.
Subscribe to The Week
Escape your echo chamber. Get the facts behind the news, plus analysis from multiple perspectives.
SUBSCRIBE & SAVE
Sign up for The Week's Free Newsletters
From our morning news briefing to a weekly Good News Newsletter, get the best of The Week delivered directly to your inbox.
From our morning news briefing to a weekly Good News Newsletter, get the best of The Week delivered directly to your inbox.
Los Angeles Times The Modesto Bee
3. EPA official arrested on ethics charges
The Trump administration's top environmental official in the Southeast, Trey Glenn, was arrested Thursday on criminal ethics charges. Glenn, 47, is accused of trying to help a coal company avoid paying to clean up toxic waste. Before Glenn's appointment as chief of the Environmental Protection Agency's southeastern regional office in Atlanta, he and his then-business partner Scott Phillips worked for Drummond Co., a coal company, trying to stoke opposition to a federal Superfund cleanup in Birmingham, Alabama, that Drummond was to help fund. Glenn and Phillips were indicted earlier this week. Glenn said the charges "are totally unfounded," and he vowed to fight them. "I am innocent and expect to be fully vindicated," he said. The EPA declined to comment.
4. Pelosi says she has enough support to be House speaker
House Minority Leader Nancy Pelosi (D-Calif.) said Thursday that she had enough backing to be elected the speaker of the House as Democrats prepare to take over the majority when the newly elected Congress convenes in January. The claim came as one Democrat, Rep. Marcia Fudge (D-Ohio), said she was considering challenging Pelosi, who in 2007 became the first woman ever to serve as House speaker. Pelosi dismissed Fudge as a threat. Some Democrats, including several newly-elected women who unseated Republicans in states President Trump won, want a change. "People in my district on both sides of the aisle feel that it's time for a new generation of leadership," said incoming Rep. Elissa Slotkin (D-Mich.).
5. U.S. targets 17 Saudis with sanctions over Khashoggi's murder
The Trump administration on Thursday announced sanctions against 17 Saudi officials for their alleged involvement in the murder of Washington Post columnist Jamal Khashoggi, a critic of Saudi Crown Prince Mohammed bin Salman who was killed after entering the Saudi consulate in Istanbul, Turkey. The 17 people on the list whose assets will be frozen and who will be banned from doing business with Americans include the alleged 15-man hit squad, the Saudi consul general in Istanbul, and a senior adviser to the crown prince. The Saudis have charged at least 11 of the men. After at first denying the killing then calling it an accident, the Saudis now say the team killed Khashoggi with an overdose of tranquilizer without authorization from their superiors. Saudi Arabia on Thursday threatened the death penalty against five of the defendants.
6. U.S. reportedly secretly charged WikiLeaks' Julian Assange
The U.S. has secretly charged WikiLeaks founder Julian Assange with unspecified crimes, prosecutors inadvertently revealed in a filing in a separate case in a U.S. District Court in Virginia, according to Thursday news reports. In the filing, Assistant U.S. Attorney Kellen S. Dwyer urged a judge to keep the matter sealed, writing that "due to the sophistication of the defendant and the publicity surrounding the case, no other procedure is likely to keep confidential the fact that Assange has been charged." Dwyer later wrote that the charges should "remain sealed until Assange is arrested." The U.S. Attorney's office said the filing was a mistake. Special Counsel Robert Mueller has examined WikiLeaks' publishing of Democrats' emails that investigators believe Russian spies hacked and gave to WikiLeaks during the 2016 presidential campaign.
7. Court acknowledges Khmer Rouge regime's genocide
An international tribunal on Friday found the last two surviving leaders of Cambodia's Khmer Rouge regime guilty of genocide and other crimes. The ruling against Nuon Chea and Khieu Samphan, now 92 and 87, came almost four decades after the collapse of Pol Pot's tyrannical communist regime. More than 1.7 million people, roughly a fifth of Cambodia's population, are believed to have died during the Khmer Rouge's 1975 to 1979 reign from forced labor, starvation, and execution. The ruling marked the first time a court had established that the Khmer Rouge committed genocide against Cambodia's Vietnamese and Cham minorities. Nuon Chea and Khieu Samphan were sentenced to life in prison. They are already serving life sentences for crimes against humanity.
8. FDA proposes restrictions on e-cigarette, menthol sales
The Food and Drug Administration on Thursday announced proposals to restrict the sale of flavored e-cigarettes and outlaw menthol cigarettes and flavored cigars. The limit on e-cigarettes would require stores to keep the products in restricted areas inaccessible to minors; the effort to roll back access comes days after e-cigarette company Juul announced it would stop selling flavored nicotine pods in stores in an attempt to curb teen use. A ban on menthol cigarettes and flavored cigars, which account for 35 percent of cigarette sales, will likely require a lengthy legal process. FDA commissioner Scott Gottlieb said the proposed restrictions on flavored smoking and vaping products "significantly advance our efforts to combat youth access and appeal."
The Washington Post The New York Times
9. Trump Jr.'s India business trip reportedly cost taxpayers $100,000
Donald Trump Jr.'s February trip to sell luxury condos in India resulted in a $97,805 bill paid with taxpayer money, The Washington Post reported Thursday, citing documents obtained through a public records request. Trump Jr. took the trip as the executive vice president of his family's real estate company. The Secret Service accompanied him, accounting for some of the costs. Other expenses included hotel rooms, airfare, and car rentals. During his trip, Trump Jr. met with Indian Prime Minister Narendra Modi and hosted champagne dinners for prospective buyers. Watchdog organizations criticized the spending. "Essentially the government is spending money for the president's private businesses," said Jordan Libowitz of the group Citizens for Responsibility and Ethics.
10. David Hockney painting sells for a record $90.3 million
David Hockney's "Portrait of an Artist (Pool with Two Figures)" sold on Thursday for $90.3 million, setting a new auction record for a living artist. The sale of Hockney's 1972 painting of two men and a turquoise pool shattered the previous mark of $58.4 million that was held by Jeff Koons for one of his "Balloon Dog" sculptures sold in 2013. The bidding on Hockney's oil painting lasted nine minutes, with the two most active bidders calling in by telephone and quickly pushing the price above the expected $80 million. Hockney, 81, is considered one of the most influential British artists. The auction also produced new highs for works by two African-American artists, the latest in a series of signs of new demand for living artists coinciding with a shortage of masterworks available for sale.

Continue reading for free
We hope you're enjoying The Week's refreshingly open-minded journalism.
Subscribed to The Week? Register your account with the same email as your subscription.