10 things you need to know today: November 21, 2018
Trump stands by Saudi Arabia despite Khashoggi murder, Democrats vow to investigate Ivanka Trump's use of personal email, and more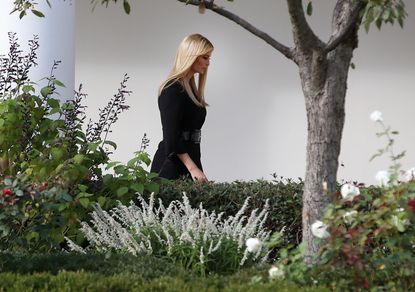 (Image credit: Mark Wilson/Getty Images)
1. Trump says Saudi Arabia partnership unchanged by Khashoggi killing
President Trump said Tuesday the U.S. would remain a "steadfast partner" of Saudi Arabia despite American intelligence agencies' conclusion that the country's de facto ruler, Crown Prince Mohammed bin Salman, ordered the killing of Jamal Khashoggi. The Saudi dissident journalist was murdered in Saudi Arabia's consulate in Istanbul, Turkey. Trump defied bipartisan pressure to impose tougher sanctions on Saudi Arabia, and said he would not cancel contracts to sell military equipment to the country's government. Trump said in a statement that it "could very well be that the Crown Prince had knowledge of this tragic event – maybe he did and maybe he didn't!" But he added that canceling the arms sales would be "foolish" because Russia and China would get the business instead.
2. Democrats vow investigation of Ivanka Trump email scandal
Democrats on Tuesday called for an investigation into Ivanka Trump's reported use of a personal email account last year in her work for her father, President Trump. The office of Ivanka Trump's lawyer said she never discussed classified information in the emails, which were discovered in a White House review. The communications could violate a presidential records law, and have prompted critics to accuse the administration of hypocrisy, because during the 2016 campaign President Trump repeatedly attacked Hillary Clinton for using a private email server as secretary of state. Rep. Elijah Cummings, the top Democrat on the House Oversight Committee, vowed to investigate when Democrats take control of the House in January. "We want to know if Ivanka complied with the law," he said.
Subscribe to The Week
Escape your echo chamber. Get the facts behind the news, plus analysis from multiple perspectives.
SUBSCRIBE & SAVE
Sign up for The Week's Free Newsletters
From our morning news briefing to a weekly Good News Newsletter, get the best of The Week delivered directly to your inbox.
From our morning news briefing to a weekly Good News Newsletter, get the best of The Week delivered directly to your inbox.
3. Fudge decides not to challenge Pelosi for House speaker
Rep. Marcia Fudge (D-Ohio), who had been considering running for House speaker, announced Tuesday that she would not challenge longtime party leader Rep. Nancy Pelosi (D-Calif.) for the job, and would instead endorse her. Fudge had been Pelosi's most prominent potential challenger, so her announcement removed a key obstacle to Pelosi's effort to become speaker when Democrats take over control of the House in the new Congress. Fudge said she had several reasons for her decision, including Pelosi's assurances that black women "will have a seat at the decision-making table." Pelosi said she planned to revive a subcommittee on elections and make Fudge the chair, giving her a "critical role in our Democratic majority's efforts to ensure access to the ballot box for all Americans."
4. Trump reportedly told McGahn he wanted to prosecute Clinton, Comey
President Trump reportedly told then-White House Counsel Don McGahn last spring that he wanted to order the Justice Department to prosecute former Secretary of State Hillary Clinton and former FBI Director James Comey, The New York Times reported Tuesday, citing two people familiar with the conversation. McGahn reportedly told Trump he didn't have the power to order a prosecution, but could order an investigation. McGahn, however, had White House lawyers write a memo warning that targeting rivals in such a way could provoke allegations of power abuse. Trump reportedly has continued to privately discuss the matter. The White House declined to comment. McGahn's lawyer said to McGahn's knowledge, "the president never ... ordered that anyone prosecute" Clinton or Comey.
5. Trump reportedly sends Mueller written responses to questions
President Trump has given Special Counsel Robert Mueller written responses to questions asked about Russian meddling in the 2016 presidential election, Trump's lawyers said Tuesday. Attorney Jay Sekulow said copies of the questions and Trump's answers, as well as correspondence between Trump's legal team and Mueller's office, will not be released to the public. This is the first time Trump has directly cooperated with the probe, The Associated Press reports. It took about a year for Mueller's office and Trump's attorneys to reach the compromise of Trump answering Russia-related questions without having to appear for a sit-down interview. Part of the compromise included Mueller setting aside for the time being questions about obstruction of justice in relation to the firing of former FBI Director James Comey, AP reports.
6. Espy criticizes Hyde-Smith for 'public hanging' comment
Democrat Mike Espy said in a Tuesday debate ahead of a Nov. 27 runoff that appointed Sen. Cindy Hyde-Smith (R-Miss.) had given Mississippi "another black eye" with her recent comment in which she joked that she would attend a "public hanging" if a valued supporter asked. Hyde-Smith said the comment had been "twisted" into "a weapon" against her. Several companies, including Walmart, have asked Hyde-Smith to return campaign donations, calling the remark contrary to their values. Hyde-Smith ignited more criticism Tuesday with the resurfacing of a Facebook post showing her holding a rifle and wearing a Confederate soldier's hat during a 2014 visit to the home and presidential library of Jefferson Davis, who was president of the Confederacy during the Civil War. In the post, Hyde-Smith wrote: "Mississippi history at its best!"
7. Democrat Ben McAdams beats Republican Rep. Mia Love in Utah
Democrats flipped another Republican-held congressional seat on Tuesday, when The Associated Press projected challenger Ben McAdams had beaten Republican Rep. Mia Love of Utah. Love, the first and only black female Republican in Congress, was seeking a third term. McAdams led Love by fewer than 700 votes, and if she had received 20 more votes she would have been able to request a recount under state law. McAdams' win adds to the Democrats' majority in the House when the new Congress convenes in January after midterm elections in which they flipped more than three dozen seats that had been held by Republicans.
8. Suicide bomber kills dozens at Islamic-scholar gathering in Afghanistan
A suicide bomber attacked a banquet hall in Afghanistan's capital on Tuesday during a gathering of Islamic religious scholars who had gathered to commemorate the anniversary of the Prophet Mohammad's birth, killing more than 50 people. More than 80 others were injured, upwards of 40 of them critically. President Ashraf Ghani called the attack "un-Islamic" and "unforgivable." Both the Taliban militant group and a local Islamic State affiliate have targeted religious scholars aligned with the government before. The Taliban denied involvement and condemned the attack.
9. CDC warns against eating romaine lettuce due to E. coli outbreak
The Centers for Disease Control and Prevention on Tuesday warned consumers not to eat romaine lettuce, saying it is unsafe due to an outbreak of illnesses from a particularly dangerous type of E. coli contamination. The CDC said consumers should throw away any romaine they have already purchased, and refrain from buying more until the alert is lifted. Restaurants are advised not to serve the lettuce, and stores are on notice not to sell it. The warning applies to all romaine lettuce, no matter where it was grown. Thirty-two people in 11 states have fallen ill from eating contaminated romaine. Thirteen of them have been hospitalized, one with a form of kidney failure. Eighteen people in Canada have been infected with the same strain of E. coli.
10. Glamour magazine to end print publication and go digital-only
Publisher Conde Nast announced Tuesday that it would end regular print publication of Glamour magazine. The company said it would continue to print occasional special editions of Glamour, including its annual Women of the Year award or topics such as power and money, but would focus its efforts on its website. The monthly magazine's circulation has held steady at around 2.2 million over the last three years, but its web traffic has risen by 12 percent to 6.3 million monthly unique viewers since digital journalist Samantha Barry took over as the magazine's top editor in January. "It's where the audiences are, and it's where our growth is," Barry told The New York Times in an interview. "That monthly schedule, for a Glamour audience, doesn't make sense anymore."

Continue reading for free
We hope you're enjoying The Week's refreshingly open-minded journalism.
Subscribed to The Week? Register your account with the same email as your subscription.