10 things you need to know today: November 20, 2018
Ivanka Trump used private email to discuss government business, the Pentagon aims to bring troops home from Mexico border, and more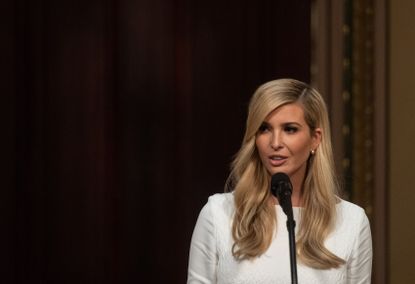 (Image credit: NICHOLAS KAMM/AFP/Getty Images)
1. Ivanka Trump used private email to discuss government business
Ivanka Trump sent hundreds of emails through a private email account to White House aides, Cabinet officials, and her assistants last year, potentially violating federal records rules, The Washington Post reported Monday, citing several people familiar with the matter. White House ethics officials found out about the emails in a review of messages collected to respond to a public records lawsuit last fall. The emails were about official White House business, her schedule, and travel. During the 2016 presidential campaign, President Trump criticized Hillary Clinton for using a personal email server as secretary of state. A spokesman for Ivanka Trump's attorney said she sent the emails before learning about records rules, and none of the emails included classified information.
2. Troops to leave border, judge blocks Trump's asylum policy
The 5,800 U.S. troops sent to the southern border to provide assistance to Customs and Border Protection agents should all be home by Christmas, Army Lt. Gen. Jeffrey Buchanan told Politico Monday. "Our end date right now is 15 December, and I've got no indications from anybody that we'll go beyond that," Buchanan said. The troops were deployed to the border before the midterms, with President Trump saying they were there to deal with an "invasion" of migrants headed to the United States from Central America. After the deployment, Democrats accused Trump of using the troops as part of a political stunt. Trump also ordered the denial of asylum requests for any migrants illegally crossing the border outside official entry points, but a federal judge on Monday temporarily blocked the policy, saying it likely violated federal law on asylum eligibility.
Subscribe to The Week
Escape your echo chamber. Get the facts behind the news, plus analysis from multiple perspectives.
SUBSCRIBE & SAVE
Sign up for The Week's Free Newsletters
From our morning news briefing to a weekly Good News Newsletter, get the best of The Week delivered directly to your inbox.
From our morning news briefing to a weekly Good News Newsletter, get the best of The Week delivered directly to your inbox.
3. Senate Democrats sue to challenge Matthew Whitaker appointment
Three Democrats on the Senate Judiciary Committee on Monday filed a lawsuit challenging President Trump's appointment of Matthew Whitaker as acting attorney general after forcing out former Attorney General Jeff Sessions earlier this month. Sens. Richard Blumenthal (D-Conn.), Sheldon Whitehouse (D-R.I.), and Mazie Hirono (D-Hawaii) argued in their 17-page complaint that the appointment violated the appointments clause of the constitution, which requires Senate confirmation of all top federal officers. Senators have the right to consider Whitaker's "espoused legal views, his affiliation with a company that is under criminal investigation for defrauding consumers, and his public comments criticizing and proposing to curtail ongoing DOJ investigations that implicate the president," the Democrats said. The state of Maryland, in an immigration case, and lawyers in a gun rights case also have challenged the appointment.
4. U.S. temporarily blocks border crossing to install new barriers
The U.S. blocked northbound traffic at the busiest crossing on the Mexican border for several hours on Monday to install new security barriers. The temporary border shutdown came the day after hundreds of Mexicans in Tijuana, across the border from San Diego, California, took to the streets to protest the arrival of a caravan of about 3,000 Central American migrants trying to seek asylum or otherwise get into the U.S. The protesters shouted "Mexico first!" and "Out! Out!" Some likened the caravan to an invasion of their Mexican border city, echoing language President Trump has used as he vowed to keep the migrants out of the U.S. The movable, wire-topped barriers threaten to complicate travel for the 110,000 people who enter the U.S. at the crossing daily, many of whom work on the U.S. side.
5. CNN drops lawsuit after White House says Jim Acosta's credentials fully restored
CNN said Monday it had dropped its lawsuit against the White House because Trump administration officials had told the network they were fully restoring the press credentials of CNN's White House reporter Jim Acosta. A federal judge last week sided with CNN and ordered the White House to temporarily restore Acosta's press pass to allow him to challenge a decision to revoke it. The Trump administration stripped Acosta's access after he had a confrontational exchange with President Trump in a news conference. "Today the White House fully restored Jim Acosta's press pass," CNN said in a statement. "As a result, our lawsuit is no longer necessary." The White House issued new guidelines limiting reporters to one question, with follow-ups at the discretion of White House officials.
6. 16 Democrats vow to oppose Pelosi bid for House speaker
Sixteen Democrats on Monday vowed to oppose House Minority Leader Nancy Pelosi's bid to become speaker when Democrats assume control of the House in the next Congress. The Democrats in a letter said that Pelosi (D-Calif.) is "a historic figure," but added that the party won a House majority in the midterms "on the backs of candidates who said that they would support new leadership because voters in hard-won districts, and across the country, want to see real change in Washington. We promised to change the status quo, and we intend to deliver on that promise." Pelosi has led the Democratic caucus for 16 years, and was the first woman ever to serve as House speaker. The 16 opponents present a major challenge to Pelosi. She needs 218 of the 233 seats Democrats have won to be elected speaker on Jan. 3, so she can only afford to lose 15 votes.
7. Gunman kills police officer, 2 others at Chicago hospital
A gunman killed a Chicago police officer and two other people in an attack at a South Side hospital on Monday. Witnesses said the gunman fatally shot his girlfriend, emergency room doctor Tamara O'Neal, outside the hospital after a confrontation, apparently over a "broken engagement," the Chicago Tribune reported. The gunman, who had a concealed carry license, then ran into the hospital, exchanging gunfire with police officers arriving on the scene. Officer Samuel Jimenez, 28, was fatally shot in the lobby. Dayna Less, a 25-year-old first-year pharmacy resident, was shot as she walked out of an elevator. The suspect was found dead with a gunshot wound to the head as hospital workers and police rushed through the halls looking for more victims.
8. Pentagon review finds 'little clear progress' in Afghanistan
The U.S. and Afghanistan have made "little clear progress" with recent efforts to get the Taliban to negotiate a peace deal, according to a Pentagon assessment released Monday. "Progress toward peace remains elusive," Glenn A. Fine, the acting Pentagon inspector general, wrote in a comprehensive review of conditions in Afghanistan in July through September. Secretary of State Mike Pompeo said on a July visit to Kabul that the Trump administration's revised war strategy, announced in August 2017, was "indeed working," but the assessment offered little evidence that the Afghan government and the Taliban were closer to reconciliation. "We're a long way from where we could say that we're on the right path," Gen. Joseph Dunford, chairman of the Joint Chiefs of Staff, said Saturday.
9. Stocks dive in tech-led selloff
The main U.S. stock indexes plunged on Monday, weighed down by negative news about Apple and Facebook. Facebook shares fell by nearly 6 percent in continued fallout from a New York Times report on the social network's aggressive response to criticism over its handling of fake news and other efforts to influence public opinion. Apple shares fell by 5 percent after a Wall Street Journal report that disappointing sales had prompted the company to cut orders for its latest iPhones. Shares of Google-parent Alphabet also fell by 4 percent. The Dow Jones Industrial Average closed down by 1.6 percent, while the tech-heavy Nasdaq Composite lost 3 percent and the S&P 500 dropped by 1.7 percent. Stock futures fell further early Tuesday, suggesting more tech-fueled selling.
10. Biographer, not comedian, to speak at White House correspondents' dinner
Presidential biographer Ron Chernow will headline the annual White House correspondents' dinner next spring, the White House Correspondents' Association announced Monday. The selection of Chernow, who has written about Alexander Hamilton, George Washington, and Ulysses S. Grant, marked a departure from tradition. For decades, the dinner's featured speakers have been comedians who roasted the president and other political figures. Comedian Michelle Wolf last year focused harsh criticism on President Trump, who did not attend, and White House Press Secretary Sarah Huckabee Sanders, setting off a backlash. Wolf called the WHCA "cowards." The organization's president, Olivier Knox, said he was "delighted" that Chernow would "share his lively, deeply researched perspectives on American politics and history" at the 2019 event.

Continue reading for free
We hope you're enjoying The Week's refreshingly open-minded journalism.
Subscribed to The Week? Register your account with the same email as your subscription.