10 things you need to know today: November 25, 2018
EU leaders agree to Brexit deal, Trump claims asylum seekers will wait in Mexico, and more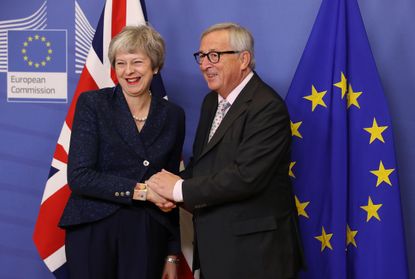 (Image credit: Sean Gallup/Getty Images)
1. EU leaders agree to Brexit deal
European Union leaders on Sunday supported British Prime Minister Theresa May's proposal for the United Kingdom's exit from the EU next year. The 585-page document must now be approved by the U.K. Parliament in a vote expected to be held Dec. 11. A difficult vote is anticipated, as May faces resistance both from those who oppose Brexit and from Brexit supporters who believe her plan concedes too much to the EU. European Commission President Jean-Claude Juncker warned the latter group they are unwise to try to hold out for a better arrangement, arguing Sunday this deal is the best realistic option.
2. Trump claims asylum seekers will wait in Mexico
President Trump said on Twitter Saturday evening migrants seeking asylum at the southern border will wait in Mexico while their claims are processed. His comments fit with a Saturday Washington Post report that the Trump administration had reached a deal with Mexico's incoming government to keep migrants in Mexico while their cases are considered. The Post story cited senior figures in President-elect Andrés Manuel López Obrador's transition team, and The Wall Street Journal made a similar report.
Subscribe to The Week
Escape your echo chamber. Get the facts behind the news, plus analysis from multiple perspectives.
SUBSCRIBE & SAVE
Sign up for The Week's Free Newsletters
From our morning news briefing to a weekly Good News Newsletter, get the best of The Week delivered directly to your inbox.
From our morning news briefing to a weekly Good News Newsletter, get the best of The Week delivered directly to your inbox.
The Washington Post The Wall Street Journal
3. Mexico denies deal to host waiting asylum seekers
The incoming Mexican government on Saturday denied the day's reports from The Washington Post, The Wall Street Journal, and President Trump that the country was willing to serve as a "waiting room for America's asylum system," in the Post's phrasing. Incoming Foreign Minister Marcelo Ebrard said no specific agreement has been proposed or settled. Likewise, incoming Interior Minister Olga Sanchez Cordero told Reuters no deal has been made, a statement contrary to what she told the Post. U.S. officials assured the Post negotiations are indeed underway, but the incoming Mexican government is unready for a public commitment.
4. Search and rescue continues in Camp Fire aftermath
Southern California's Woolsey Fire is 100 percent contained as of Saturday, and northern California's deadly Camp Fire is 98 percent contained as of Saturday night. While the great bulk of firefighting work is now complete, search and rescue operations are still underway. At least 250 people remain missing in connection to the Camp Fire, down from a high of more than 1,000, and a team of 820 continued search operations over the Thanksgiving holiday. Heavy rains that helped put out the fire have also complicated search efforts, though officials say it can make work easier for dogs searching for human remains.
5. Trump announces new rally for GOP senator who made 'public hanging' remark
President Trump tweeted Sunday morning he will be in Mississippi Monday rallying for Sen. Cindy Hyde-Smith (R-Miss.), whom he called "an outstanding person ... Needed in D.C." Hyde-Smith is in a close runoff race after she said she'd "be on the front row" if a supporter invited her to "a public hanging," a comment widely linked to Mississippi's history of lynching. Over the weekend, new reports indicated she attended and sent her daughter to "segregation academies" formed to avoid integrating public schools, and that she promoted a measure praising a Confederate soldier for "defend[ing] his homeland."
6. Russia, Syria accuse rebels of gas attack in Aleppo
Russia and Syrian state media have accused Syrian rebel fighters of responsibility for a gas attack that reportedly injured about 100 people in the city of Aleppo late Saturday. Rebel leaders denied the accusation, but Russia said Sunday it had retaliated with airstrikes. Zaher Batal of the Aleppo Doctors Syndicate told Reuters gas attack victims, children among them, experienced symptoms including constrained breathing and eye inflammation. "We cannot know the kinds of gases but we suspected chlorine and treated patients on this basis because of the symptoms," he said. This is the first gas attack on civilians in Aleppo.
7. Iranian leaders slam U.S., Israel
Iranian Supreme Leader Ayatollah Ali Khamenei on Sunday claimed the United States and other world powers are "show[ing] interest for the Middle East because of Islamic awakening in this region. They are afraid of the awakening of the Islamic nations ... because of blows they have suffered wherever Islam has spread to peoples' hearts." His comments came a day after unusually harsh rhetoric from Iranian President Hassan Rouhani, who on Saturday also criticized the U.S. while calling Israel a "cancerous tumor" and "fake regime" in his region.
8. Party boat accident kills 29 in Uganda
A party boat carrying about 100 people capsized on Lake Victoria in Uganda on Saturday, killing at least 29. As of Sunday, an unknown number of boat passengers remain missing as rescue efforts continue. The boat was carrying double its proper capacity, said Ugandan President Yoweri Museveni, and its operators "will be charged with criminal negligence and manslaughter, if they have not already been punished for their mistake by dying in the accident." The party included prominent figures, most notably Prince Daudi Kintu Wasajja, brother of the king of Uganda's sub-national Buganda kingdom.
9. Paris police use tear gas, water cannons on tax protesters
Large-scale protests continued in Paris for a second consecutive weekend Saturday, with demonstrators registering their anger over fuel tax hikes and French President Emmanuel Macron's tenure more broadly. This time, the "yellow vest" protesters were met with an aggressive police presence, including use of tear gas and water cannons. Parisian police estimated 8,000 protesters were on site, contained by some 3,000 police officers. Officials told The Associated Press six arrests were made, though no one was injured in the demonstration.
10. Actor and magician Ricky Jay dies at 72
Actor and magician Ricky Jay died Saturday of natural causes in Los Angeles, his manager has reported. He was 72. Known as a master of sleight of hand, Jay also appeared in movies and television shows including Boogie Nights, Deadwood, and Tomorrow Never Dies. "I sort of think of Ricky as the intellectual elite of magicians," comedian Steve Martin said of Jay. "He's expertly able to perform and yet he knows the theory, history, literature of the field." Jay "was one of a kind," said his manager, Winston Simone. "We will never see the likes of him again."
The Hollywood Reporter Variety

Continue reading for free
We hope you're enjoying The Week's refreshingly open-minded journalism.
Subscribed to The Week? Register your account with the same email as your subscription.