10 things you need to know today: March 2, 2020
Buttigieg ends his presidential campaign, Trump orders tighter screening for travelers from coronavirus hot spots, and more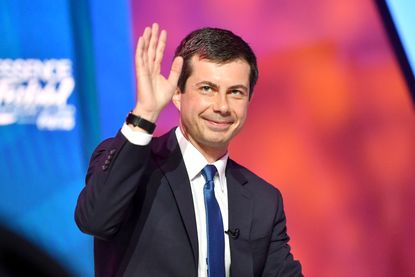 (Image credit: Paras Griffin/Getty Images for ESSENCE)
1. Buttigieg ends his presidential campaign
Former South Bend, Indiana, Mayor Pete Buttigieg ended his campaign for the Democratic presidential nomination on Sunday. He was the second candidate to drop out following the dominant victory of former Vice President Joe Biden, a fellow moderate, in South Carolina's Saturday primary; billionaire Tom Steyer suspended his campaign late Saturday. Buttigieg was the first openly gay man to win delegates in a presidential nominating contest, taking one more delegate than progressive frontrunner Sen. Bernie Sanders (I-Vt.) in the Iowa caucuses. The night of the caucuses, Buttigieg said his campaign's strong showing taught him to "believe in American belonging" after "remembering how it felt to be an Indiana teenager, wondering if he would ever belong in this world."
2. Trump steps up screening for travelers from countries hit by coronavirus
President Trump announced Sunday that he was ordering tighter coronavirus screening for travelers arriving in the U.S. from "high risk" countries. "Coronavirus: In addition to screening travelers 'prior to boarding' from certain designated high risk countries, or areas within those countries," Trump tweeted, "they will also be screened when they arrive in America. Thank you!" People who have been to China in the last 14 days were already subject to screening; now, those from South Korea, Italy, and other hotspots will be screened as they exit those countries. The message came after the flu-like virus continued to show signs of spreading outside of China, including in the U.S. Rhode Island confirmed its first coronavirus infection on Sunday, and the U.S. reported its second coronavirus death.
Subscribe to The Week
Escape your echo chamber. Get the facts behind the news, plus analysis from multiple perspectives.
SUBSCRIBE & SAVE
Sign up for The Week's Free Newsletters
From our morning news briefing to a weekly Good News Newsletter, get the best of The Week delivered directly to your inbox.
From our morning news briefing to a weekly Good News Newsletter, get the best of The Week delivered directly to your inbox.
3. Coronavirus continues to spread in countries outside China
The coronavirus outbreak continued to spread more rapidly outside China on Sunday. Australia and Thailand reported their first deaths from the flu-like virus, and the Dominican Republic, Scotland, and the Czech Republic announced their first confirmed infections. Italy, which closed off a dozen northern towns after a local outbreak last week, said the number of confirmed infections within its borders jumped by 50 percent in 24 hours, reaching 1,694. The country also reported five more deaths, bring its total to 34. France reported a 30 percent increase in its cases, to 130. The U.S. government urged Americans to avoid traveling to hard-hit parts of northern Italy, and major airlines suspended flights to Milan. France's Louvre Museum shut down on Sunday over fear of contamination by foreign visitors.
The Associated Press The New York Times
4. Pence defends Trump, allies who accuse Democrats of politicizing coronavirus
Vice President Mike Pence on Sunday defended comments by President Trump and allies accusing Democrats of politicizing the coronavirus outbreak. Donald Trump Jr. even said his father's rivals hope the flu-like virus "kills millions." "When you see voices on our side pushing back on outrageous and irresponsible rhetoric on the other side, I think that's important, and I think it's justified," Pence said on NBC News' Meet the Press. Critics accused Trump of downplaying the virus last week by saying things like the outbreak was "very well under control in our country." Trump asked Congress for $2.5 billion in emergency funding to fight the virus, and Senate Minority Leader Chuck Schumer (D-N.Y.) responded with a proposal to spend $8.5 billion.
5. Judge says Cuccinelli appointment invalid
A federal judge ruled Sunday that President Trump's appointment of Ken Cuccinelli as acting U.S. Citizenship and Immigration Services director was invalid. U.S. District Judge Randolph Moss, who is based in Washington, D.C., concluded that since the immigration hardliner was not a "principal deputy director" when he got the job last June, Cuccinelli's appointment violated the Federal Vacancies Reform Act. The ruling will result in the suspension of some actions Cuccinelli took in the post, including directives to speed up asylum-seekers' initial screenings and limited hearing extensions, because, the judge said, Cuccinelli lacked the authority to set the policies.
6. Biden, Sanders claim momentum ahead of Super Tuesday
Former Vice President Joe Biden and Sen. Bernie Sanders (I-Vt.) campaigned aggressively ahead of Tuesday's Super Tuesday primaries, with both claiming to have the strongest momentum heading into the crucial day of 14 primaries. Biden, the leading moderate candidate, said following his dominant Saturday win in South Carolina's primary that voters face a "stark choice" between him and Sanders, a self-described democratic socialist. "I can win and I can bring along Democratic victories" down the ballot, Biden said. Sanders pointed to his massive $46.5 million February fundraising haul as proof that his campaign is the one generating the most enthusiasm. "No campaign out there has a stronger grassroots movement than we do," Sanders said on CBS's Face the Nation. "That's how you beat Trump."
7. Turkey retaliates for airstrike with attacks on Syrian forces
Turkey on Sunday shot down two warplanes and attacked ground forces in northwestern Syria in retaliation for an airstrike that killed 36 Turkish soldiers last week, Turkey's Defense Ministry said. Armed Turkish drones fired at Syrian air bases while Turkish troops and allied rebel forces tried to push Syrian soldiers out of towns they had seized after driving out rebel fighters. Turkey has been threatening for weeks to launch strikes against Syrian troops if they didn't stop advancing toward Turkey's border, sending a new wave of refugees fleeing Syria. Greece sent troops to its border with Turkey after Turkish President Recep Tayyip Erdogan said he was opening his country's border to let refugees head to Europe, because his country could no longer accommodate all of the Syrians fleeing the war.
The Washington Post The New York Times
8. Israelis vote in 3rd election in a year
Israelis are voting Monday in their third general election in less than a year, after the first two ended in deadlock. Prime Minister Benjamin Netanyahu, seeking to continue his 11 years in office, gained in some polls ahead of the vote. But Netanyahu's right-wing bloc, led by his Likud party, is considered likely to split the vote with his main rival, former army chief Benny Gantz, who leads the centrist Blue and White alliance, continuing the stalemate. Netanyahu and Gantz each had a turn trying to pull together a ruling coalition after the last vote, but both failed. Netanyahu has remained in charge of a caretaker government ahead of the third vote, but he has had limited powers.
9. South Korea says North Korea launched 2 unidentified projectiles
North Korea on Monday fired two projectiles assumed to be short-range ballistic missiles, the South Korean military said. The launch, the country's first known weapons test of 2020, took place in Wonsan. The projectiles came down in the sea. At the beginning of the year, North Korean leader Kim Jong Un said his country would soon unveil a new "strategic weapon," and would no longer suspend its testing of nuclear and intercontinental ballistic missiles. There is speculation that Monday's test is a way of showing the country has not been hindered by the COVID-19 coronavirus outbreak. North Korean state media has not confirmed any cases of COVID-19 in the country, but has suggested there are people who have been quarantined after showing symptoms.
10. U.S. stocks fight to bounce back from last week's plunge
U.S. stock index futures rose sharply early Monday, putting Wall Street on track to rebound from last week's rout despite ongoing concerns about economic fallout from the coronavirus outbreak. Futures for the Dow Jones Industrial Average, the S&P 500, and the Nasdaq were all up by as much as 1 percent several hours before the start of the week's trading. All three of the main U.S. indexes fell by more than 10 percent last week in the worst week for the U.S. market since October 2008. The declines officially put Wall Street in a correction in the same month that the indexes set record highs. The drop "shows the extent to which an outbreak can hit an economy," said economist Ed Hyman, Evercore ISI chairman, in a note to clients. "All this is quite uncertain, and we may be overreacting. But we also don't want to underreact."

Continue reading for free
We hope you're enjoying The Week's refreshingly open-minded journalism.
Subscribed to The Week? Register your account with the same email as your subscription.