10 things you need to know today: March 4, 2020
Biden surges on Super Tuesday to join Sanders as frontrunner, the Fed slashes interest rates to counter virus fallout, and more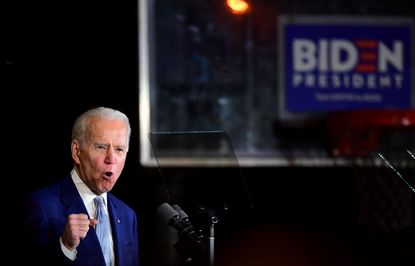 (Image credit: FREDERIC J. BROWN/AFP via Getty Images)
1. Biden catches up with Sanders in Super Tuesday surge
A resurgent former Vice President Joe Biden won Democratic primaries in Virginia, North Carolina, Texas, and six other states on Super Tuesday, dominating the South with strong support from moderates and African-American voters. Sen. Bernie Sanders (I-Vt.) took victories in California, Colorado, Utah, and his home state of Vermont thanks to the enthusiastic backing of young and liberal voters. Biden's sudden surge came after fellow centrists Sen. Amy Klobuchar (D-Minn.) and former South Bend, Indiana, Mayor Pete Buttigieg dropped out of the race and endorsed him. Sen. Elizabeth Warren (D-Mass.) finished far back, as did billionaire former New York City Mayor Mike Bloomberg, who appeared on his first ballots in Super Tuesday's cluster of primaries in 14 states with 34 percent of the party's delegates up for grabs.
2. Fed cuts rates to counter coronavirus economic damage
The Federal Reserve announced Tuesday that it was cutting interest rates by half a percentage point to counter economic damage caused by the global coronavirus outbreak. "The fundamentals of the U.S. economy remain strong," but "the coronavirus poses evolving risks to economic activity," the Fed said in a statement. The U.S. central bank's benchmark funds rate fell to a range from 1 to 1.25 percent. CNBC characterized the cut as an "emergency" measure since it came between the policy meetings where Fed leaders usually make adjustments. This was the first emergency rate cut since the 2008 financial crisis. It came after the stock market saw a dramatic fall last week, followed by a big rebound on Monday and another plunge on Tuesday.
Subscribe to The Week
Escape your echo chamber. Get the facts behind the news, plus analysis from multiple perspectives.
SUBSCRIBE & SAVE
Sign up for The Week's Free Newsletters
From our morning news briefing to a weekly Good News Newsletter, get the best of The Week delivered directly to your inbox.
From our morning news briefing to a weekly Good News Newsletter, get the best of The Week delivered directly to your inbox.
3. Washington state coronavirus death toll rises to 9
Three more people died from coronavirus infections in Washington state on Tuesday, bringing the death toll from the outbreak in the United States to nine. All of the U.S. deaths have occurred in the state of Washington, although more than 100 cases of COVID-19, the disease caused by the virus, have been reported in 15 states. Globally, the outbreak continued to spread at a faster pace. The World Health Organization said new estimates suggested the disease was more deadly than previously believed, with a mortality rate of 3.4 percent, but less easily transmitted. Both WHO and the Trump administration said the threat from the virus remained manageable. Tough measures to contain the outbreak in central China, where it started, showed signs of paying off, with the daily rate of new infections falling Tuesday.
4. Bloomberg reassesses campaign after weak Super Tuesday showing
Mike Bloomberg reportedly is considering whether to continue his campaign for the Democratic presidential nomination after failing to win any Super Tuesday primaries. The billionaire former New York City mayor entered the race late and made his first ballot appearance on Tuesday after spending half a billion dollars. Vice President Joe Biden and Vermont Sen. Bernie Sanders lead the delegate count with close to 400 delegates each by many estimates. Bloomberg and Sen. Elizabeth Warren (D-Mass.) are both far behind with counts in the double-digits. In a speech Tuesday night, Bloomberg told supporters that "no matter how many delegates we win tonight, we've done something no one else thought was possible" by becoming a "contender" in the race. Bloomberg is a billionaire, and his campaign has said if he drops out of the race, he promises to help fund the eventual Democratic nominee.
MarketWatch The Associated Press
5. Trump has 'very good conversation' with Taliban leader
President Trump said Tuesday that he "had a very good conversation with the leader of the Taliban" to discuss ending nearly two decades of fighting in Afghanistan. "They're looking to get this ended, and we're looking to get it ended," Trump said. "I think we all have a very common interest." The talk was believed to be the first direct contact between a U.S. president and the leader of the Islamist militant group since the U.S. led an invasion to oust the Taliban from power in the country over its harboring of Al Qaeda leaders before the 9/11 terrorist attacks. The Tuesday call came days after the U.S. and the Taliban signed a peace deal calling for the withdrawal of the last U.S. troops in the country.
6. Trump campaign files libel suit against The Washington Post
President Trump's campaign on Tuesday sued The Washington Post for libel over two opinion articles it published last June declaring the campaign had attempted to conspire with Russia to influence the 2016 election. The suit against the Post, a frequent target of Trump's ire, echoed the wording of a similar complaint the campaign filed last week against The New York Times. In one of the opinion articles Trump's suit mentions, the Post's Greg Sargent said Trump's campaign "tried to conspire with" Russia's "sweeping and systematic" attack on the 2016 election. In the other, the Post's Paul Waldman wrote that the Trump campaign had "invited" Russia and North Korea "to offer their assistance" in influencing the election. Both of these statements, the suit said, are "false and defamatory."
7. Tennessee tornado death toll rises
The death toll from tornadoes that struck Tennessee rose to at least 25 people on Tuesday. Many more were injured, and Gov. Bill Lee said "a number of people" remained missing. The twisters destroyed at least 140 buildings, many in and around Nashville. "It is heartbreaking," Lee said at a Tuesday news conference. "We have had loss of life all across the state. Four different counties, as of this morning, had confirmed fatalities." Lee said he has asked the White House for help. Schools, public transportation, and at least one airport were closed due to the violent storms that spawned the tornadoes. President Trump tweeted that the federal government would be with Tennessee "all of the way during this difficult time."
8. Iran releases thousands of prisoners to curb coronavirus spread in jails
Iran released more than 54,000 prisoners to help prevent the spread of coronavirus in crowded jails, Iranian officials said Tuesday. The provisional release affected inmates who tested negative for the virus and posted bail, judiciary spokesman Gholamhossein Esmaili said. Prisoners serving sentences of five years or more were not allowed to leave. Iran is one of several nations outside of the outbreak's epicenter in China that have experienced a rapid rise in cases of COVID-19, the disease caused by the flu-like virus. The country has confirmed more than 2,300 cases. Seventy-seven infected people have died, including a top aide to Iranian Supreme Leader Ali Khamenei. Twenty-three of the 290 members of Iran's parliament also have tested positive.
9. Corporate travel bans hit airlines hard
Facebook on Tuesday confirmed that it would not send representatives to the South by Southwest conference in Austin, Texas, next week, joining a wave of major companies canceling business trips due to the rapidly spreading coronavirus outbreak. Amazon has told its nearly 800,000 workers to postpone non-essential travel, and Swiss food giant Nestle has ordered its 291,000 global employees to limit domestic business travel and avoid international travel until March 15. French cosmetics maker L'Oréal, which employs 86,000 people, banned international trips for all of March. The cancellations are a "big deal" for travel businesses, said industry analyst Henry Harteveldt, who estimates that business travelers account for 55 percent of airlines' revenue.
10. Sessions forced into runoff in Alabama Senate primary
Former Attorney General Jeff Sessions' bid to reclaim his old Senate seat hit a setback on Tuesday, as he was forced into a runoff in the Republican primary against former Auburn football coach Tommy Tuberville, a political newcomer. Alabama's Senate race is widely seen as the GOP's best shot at picking up a seat. The winner in the Republican runoff will face Sen. Doug Jones, a Democrat who narrowly beat former state Supreme Court chief justice Roy Moore in 2017 in a state that President Trump won a year earlier by more than 27 percentage points. Moore was headed for a fourth place finish in a Republican primary that was largely a battle over who was most closely aligned with Trump.

Continue reading for free
We hope you're enjoying The Week's refreshingly open-minded journalism.
Subscribed to The Week? Register your account with the same email as your subscription.