10 things you need to know today: March 27, 2020
The U.S. now has the most coronavirus cases in the world, a record 3.3 million Americans file for jobless benefits, and more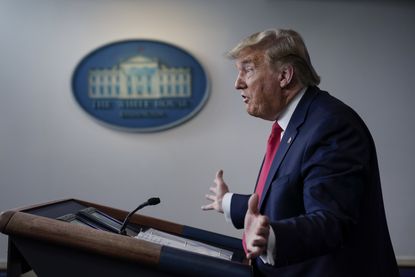 (Image credit: Drew Angerer/Getty Images)
1. U.S. surpasses China, Italy in total number of coronavirus cases
The number of coronavirus cases in the U.S. surged on Thursday to more than 85,000, more than any other country. The death toll in the U.S. rose to nearly 1,300. About a quarter of U.S. infections and deaths have been in New York City, while the virus appears to be spreading fastest in the New Orleans area. Italy remains the country with the highest death toll, at 7,503. It has 80,589 confirmed infections, nearly as many as China, where the outbreak began. Globally, there are now more than 500,000 confirmed infections, and more than 21,000 deaths. Nearly a third of the world's population is in lockdown to slow the virus' spread.
The Washington Post The Associated Press
2. Record 3.3 million Americans filed for jobless benefits last week
Nearly 3.3 million Americans filed new applications for jobless benefits last week as businesses nationwide shut down or limited their operations to help slow the spread of the COVID-19 coronavirus, the Department of Labor reported Thursday. The figure smashed the old record for weekly initial jobless claims of 695,000, which was set in 1982. Two weeks ago, only 282,000 Americans filed for their first week of unemployment benefits. In an interview Thursday morning shortly before the release of the Labor Department's report, Federal Reserve Chair Jerome Powell said the United States "may well be in a recession" already but argued that "there's nothing fundamentally wrong with our economy," so there could be a "good rebound" when the COVID-19 coronavirus' spread is under control.
Subscribe to The Week
Escape your echo chamber. Get the facts behind the news, plus analysis from multiple perspectives.
SUBSCRIBE & SAVE
Sign up for The Week's Free Newsletters
From our morning news briefing to a weekly Good News Newsletter, get the best of The Week delivered directly to your inbox.
From our morning news briefing to a weekly Good News Newsletter, get the best of The Week delivered directly to your inbox.
3. Trump pushes to reopen low-risk regions
President Trump told U.S. governors in a letter Thursday that his administration would be releasing new guidelines on "maintaining, increasing, or relaxing social distancing and other mitigation measures" for containing the coronavirus. Trump said his administration is gathering data to help set guidelines categorizing counties as "high risk, medium risk, or low risk" for COVID-19 coronavirus outbreaks in the "the next phase" of the response. Trump this week said he wanted to adjust his initial, 15-day social-distancing guidelines to allow much of the shuttered economy to reopen by April 12. The original social-distancing period reaches its 15th day on Monday. Dr. Anthony Fauci of the National Institutes of Health said increased testing could help parts of the country that haven't been hit hard to identify, test, trace, and isolate cases.
4. China to bar entry to most foreign nationals
China is temporarily barring foreign nationals with valid visas and residence permits from entering the country as it steps up efforts to prevent a second wave of the coronavirus outbreak, the Chinese Foreign Ministry announced Thursday. "The suspension is a temporary measure that China is compelled to take in light of the outbreak situation and the practices of other countries," the statement said. The new measures apply to port visas and visa-free policies that apply to some tour groups. The COVID-19 coronavirus pandemic began with a quickly spreading outbreak in the central Chinese city of Wuhan. China recently had its first days without new person-to-person transmission of coronavirus, but it has seen an increase in the number of people entering the country after being infected abroad.
5. Barr announces drug charges against Venezuela's Maduro
Attorney General William Barr announced Thursday that Venezuelan leader Nicolás Maduro had been indicted on charges that he led a decades-long drug trafficking and "narco-terrorism" conspiracy. Other leaders of his government also are being charged. The charges include conspiracy to import cocaine into the U.S. Barr said Maduro and his associates colluded with a dissident faction of a demobilized Colombian guerrilla group, the FARC, "to flood the United States with cocaine." Maduro claimed victory in a disputed vote but still stands as the president of Venezuela. The U.S. supports opposition leader Juan Guaidó as the legitimate president. Venezuelan Foreign Minister Jorge Arreaza said the charges were part of a desperate attempt by President Trump to boost his 2020 re-election campaign.
6. House members rush to Washington to avoid coronavirus relief bill delay
The House prepared for an expected Friday vote on the $2.2 trillion coronavirus relief deal, but a single lawmaker threatened to delay the process. Lawmakers had hoped that the measure would pass by a voice vote planned for 9 a.m., and many members were staying away as a safety measure due to the possibility of spreading coronavirus. But Rep. Thomas Massie (R-Ky.), reportedly upset about what he sees as wasteful spending in the bill, threatened to demand a recorded vote. Many lawmakers are rushing to get back to Washington to make sure the House will have a quorum of 216 members if Massie demands one. "If we don't have a quorum on tomorrow, we'll definitely have one by Saturday," a source told Fox News. President Trump said there might be "one grandstander," but the massive stimulus will pass.
7. Gantz says he would work with Netanyahu in surprise reversal
Benny Gantz, leader of Israel's opposition Blue and White party, said Thursday that he would be open to serving in a government led by Prime Minister Benjamin Netanyahu. The announcement marked a stark reversal of Gantz's previous refusal to collaborate with Netanyahu, who faces a looming corruption trial. The rivals have finished nearly tied in three parliamentary elections in the last year, and neither has managed to form a governing coalition. Gantz, a former army chief, said he had changed his mind because Israel needs unity to fight the coronavirus pandemic. "This is not the time for infighting and mudslinging," he said. "Let's join hands and get Israel out of this crisis." Gantz called for a "national emergency government." The surprise decision sparked the breakup of the Blue and White party.
8. Dow posts biggest three-day gains since 1931
The Dow Jones Industrial Average and the S&P 500 surged on Thursday in their third straight day of big gains. The Dow rose by 1351.6 points or 6.4 percent, capping the index's biggest three-day increase since 1931 and leaving it up by 21 percent over its Monday low. Thursday's surge came despite record weekly jobless claims, in a sign of investor optimism about the $2.2 trillion coronavirus economic rescue package approved by the Senate late Wednesday. The S&P 500 was up by about 17 percent since Monday but still 22 percent below its Feb. 19 record high. The buying "doesn't guarantee that the bottom is in, but it is indicative of a bottoming process," said Randy Frederick, vice president of trading and derivatives at Charles Schwab.
9. 25 sailors on U.S. aircraft carrier test positive for coronavirus
Twenty-five sailors on the aircraft carrier USS Theodore Roosevelt have tested positive for the coronavirus, a Navy official said Thursday. The Navy said it expected more cases, possibly "dozens," to be confirmed. "We are in the process now of testing 100 percent of the crew of that ship to ensure that we're able to contain whatever spread might've occurred," said acting Navy Secretary Thomas Modly. One official said the Defense Department was unlikely to disclose how many of the Navy's overall cases are on board the Roosevelt, which has about 5,000 people on board, to avoid giving enemies the impression the ship is vulnerable. Despite the outbreak, Chief of Naval Operations Adm. Mike Gilday said the Navy is "confident that our aggressive response will keep USS Theodore Roosevelt able to respond to any crisis in the region."
10. Globetrotters icon Curly Neal dies at 77
Former Harlem Globetrotters legend Fred "Curly" Neal died Thursday in Houston. He was 77. Neal, who played in more than 6,000 exhibition games from 1963 to 1985, was easy to spot on the court due to his shaved head and playful banter, but what really made him the face of the clowning basketball team was his ball handling ability. Neal dribbled circles around opponents, often sliding on his knees without losing control. "Oh my gosh, he revolutionized ball handling," said Nancy Lieberman, who played for the hapless Washington Generals against the Globetrotters in 1988. "Everything you see Kyrie Irving doing and Steph Curry doing now, all of it started with the Trotters. The Trotters made dribbling a show."

Continue reading for free
We hope you're enjoying The Week's refreshingly open-minded journalism.
Subscribed to The Week? Register your account with the same email as your subscription.