British drug smuggler Melissa Reid released from Peru prison
Scot thought to be heading back to the UK three years after trying to take £1.5m worth of cocaine out of Lima airport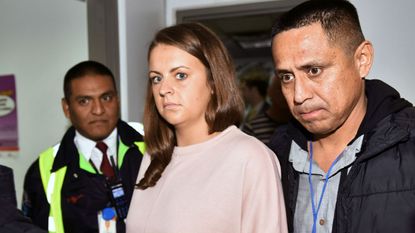 (Image credit: CRIS BOURONCLE/AFP/Getty Images)
British drug smuggler Melissa Reid, who was caught trying to take £1.5m worth of cocaine from Peru to Spain in 2013, has been released from prison and is thought to be heading back to the UK.
Reid, from Lenzie, East Dunbartonshire, was arrested with Michaella McCollum, from Dungannon, Co Tyrone, at Lima airport after being found with more than 23lb of cocaine hidden in food packets in their luggage.
McCollum was released from prison in March on condition she stay in Peru.
Subscribe to The Week
Escape your echo chamber. Get the facts behind the news, plus analysis from multiple perspectives.
SUBSCRIBE & SAVE
Sign up for The Week's Free Newsletters
From our morning news briefing to a weekly Good News Newsletter, get the best of The Week delivered directly to your inbox.
From our morning news briefing to a weekly Good News Newsletter, get the best of The Week delivered directly to your inbox.
"Because she agreed to parole rather than applying for expulsion like Reid, she could have to stay in Peru for several years before being allowed home," says the Daily Record.
Reid, however, will be allowed to return to the UK. The 22-year-old was seen with her father, Billy, at Lima airport last night and is reportedly due to travel back to the UK via a European airport.
The two women pleaded guilty to the charges but claimed they had been forced to carry the drugs. They were sentenced to six years and eight months.
Speaking earlier this year, Reid's father said his daughter "regrets the predicament she finds herself in, is apologetic for her actions and wants to show that she can be a credit to her family and to make things right".
A spokeswoman for the Foreign Office said: "We continue to provide assistance to Melissa Reid and remain in contact with her family and local authorities."
Peru jails UK drug mules McCollum and Reid for six years
18 December 2013
Two British women convicted of trying to smuggle cocaine out of Peru have each have been handed jail terms of six years and eight months.
But if Michaella McCollum and Melissa Reid exhibit good behaviour in jail they could be set free within two-and-a-half years, the Daily Mail says.
It is understood that Peruvian prosecutors wanted substantially longer sentences for the pair, the BBC reports. The women initially claimed they had been coerced into transporting the 24 pound consignment of drugs with a street value of $1.5m. They entered guilty pleas after several weeks in custody, reportedly in a bid to reduce their sentences.
A judge handed the women eight-year sentences yesterday, but the terms were reduced because of their guilty pleas and the information they have supplied to investigators.
It is possible that McCollum and Reid may serve some of their sentences in the UK, the BBC says, because Peruvian authorities are "anxious to empty their jails of the many hundreds of smugglers".
But the Mail says that the application process for moving prisoners to the UK is so protracted that they are likely to be released before such a transfer can take place.
McCollum and Reid's prison terms will run from the date of their arrest on 6 August this year until 5 April 2020. They were also handed fines of £2,226 each.
The women will begin their sentences at Santa Monica prison in Chorrillos, which has traditionally housed foreign female prisoners, the BBC says.
The Daily Mail says the two 20-year-olds looked "more like students en route to a lecture than two international drug smugglers" yesterday. They appeared calm as they were sentenced.
Peru drug mules McCollum and Reid face six-month probe
2 October 2013
The two women accused of trying to smuggle cocaine out of Peru face an extended six-month investigation if they do not provide enough information to satisfy local prosecutors.
Michaella McCollum, of Dungannon, County Tyrone, and Melissa Reid, of Lenzie, near Glasgow, initially claimed they were kidnapped by a gang and forced to smuggle drugs worth £1.5m out of Lima airport in August. They have since pleaded guilty to the charges in a bid to reduce their prison sentence from 15 years to six years and eight months.
But yesterday prosecutors said their confessions were not enough and that they needed to provide more information if they want to reduce their sentences, reports the BBC. The women, both aged 20, could otherwise face a further investigation lasting six-months, prosecutor Juan Mendoza told reporters after the women appeared before a judge on Tuesday.
Father Maurice Foley, an Irish priest who has visited the women in prison, claims the Peruvian authorities want them to hand over names and addresses of the gang who coerced them into trafficking.
"They don't have that," he told the Belfast Telegraph. "All they have is the name of a cockney Englishman by the name of Jake or Joe and that's no good." He added that the women were in "brilliant health" when he met them. "They weren't in a cell. They were out in a wide open space sitting at a table with a parasol. They were talking and drinking coffee," he said.
The police and prosecution have been sceptical of the kidnapping story all along and want the women to accept full responsibility for the charges against them. When prosecutors first rejected the guilty pleas last week they said the women would need to admit "not only that they came here to traffic drugs but also that they did not tell the truth with respect to them being kidnapped".
Melissa Reid and Michaella McCollum: guilty pleas rejected
26 September 2013
The guilty pleas entered by two British women caught trying to smuggle 11kg of cocaine out of Peru have been rejected by prosecutors.
After their arrest at Lima's international airport in early August, 20-year-olds Michaella McCollum and Melissa Reid insisted they had been coerced into carrying the drugs. But on Tuesday they both entered guilty pleas at a closed-door court hearing in Lima. It is understood they hoped the move would cut their sentences from a minimum eight years down to six years and eight months, The Guardian reports.
Prosecutors rejected those pleas yesterday - albeit temporarily - and demanded that the women appear at a hearing to provide more details about the origins of the narcotics and the identities of those who supplied them to the two women. The date of the hearing has not yet been set.
"The two drug mules' guilty pleas have not been fully accepted, as far as the prosecutor is concerned, until they give more details," a spokesman for the prosecutor's office in Callao told The Guardian. "They will be asked to give another statement before the judge explaining where the drugs came from, who supplied them and why they said they had been forced to carry them by an armed gang."
The rejection of the pleas also appears to be an attempt to get the women to admit their early claims of being kidnapped and coerced into carrying the narcotics were false.
Prosecutor Juan Rosas described McCollum and Reid's original version of events as "unbelievable" and said they needed to provide more information to get reduced sentences. He said another court hearing would allow them to make a more complete confession.
The women will be sentenced on 1 October
Peru drug mules: are Reid and McCollum guilty or not?
25 September 2013
Despite weeks of protesting their innocence, the two UK women accused of trying to smuggle cocaine worth £1.5m out of Peru have pleaded guilty in court. Michaella McCollum, from County Tyrone, and Melissa Reid, from near Glasgow, appeared before a judge yesterday in a makeshift courtroom at Sarita Colonia, a men's jail in Lima. The 20-year-olds have always maintained they were kidnapped at gunpoint while working in Ibiza and forced to bring the drugs back from Lima.
So are they admitting they lied? Not necessarily. It is understood the pleas were made in exchange for a shorter sentence. Following advice from her lawyer, Reid said a guilty plea would get her back to her family "sooner rather than later". She added: "I don't want to be in jail until I'm 35." McCollum has said the judicial process "will be simpler if we both plead guilty". Last week Reid's parents were still insisting their daughter was coerced into carrying the drugs but said a guilty plea was the best course of action for the girls.
What do the Peruvian authorities think? Peruvian police
chief Tito Perez has disputed McCollum and Reid's version of events. "What the women said about being kidnapped by armed mafia and forced to come to Peru was illogical," he said. The chief prosecutor, Juan Mendoza Abarca, has been equally dismissive.
How long will they be jailed for? They are likely to go to prison for six years and eight months, as opposed to 15 years if they were convicted after a not guilty plea. The women had hoped to be released after two and a half years. But Peru brought in a law just two weeks after their 6 August arrest to prevent drug traffickers being freed early for good behaviour. It is possible, however, that their sentence might be reduced if they co-operate as witnesses against the criminal gang who allegedly coerced them into smuggling the cocaine.
Where will they be jailed? The women might be able to serve part of their sentence in a UK prison, according to the BBC. A 2008 Peruvian law allows foreigners the option to serve sentences back home, and Britain has a prisoner transfer agreement with Peru.
What's next? McCollum and Reid have returned to the women's prison where they are being held and will attend a sentencing hearing on Tuesday 1 October.
Connolly and Reid: just two out of hundreds jailed in Peru
23 August 2013
The two young women from the UK arrested in Peru last week trying the leave the country with £1.5m worth of cocaine in their baggage have given their parents a list of requirements: baby oil, hair removal cream, moisturiser and a jar of Nutella.
As The Times reports, Michaella McCollum Connolly and Melissa Reid's shopping list reads "more like a last minute reminder of items to take on holiday" than an inventory of essentials to help prepare them for what could be years in a Peruvian jail.
The frivolous nature of their demands suggests the two 20-year-olds may be unaware of the gravity of their fate. Observers of the Peruvian justice system say it could be up to three years before they even come to court. And one of the main reasons for the delay is that there are so many foreigners – many of them women – suspected of drug smuggling that Lima's courts are unable to cope.
The number of young, vulnerable European women targeted by Peruvian drug cartels to act as mules is rising all the time. The Australian reported yesterday that hundreds of European women are currently awaiting trial or serving sentences having been convicted for smuggling cocaine.
Last year alone, 248 foreigners were arrested at Lima airport attempting to smuggle drugs to the US and Europe, the paper was told by the specialist anti-drugs unit, Dirando. A large proportion of them were European women. At one point last year the number of incarcerated women from Spain outnumbered those from Peru.
Connolly and Reid claim that they were forced to transport drugs by an armed gang, but many young women willingly become involved in drug smuggling out of financial desperation.
Sources within the Peruvian police reveal the profile of people these cartels prey on: young, naive, white women with financial worries. The gangs then spin them a low-risk, high-reward tale, promising them life-changing amounts of money.
The head of Dirando, Johnny Bravo, said: "Because of their needs, many unemployed women are easily taken in by drug trafficking rings."
Milton Rojas, who works for a drug prevention and awareness centre in Lima, said Europeans were wrongly sold the idea that coming to South America and trafficking in drugs was easy because "security is not so tight". The number of arrests proves that isn't so.
The BBC reported this week that there are currently 325 foreign inmates, most of whom are serving drug sentences, in the Ancon 2 prison – also known as Fatima de Virgen - where Connolly and Reid are likely to be sent today, having been refused bail at this week's court appearance.
Two young Spanish women serving time in Ancon 2 revealed that they were lured into cocaine smuggling because of the economic crisis at home. The drug gang had told them they would be able to "pay off all your debts at once" - with just a single trip out of Peru.

Continue reading for free
We hope you're enjoying The Week's refreshingly open-minded journalism.
Subscribed to The Week? Register your account with the same email as your subscription.