What is a supermoon and when can you see it?
Today the full moon is closer to Earth than it has been for 60 years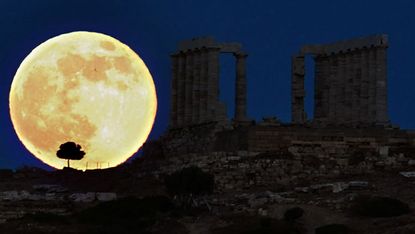 (Image credit: ARIS MESSINIS/AFP/Getty Images)
Tonight the full moon will look bigger and brighter in the sky than it has at any time in more than 60 years as a result of it being closer to Earth than it has been since 1948. That's assuming you can see it for clouds, of course.
Because the moon's orbit around Earth is elliptical, not circular, it is sometimes nearer to Earth than it is at other times. When the moon is close to us and full, it is known as a supermoon.
The moon is around 14 per cent closer when it's at "perigee", the closest it gets to Earth on its orbit, than it is at "apogee", its furthest, says Nasa. Because it is nearer, it can shine 30 per cent more moonlight (actually reflected sunlight) onto Earth.
Subscribe to The Week
Escape your echo chamber. Get the facts behind the news, plus analysis from multiple perspectives.
SUBSCRIBE & SAVE
Sign up for The Week's Free Newsletters
From our morning news briefing to a weekly Good News Newsletter, get the best of The Week delivered directly to your inbox.
From our morning news briefing to a weekly Good News Newsletter, get the best of The Week delivered directly to your inbox.
Is a supermoon a rare event?
No – it happens twice in every orbit, roughly once every 411.8 days. The nearest full moon to that point is a supermoon but others shortly before and after can also qualify. There was a supermoon on 16 October and another is due on 14 December.
Why is tonight different?
The moon's orbit is not a perfect ellipse: its route varies as other gravitational pulls in the solar system bend it out of shape, bringing it closer or further away from the Earth as it passes. The variation is tiny, however.
While the moon will be the nearest it has been for 60 years, the difference between this supermoon and other supermoons to the visible eye will be "negligible", says The Guardian, although it will still look bigger than a normal full moon.
I've seen the moon looking huge on other nights – was that a supermoon?
Probably not. It's more likely to be something called "moon illusion". This is a psychological effect that makes observers think the moon appears larger in the sky when it is closer to objects on the horizon. A supermoon is different, because the moon is nearer to us – and therefore appears even bigger.
Will there be mayhem?
The moon has long held a special place in folklore, from myths about werewolves to insanity – with the word "lunacy" originating from the word "lunar". Emergency services have anecdotally reported a rise in aggressive behaviour during full moons and Sussex Police even spotted a link between full moons and violent crimes in 2007.
But a 1985 review of studies on mental illness and the moon found that its impact on mental breakdowns, criminal behaviour and other disturbances has no basis in scientific data, reports Live Science.
The website also debunks the theory that a supermoon can cause disasters. While tidal forces will be particularly high and low, scientists have not found any significant link between a supermoon and natural events such as earthquakes and tsunamis, it says.
Earthquake expert Mark Quigley from the University of Melbourne told ABC it was possible that tidal stresses could trigger a quake if the pressure had been building for a long period of time and was about to rupture imminently anyway. However, he says there has never been a case where the "specific time, magnitude and location of a large earthquake has been successfully predicted in the short-term using tidal stresses".

Continue reading for free
We hope you're enjoying The Week's refreshingly open-minded journalism.
Subscribed to The Week? Register your account with the same email as your subscription.