The pros and cons of legal prostitution
Spain's PM has vowed to ban sex work, which he says 'enslaves' women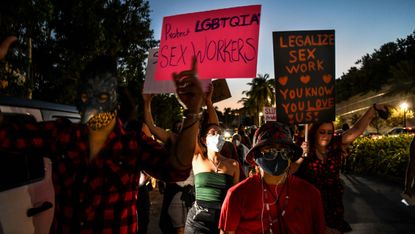 (Image credit: Chandan Khanna/AFP via Getty Images)
Spain's Prime Minister Pedro Sanchez has promised to move forward with his pledge to abolish prostitution, telling his supporters at a Socialist Party conference that the practice "enslaves" women.
Sex work was decriminalised in Spain in 1995 and the industry has "boomed" since then, said Sky News. A report in 2009 found that one in three men had paid for sex, while another carried out that same year suggested the figure was more like 39%.
Although prostitution is legal in Spain, exploitation such as pimping or acting as a mediator between a sex worker and a potential client is punishable under the country's criminal code, said the Spanish-language newspaper El País.
Subscribe to The Week
Escape your echo chamber. Get the facts behind the news, plus analysis from multiple perspectives.
SUBSCRIBE & SAVE
Sign up for The Week's Free Newsletters
From our morning news briefing to a weekly Good News Newsletter, get the best of The Week delivered directly to your inbox.
From our morning news briefing to a weekly Good News Newsletter, get the best of The Week delivered directly to your inbox.
Over the past decade, the country has become known as "the brothel of Europe", reported The Guardian. A 2011 United Nations investigation found it to be the third biggest capital of prostitution in the world, behind Thailand and Puerto Rico.
But a spokesperson from CATS (Committee of Support for Sex Workers), a charity based in southeastern Spain, warned that criminalising prostitution will simply send sex work further underground.
"If you throw people engaged in prostitution out of the establishments and flats where they work, then they're going to end up on the street,", said CATS' Nacho Pardo. "And that is sad, it's dangerous and it makes them vulnerable to mafias."
A similar view has been expressed by campaigners in the UK, where it is legal to be a sex worker but activities including owning or managing a brothel, pimping, soliciting in a public place and kerb-crawling are considered crimes under the Sexual Offences Act 2003.
A campaign group made up of sex workers called the English Collective of Prostitutes (ECP) has been calling for the decriminalisation of prostitution to protect vulnerable women. Its members claim that current laws cause sex workers to put themselves in danger and avoid reporting violent offences.
In a 2019 interview with The Guardian, Niki Adams, a spokeswoman for the collective, said that a common trend is for women to work alone, risking their safety in the process, because working together increases the risk of arrest. This has become more of an issue in recent years, she said, as police have been cracking down on brothels.
The ECP's call for the decriminalisation of prostitution has support from within Parliament. In 2016, the home affairs select committee recommended legalising soliciting and allowing sex workers to share premises without losing the ability to prosecute anyone who used brothels to control or exploit workers.
While the Home Office agreed that the legislation needed to be re-examined, there are currently no plans to change the law. However, during the Conservative Party conference this month, the government's independent adviser on tackling violence against women made headlines for saying that prostitution should be decriminalised in favour of targeting those who pay for sex.
Nimco Ali, who was described by The Telegraph as "a close friend of Carrie Johnson", told a fringe conference event that the UK should have a "Nordic approach when it comes to prostitution", referring to how Norway has made it an offence to buy sex rather than sell it.
Ali compared paying for sex to drunk driving, the paper reported, saying: "Twenty or thirty years ago nobody was embarrassed to be caught drink-driving but now they are. Men should be embarrassed by buying sex; men should be embarrassed to be heckling women."
Ali's suggestion came a year after Labour MP Diana Johnson proposed legislation that would criminalise buying sex and online sites that sex workers use to advertise their work. The "minority of men in England and Wales who pay for sex do so with impunity, fuelling a brutal sex trafficking trade and causing untold harm to victims", she told the House of Commons.
Johnson's bill, which has been opposed by sex workers and groups including Amnesty International UK, Stonewall, Sister Uncut and Momentum, is awaiting its second House of Commons reading. "Sex workers make money under widely varying circumstances. It will be the most marginalised, as ever, who bear the brunt of increased criminalisation," wrote sex worker activist Frankie Miren for the i news site.
Here are some of the pros and cons put forward by people on both sides of the debate.
Con: Prostitution exploits women
Many feminists argue that prostitution is rooted in the patriarchal oppression of women and is an affront to gender equality.
Sigma Huda, the former UN special rapporteur on trafficking, has said that it is "rare" to find a case "in which the path to prostitution and/or a person's experience does not involve, at the very least, an abuse of power and/or an abuse of vulnerability".
Pro: Sex work is a choice and empowers women
Sex workers' rights groups argue that many sex workers enter the industry voluntarily. In a report on sex work and human rights, the International Union of Sex Workers (IUSW) said that current legislation "treats [sex workers'] consent to sex as less valid than that of other women".
"Neither having sex nor getting paid [for it] is inherently degrading, abusive, exploitative or harmful," said the IUSW.
Pro: Some human rights and medical experts support it
In 2016, Amnesty International published a draft policy arguing in favour of decriminalisation, which said that sex workers should be entitled to the same rights as other workers. It argued that the criminalisation of prostitution "threatens the rights to health, non-discrimination, equality, privacy, and security" of a sex worker.
The World Health Organization has also condemned the criminalisation of sex work and backed research in the medical journal The Lancet, which shows that decriminalising prostitution would help lower rates of sexually transmitted infections, particularly HIV/Aids.
Con: Prostitution is dangerous
Many campaigners and feminists say that prostitution, whether voluntary or not, is a form of violence against women.
Care, a Christian charity, has argued that physical abuse and rape are commonplace in prostitution and campaigns for the criminalisation of all purchases of sexual services. In London, sex workers suffer a mortality rate that is "12 times higher than average", according to its research.
Pro: Decriminalisation will actually make sex workers safer
Rights groups argue that criminalising prostitution means that sex workers are less likely to contact the police to report abuse. The laws in the UK also take away sex workers' rights to work together. If sex workers are allowed to work together in one building, they will be safer, said the IUSW.
"If I decided I was too nervous to work alone, I would not be allowed to have a friend over to work in a pair for safety: it would technically mean I was running a brothel," one sex worker told The Independent.
UK laws "make life harder for those it purports to protect by precluding the possibility of establishing informal networks of self-regulation and protection", said Luke Gittos, a columnist for Spiked Online, in an article called 'Britain's crazy prostitution laws'.

Continue reading for free
We hope you're enjoying The Week's refreshingly open-minded journalism.
Subscribed to The Week? Register your account with the same email as your subscription.