Head transplant: how would it work and is it ethical?
'Frankenstein' neurosurgeon insists surgery can happen but the medical community argues he is 'nuts'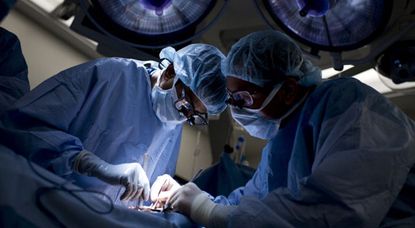 (Image credit: 2012 AFP)
A controversial neurosurgeon who plans to carry out the world's first head transplant has admitted that the final goal of his project is immortality.
Italian surgeon Sergio Canavero, who plans to perform the transplant in the next few years, has been called Frankenstein by other doctors. "I am prepared for any nicknames," he told the Mail Online. "It sounds cool and will help to sell more newspapers."
The procedure has never before been performed on a human, but Canavero insists that "we are now at a point when the technical aspects are all feasible". He believes the biggest problems he faces are securing finding and finding a country willing to host the procedure. "If Europe and Russia say "no", the surgery will be done in China,' he said. "I'm ready for that. I've been studying Chinese for a few years.
Subscribe to The Week
Escape your echo chamber. Get the facts behind the news, plus analysis from multiple perspectives.
SUBSCRIBE & SAVE
Sign up for The Week's Free Newsletters
From our morning news briefing to a weekly Good News Newsletter, get the best of The Week delivered directly to your inbox.
From our morning news briefing to a weekly Good News Newsletter, get the best of The Week delivered directly to your inbox.
How would it work?
A head transplant was successfully carried out on a monkey in 1970, but doctors didn't have the technology to reattach the severed spinal cord, so the monkey was paralysed and survived for only eight days, dying after the head was rejected by the body's immune system.
If carried out on a human, the entire procedure is expected to take at least 36 hours and would be performed by Canavero and a team of 150 doctors and nurses. He estimates that the cost of the operation could stretch beyond $10 million, and is looking for donors.
Surgeons would sever the head of a person suffering from spinal cord injury or a degenerative muscle disease and then reattach it to a donor body. Both head and body will be cooled to 10-15 degree to extend the time their cells can survive without oxygen. Canavero insists it will be possible to reconnect the severed spinal cord by using his "miracle ingredient" – a glue-like substance called polyethylene glycol.
After the muscles, blood supply and nerves were reattached, the patient would be put into a coma for four weeks to allow the body and head to heal. Once the patient is brought out of a coma, he or she will be given powerful immunosuppressant drugs to prevent rejection, and would require extensive psychological counselling to deal with identity issues that will result from having a new body.
If successful, Canavero believes patients will be able to feel and move every part of their bodies and even speak in their own voices.
Who will his patient be?
Out of hundreds of applicants, a Russian man with severe disabilities has been chosen to undergo the procedure. Valery Spiridonov suffers from a rare disease which causes the muscles in his body to waste away, and says that although he is scared, he feels he has no other option. "My decision is final and I do not plan to change my mind," he told the Mail Online.
Would it work and is it ethical?
Much of the scientific community has reacted to Canavero's plans with a mixture of scepticism and horror. Arthur Caplan, director of medical ethics at New York University's Langone Medical Centre, has described Dr Canavero as "nuts" and says the transplant is scientifically impossible.
The bodies of the transplant patients "would end up being overwhelmed with different pathways and chemistry than they are used to and they'd go crazy," he told CNN. Dr Hunt Batjer, president elect of the American Association for Neurological Surgeons, agrees. "I would not wish this on anyone," he said. "I would not allow anyone to do it to me as there are a lot of things worse than death."
Even if the patient did survive, doctors argue there is little chance they would be able to move. "There is no evidence that the connectivity of cord and brain would lead to useful sentient or motor function following head transplantation," Richard Borgens, director of the Center for Paralysis Research at Purdue University in Indiana told the New Scientist.
There are also serious ethical concerns, but these depends on how you define human life, says Patricia Scripko, a neurologist and bioethicist at the Salinas Valley Memorial Healthcare System in California. "I believe that what is human is held within the higher cortex. If you modify that, you are not the same human," she says. But those in other cultures believe the essence of life is not confined to the brain.
Spiridonov and Canavero say head transplants are as ethical as the transplant of the heart or kidneys. "There was much talk about where the human soul is located," Spiridonov said, "and if it's ethical to do the heart transplants, but now doctors do it and save people's lives.
"I think it's the normal way of technology to evolve. It would be strange to stop at this point when the neurosurgery is ready to take the next step."

Continue reading for free
We hope you're enjoying The Week's refreshingly open-minded journalism.
Subscribed to The Week? Register your account with the same email as your subscription.