Pacquiao uses Bible to justify another attack on gays
Anger after boxing champion spoke out against same-sex marriage during television show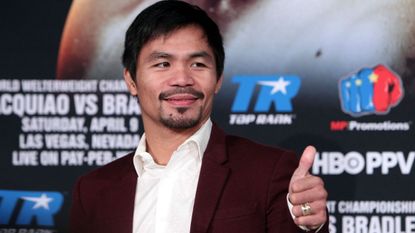 (Image credit: CHRISFARINA/AFP/Getty Images)
After being dropped by Nike, the increasingly controversial boxer quotes the Bible and insists he is 'right'
Days after apologising for saying same-sex couples were "worse than animals", Filipino boxing legend Manny Pacquiao, who has been ditched by sponsors Nike, has used the Bible to justify his opinions after posting inflammatory comments on the internet.
Earlier this week, the boxer turned politician attacked gay marriage during a TV interview, before apologising on social media to the LGBT community. However, the outcry was sufficient for sportswear company Nike to wash their hands of him.
Subscribe to The Week
Escape your echo chamber. Get the facts behind the news, plus analysis from multiple perspectives.
SUBSCRIBE & SAVE
Sign up for The Week's Free Newsletters
From our morning news briefing to a weekly Good News Newsletter, get the best of The Week delivered directly to your inbox.
From our morning news briefing to a weekly Good News Newsletter, get the best of The Week delivered directly to your inbox.
But just as the furore appeared to be dying down, Pacquiao, who will retire after his next fight in April to concentrate on his political career, rekindled the row with a post on Instagram. It featured a passage from the Old Testament's Leviticus that describes homosexuality as "detestable" and says those who practise it "are to be put to death; their blood will be on their own heads".
The post soon disappeared, but not before it attracted 18,000 "likes".
When asked about the furore on Friday, Pacquiao said: "What I am saying is right. I mean I am just stating the truth, what the Bible says."
The Philippines is a largely Catholic country and there is widespread opposition to gay marriage there. However, "there is growing unease at Pacquiao's intemperate outbursts", says the Daily Telegraph.
The boxer, widely expected to become president one day is hugely popular but courted controversy by converting to Protestantism several years ago, while the Philippines has many high-profile gay celebrities and a thriving LGBT scene in the capital Manila.
"Normally the personal views of athletes would not carry so much influence, but Pacquiao is no normal athlete," says Bryan Armen Graham in The Guardian. "We've held him up as the most socially important boxer since Muhammad Ali – the sacred foil to the profane, profligate Floyd Mayweather."
But even Mayweather, a convicted wife-beater, has condemned Pacquiao. And the damage he is doing to his reputation could be permanent, although it is unlikely to stop him being elected to the Filipino senate in May.
"The stain of Pacquiao's remarks now threatens to colour a hard-won boxing legacy," says Graham. "Words carry a lasting power greater than even Pacquiao's most devastating left hand. While these remarks will never undo his many good deeds, redemption in the public eye could remain forever out of reach."
Pacquiao apologises for calling gays 'worse than animals'
16 February
Boxer and politician Manny Pacquiao has apologised for branding gay couples "worse than animals" but has stood by his opposition to gay marriage ahead of elections later this year.
The world boxing champion (pictured above), who is a member of the Philippines house of representatives and is running for a seat in the senate in May, made the comments in Tagalog during a television interview.
"It's common sense," he said, reports The Guardian. "Do you see animals mating with the same sex? Animals are better because they can distinguish male from female. If men mate with men and women mate with women, they are worse than animals."
His comments outraged many and sparked a war on social media. However, Pacquiao initially defended his statement in a post on Instagram and insisted he was "just telling the truth of what the Bible says".
Filipino comedian Vice Ganda, leading the protests on Twitter, described Pacquiao as a "blind prophet" and turned the tables by urging his followers to pray for the boxer instead. He also said he accepted the boxer's apology.
It is unclear what Pacquiao's comments will do for his chances of election. "Same-sex marriage is illegal in the Philippines, a majority Catholic country, and Pacquiao is presenting himself as an ultra-conservative candidate," says The Independent.
Despite his status in the Philippines, the boxer is a controversial figure. "The 37-year-old is a national sporting hero in his homeland as boxing's only world champion in eight different weights," explains the Daily Telegraph. "But his evangelical Protestant beliefs have also caused unease in the predominantly Roman Catholic country."
And the topic of gay marriage is a particularly thorny one in the Philippines. "The furore has split the online world, where many Christian followers have shown support for Mr Pacquiao, while others have condemned him for his views," says the BBC. "Many Filipinos hold conservative views on gay rights because much of the population is Catholic, but the country has several prominent gay personalities and the capital, Manila, also has a vibrant gay scene."
Tipped by many to one day become the country's president, Pacquiao will dedicate himself to politics after his fight against Timothy Bradley in April, after which he is expected to retire.

Continue reading for free
We hope you're enjoying The Week's refreshingly open-minded journalism.
Subscribed to The Week? Register your account with the same email as your subscription.