Monte dei Paschi bailout looms as Italy approves €20bn banks rescue plan
World's oldest bank expected to announce it has failed to raise €5bn from the private sector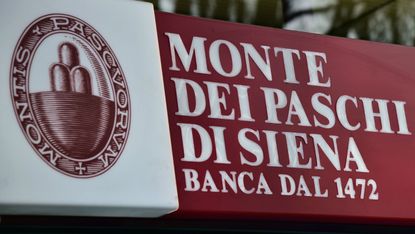 Sign up to our 10 Things You Need to Know Today newsletter
A free daily digest of the biggest news stories of the day - and the best features from our website
Thank you for signing up to TheWeek. You will receive a verification email shortly.
There was a problem. Please refresh the page and try again.
Italy has approved a €20bn (£17bn) plan to bail out its banks as fears mount about the long-term future of its third largest lender.
The Italian treasury could be forced to step in and rescue Monte dei Paschi di Siena, the world's oldest surviving bank, as early as next week, following the failure of a last-minute €5bn (£4.2bn) private sector bailout plan.
Monte dei Paschi executives are "expected to announce later that it has failed to raise the money it needs", says the BBC.
Subscribe to The Week
Escape your echo chamber. Get the facts behind the news, plus analysis from multiple perspectives.
SUBSCRIBE & SAVE
Sign up for The Week's Free Newsletters
From our morning news briefing to a weekly Good News Newsletter, get the best of The Week delivered directly to your inbox.
From our morning news briefing to a weekly Good News Newsletter, get the best of The Week delivered directly to your inbox.
The bank revealed last month that it "could run out of funds by next April", using up nearly €11bn (£9.2bn) of financial assets and threatening the savings of thousands of Italians.
A state bailout would hit older people in particular as a large slice of Italy's bank bonds are held by ordinary investors and EU rules require private bondholders to take losses in any state-backed rescue.
Monte dei Paschi failed an EU stress test in July because of billions of euros of risky loans that are a hangover from the financial crisis.
New Prime Minister Paolo Gentiloni has vowed not to let the bank fail "for fear that its collapse could topple the rest of Italy's heavily indebted banking sector", says the BBC.
Italy's banking sector is said to be holding around €360bn (£305bn) in non-performing loans.
Italy's Monte dei Paschi at risk of government bailout
20 December
A last-minute attempt by the world's oldest bank to avoid a state bailout is at risk after a backer raised concerns about the terms of the deal.
Atlante, the Italian bank-rescue fund, says it is worried about a €1.5bn (£1.3bn) loan that forms part of the rescue plan for Banca Monte dei Paschi di Siena, Italy's third-largest lender. The news sent the bank's share price tumbling on Monday.
Monte dei Paschi needs to raise €5bn (£4.2bn) by the end of the month to boost reserves against a hangover of bad loans on its balance sheet, says the BBC. If it cannot persuade investors to inject the required funds, the Italian government will be forced to step in.
In preparation for a wider rescue being needed, the Italian government will seek parliamentary approval to borrow €20bn (£17bn) to support the bank and other failing institutions, the BBC adds.
"A bailout would impose damaging losses on the thousands of small investors who have invested in Monte dei Paschi", says the Daily Telegraph, as under EU rules imposed since the financial crisis, taxpayer money cannot be pumped into a banking rescue without private bondholders also incurring losses. In Italy, many of these bondholders are ordinary investors.
Italy's banking sector is staggering under €360bn (£305bn) of non-performing loans that could have a devastating knock-on effect on the rest of the eurozone.
Investors had been expected to back the rescue before the Italian constitutional referendum at the beginning of the month. However, the No vote brought down the government and unleashed fresh political instability.
Monte dei Paschi: Bailout lined up for world's oldest bank
6 December
Italian officials are reportedly preparing a complex rescue package for the world's oldest bank after the weekend's constitutional referendum defeat brought down the government of Matteo Renzi.
"People briefed on the situation" told the Financial Times the political upheaval made it "more difficult" to secure a €1bn (£820m) investment from Qatar on which Monte dei Paschi's €5bn (£4.2bn) existing rescue plan hinges.
Monte dei Paschi, which was founded in 1462 in Sienna, is Italy's third-largest bank. It is still saddled with €20bn (£16.4bn) of bad debts from the financial crash, part of a €360bn (£300bn) debt pile across Italy's banking sector that continues to undermine confidence in the country's economy.
The bank had been hoping to spin out as a standalone company a unit containing a €28bn (£24bn) loan book, with a concurrent cash injection from investors shoring up capital reserves.
But with the uncertainty generated by Renzi's resignation and concerns about Italy's economy, which could yet see the anti-EU and anti-euro Five Star Movement gain power, investors are refusing to "sign on the dotted line", says CNN.
If Monte fails it could undermine confidence in the wider financial sector – and those debts across all Italian banks are worth around a third of GDP.
A number of threats now face the eurozone's third-largest but second most-indebted country. Political leaders are therefore keen to show they are on top of the situation, including Renzi, who is still in office until at least the weekend.
One issue is how to bail out banks while adhering to EU rules, which require private debt-holders to take the first round of losses, but also without causing uproar given that a large chunk of banking sector bonds in Italy are held by ordinary investors.
"To avoid… imposing losses on the €2bn of retail bondholders in Monte dei Paschi, a plan is being drawn up to guarantee full repayment of the first €100,000 to every junior bondholder," says the FT.
So far markets are relatively calm. But shares in Monte have fallen 4.4 per cent today, adding to losses of more than four per cent yesterday and in excess of 80 per cent in the past year.
After Italian referendum – are markets 'immune to political risk'?
5 December
Another insurgent vote in Europe has toppled another prime minister, only this time it could potentially lead to a populist ring-wing administration taking over a major western country.
Yet once again, markets appear to have "shrugged off" the whole thing, says the Daily Telegraph.
This time, the venue for the political upset was Italy, where voters yesterday went to the polls in a constitutional referendum called by centre-left Prime Minister Matteo Renzi, who staked his premiership on a "yes" vote.
In one respect it was a parochial affair concerning a proposed technical change to reduce the number of senators in parliament by two-thirds and remove the upper house's power to unilaterally oust sitting governments.
In another, the defeat, by 60 to 40 per cent, is yet another sign of a surge of populism taking hold following the UK's vote for Brexit and ahead of the French presidential election next year.
Unlikely allies the anti-immigrant Northern League party and the populist Five Star Movement "locked arms to take on Renzi in the hope – now realised – of driving him out of office", says The Guardian. Renzi is due to present his resignation this afternoon.
It is now being widely speculated that the anti-EU, anti-euro Five Star Movement could form the next government, raising the possibility of Italy having its own "Brexit moment".
Like the UK's EU referendum, it had been widely assumed a defeat for the government, bringing a political crisis and economic uncertainty, would hit markets hard.
That is what initially happened, with the euro falling to a 21-month low against the dollar. However, the currency has since recovered and was down a mere 0.3 per cent this morning to $1.06.
"Shares in Italian banks opened lower before recovering ground," says the BBC, while markets across Europe are also in positive territory, with the FTSE 100 up 0.5 per cent and the German Dax 1.6 per cent.
At 0.2 per cent down, Italy's benchmark the FTSE MIB was barely changed.
Kathleen Brooks, the research director at City Index Direct, said: "Either markets are becoming immune to political risk, or they are taking the view that the Italian issue will be a slow-burner - even if the president can't form a government, he still has 70 days to try."
Investors over the next few days will be watching the impact on Italy's banks, which "are struggling with a burden of bad debt and are in need of refinancing".
Creditors of Monte dei Paschi, Europe's oldest bank, meet this afternoon to discuss the implications of a rescue plan its bosses have described as getting "several holes in one in a row".
Continue reading for free
We hope you're enjoying The Week's refreshingly open-minded journalism.
Subscribed to The Week? Register your account with the same email as your subscription.
Sign up to our 10 Things You Need to Know Today newsletter
A free daily digest of the biggest news stories of the day - and the best features from our website