Greece deal avoids another summer debt crisis
IMF and eurozone creditors finally agree 'second-best solution' to debt relief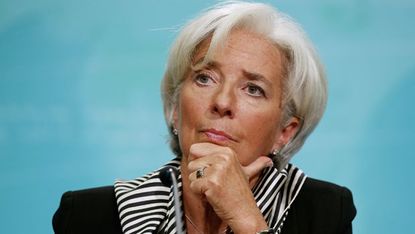 (Image credit: Chip Somodevilla/Getty Images)
Sign up to our 10 Things You Need to Know Today newsletter
A free daily digest of the biggest news stories of the day - and the best features from our website
Thank you for signing up to TheWeek. You will receive a verification email shortly.
There was a problem. Please refresh the page and try again.
Greece has reached an agreement with its European creditors to release new bailout funds and prevent another summer debt crisis.
The past few weeks have seen talks stall on releasing a new round of loans to the stricken country, two years after a similar impasse on debt talks brought the country to the brink of default and the eurozone close to collapse.
This time, the likes of Germany refused to commit to any rescue deal until the International Monetary Fund (IMF) agreed to participate - while the IMF refused to commit until proper relief was offered on Greece's mountain of debt.
Subscribe to The Week
Escape your echo chamber. Get the facts behind the news, plus analysis from multiple perspectives.
SUBSCRIBE & SAVE
Sign up for The Week's Free Newsletters
From our morning news briefing to a weekly Good News Newsletter, get the best of The Week delivered directly to your inbox.
From our morning news briefing to a weekly Good News Newsletter, get the best of The Week delivered directly to your inbox.
Amid the wrangling was profound disagreement over the achieveability of strident austerity targets that would force Greece to run a budget surplus of 3.5 per cent for three years from 2018.
At stake was a bailout tranche worth in excess of €8bn, needed to meet a debt repayment of €7.3bn due next month, which Greece does not have the funds to meet.
Funding was finally approved last night and will be released in two disbursements: €7.7bn (£6.7bn) next month, followed by €800m (£700m) over the following three months, says the Daily Telegraph.
Greek finance minister Euclid Tsakalotos said: "There is now light at the end of the tunnel."
However, the deal still does not include any actual relief on the debt pile nor any cash from the IMF.
Instead, in what the fund's chief Christine Lagarde called the "second-best solution", eurozone ministers agreed to an outline package of debt relief that will be offered - and perhaps even extended - if Greece hits its financial targets.
Specific pledges include extending loan maturities and deferring interest payments for at least 15 years.
This is unlikely to be forthcoming until well after Germany's elections this year. At that point, the IMF will put funding into the scheme, although this is little more than a symbolic gesture to give the deal credibility.
The IMF would contribute around €2bn (£1.75bn), more than forty times less than the wider creditor group.
Some, such as former Greek finance minister Yanis Varoufakis, remain sceptical the country can hit targets that effectively compel it to run a budget surplus of at least two per cent every year until 2060.
Greece debt relief row clouds run-up to eurozone summit
8 June
Greece has "rejected a compromise deal" and sparked a fresh row over debt relief, ahead of a key eurozone summit next week to avoid a fresh eurozone crisis this summer, says The Times.
Having failed earlier this year to agree terms to trigger the latest tranche of loans under the country's third bailout, Athens is heading towards July's deadline for a €7.3m (£6.3bn) loan repayment without sufficient funds.
Creditors such as Germany and the International Monetary Fund (IMF) disagree whether Greece can meet ambitious surplus targets without debt relief.
The IMF has said it will not participate in the bailout unless relief is offered, while Germany says it will not consider relief until Athens proves it is sticking to the terms of the deal.
In practice, that probably means waiting until well after the German general election in September.
According to the Times, this was effectively the solution offered in a "compromise" by the IMF chief Christine Lagarde yesterday.
"[She] told the German newspaper Handelsblatt that the fund could bow to the wishes of Mrs Merkel's government and stay on board in the Greek bailout," says the paper.
"She said that the fund would resist providing any further financial aid to Greece until debt relief measures had been clarified."
But Alexis Tsipras's ruling Syriza party in Greece, which has faced strong criticism for passing fresh austerity measures to comply with the bailout terms last month, rejected any further delay to debt relief.
Panagiotis Rigas, a leading Syriza member, said: "The IMF cannot just continue deferring decisions.
"It cannot insist that Greece take painful measures and when it does, turn around and say, 'Not to worry. We'll deal with your debt at a later time in the distant future.'
"We have met our obligations to creditors. It is also their time to deliver."
According to Reuters, Greece would like to come back to the market with new debt bonds to bolster its finances, although it will probably need European Central Bank assurances to get the cost to a manageable level below five per cent.
That support, however, depends "primarily on whether Athens can agree a debt deal with the euro zone and International Monetary Fund next week".
Greece on brink of another summer debt crisis
23 May
Greece has been left waiting for new bailout funds after talks at the latest eurozone ministers' meeting ended in failure yesterday after seven hours.
The collapse of the talks raises "the prospect of a summer crisis for the single currency bloc" for the second time in three years, says The Guardian. Ministers next meet on 15 June, but Greece needs the new funding in order to make a €7.3m (£6.3bn) loan repayment due in July.
At issue is discord between the International Monetary Fund (IMF) and European countries such as Germany and the Netherlands over economic assumptions for the country.
Both sides agreed yesterday that Greece should be required to hit a hefty budget surplus target of 3.5 per cent by 2018 and for the following five years. However, targets for the surplus and growth after that are far less clear.
In general, the IMF believes European creditors are being far too optimistic and that more debt relief will be needed.
"We still think there is a need for more realism in assumptions and more specificity," Poul Thomsen, head of IMF's European Department, told Reuters.
Greece has also demanded more debt relief and, having passed new austerity measures in May, believes it has done more than enough to earn it.
IMF rules preclude it from participating in the bailout unless it is presented with a plan it thinks is sustainable.
However, Germany and the Netherlands, among other creditors, have consistently stated they will not keep bailing out Greece if the IMF pulls out.
"Northern European countries… think the IMF will add rigour to the programme and fear the EU institutions will be too soft on Athens," says the Guardian.
Dutch finance minister Jeroen Dijsselbloem, chairman of the eurozone ministers' group, said: "We need to close that [gap between the IMF and creditors] by looking at additional options or adjusting our expectations.
"Both are possible and both should be done."
Greece is in recession for first time in five years
17 May
Greece has fallen back into recession for the first time in five years. Official figures from Eurostat show GDP fell by 0.1 per cent in the first three months of the year after shrinking by 1.2 per cent in the final quarter of 2016.
Eurozone finance ministers are to meet on 22 May to decide whether to approve another round of funds as part of the country's third bailout deal.
That had seemed more likely last month, after the International Monetary Fund said it could offer at least "limited" support, a key condition of ongoing German participation.
However, uncertainty over the loan has been one of the major factors behind Greece sliding back into recession, Howard Archer of IHS Markit told the BBC.
He added: "With EU creditors now expected to finally sign off on Greece's latest injection of rescue cash, the European Commission expects growth to bounce back to 2.6 per cent this year."
Greek unions today began two days of industrial action against cuts to pensions and tax rises insisted on by international creditors and passed by Alexis Tsipras's leftist government.
A 24-hour general strike to protest a new round of austerity measures is due to come into effect today, causing massive disruption to transport and public services.
However, there is better news for the European Union as a whole, with figures showing its economy grew by two per cent in the first quarter of this year compared with the same period last year.
The smaller eurozone area is also up 0.5 per cent at 1.7 per cent from the end of 2016.
Greece could get limited IMF bailout support
20 April
Greek officials have said the country could finally get support from the International Monetary Fund for its latest bailout - but of a very limited nature.
"What is under discussion is a small IMF funding program, which will last for one year," Dimitris Tzanakopoulos, Athens' bailout negotiator, told Reuters. That would bridge the gap until bailout funding from the European Stability Mechanism, the country's main EU creditor, expires in August 2018.
Greece is locked in negotiations with creditors in an effort to release another tranche of bailout funds to repay debts that fall due in July, as a second review into its progress has dragged on for months.
Delays are partly due to doubts about its commitment to economic reforms, but mainly result from "a rift between the EU and the IMF over its fiscal targets", Reuters says.
The IMF board is split on whether Greece can meet fiscal targets and has urged eurozone creditors to provide Greece with debt relief. European leaders have ruled that out this side of elections in France and Germany - and Germany has set IMF participation as a condition of its ongoing support.
EU and IMF negotiators will return to Athens on April 25 to finalise a new round of Greek reforms.
The news comes the day that the IMf declared the end of austerity in the rich world, says the Daily Telegraph, after governments "eased their fiscal stance by one-fifth of one per cent of GDP in 2016".
This broke a five-year trend of gradual fiscal consolidation - but the IMF said "governments are still heavily indebted and need to be careful with their budgets".
Continue reading for free
We hope you're enjoying The Week's refreshingly open-minded journalism.
Subscribed to The Week? Register your account with the same email as your subscription.
Sign up to our 10 Things You Need to Know Today newsletter
A free daily digest of the biggest news stories of the day - and the best features from our website