Italian Excellence at Bottega Veneta
Tomas Maier and the eco-friendly Bottega Veneta atelier in the heart of the Veneto countryside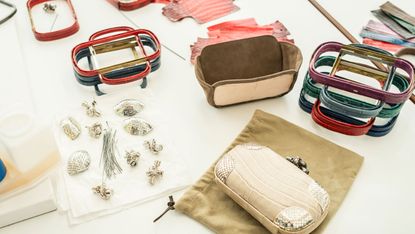 Sign up to our 10 Things You Need to Know Today newsletter
A free daily digest of the biggest news stories of the day - and the best features from our website
Thank you for signing up to TheWeek. You will receive a verification email shortly.
There was a problem. Please refresh the page and try again.
To celebrate its golden anniversary and Tomas Maier's 15-year tenure as creative director, Italian luxury brand Bottega Veneta presented its SS17 Milan Fashion Week show at the Accademia di Belle Arti di Brera, one of the country's pre-eminent art colleges, housed in a 17th-century palazzo. As the models passed through the same sculpture-lined hallways that have welcomed some of Italy's most celebrated artists – from Piero Fornasetti, who was expelled for disobedience, to Lucio Fontana, the founder of Spatialism, famed for his mid-20th century slashed paintings – the sense of heritage and savoir faire was palpable. The collection's accessories evinced another kind of artistry, nurtured by the brand since 1966 and today explored at its modern atelier in Montebello Vicentino, a town in the northern province of Vicenza.
"One of the most significant events in the past 15 years for me was the first time I met the artisans, shortly before I joined the company," recalls Maier. "I wanted to create a place that would be the perfect house for our master artisans." True to his word, in 2013 Maier relocated the atelier to the 18th-century Villa Schroeder-Da Porto after lengthy renovation. The listed heritage site is surrounded by 55,000 square metres of verdant parkland; its Vicenza stone pillared façade looks out onto acres of untouched flat terrain, save for the odd barn and greenhouse that punctuate the landscape. Adding romance to the view are rolling hills and the two Montecchio Maggiore castles in the distance, claimed to be the inspiration for the story of Romeo and Juliet.
The concept of the atelier, masterminded by Maier himself, was to preserve the site's historic splendour while pioneering sustainable production with minimal impact on the environment. Maier's plan saw the building's surface area double in size; the work, which began in 2011 and took a year- and-a-half to complete, included the meticulous restoration of the original estate, and a sprawling extension to accommodate the site's extensive family of artisans and support staff.
Subscribe to The Week
Escape your echo chamber. Get the facts behind the news, plus analysis from multiple perspectives.
SUBSCRIBE & SAVE
Sign up for The Week's Free Newsletters
From our morning news briefing to a weekly Good News Newsletter, get the best of The Week delivered directly to your inbox.
From our morning news briefing to a weekly Good News Newsletter, get the best of The Week delivered directly to your inbox.
"It's hard to say which part we cared about most, but one critical aspect was the large windows in our main workshop," he says. "Light affects a room more than anything else, and when people have good natural light, they function better, perform better and feel better." Forging an emotional connection with the manufacturing process has long since been at the heart of Bottega Veneta, and integral to Maier's working practice.
In 2014, the villa atelier was awarded Platinum Certification for LEED (Leadership in Energy and Environmental Design), the first fashion and luxury house to receive such an honour. No wonder, really, when the list of schemes supporting a sustainable working practice reads like a 'how to' of pioneering building work. The park has been replanted following extensive research into local vegetation; rainwater is collected in an underwater reservoir and then recycled, and the atelier's roof is layered with solar panels. Inside, the villa is lit by antique Murano glass chandeliers and modern sensor lamps. Bottega Veneta is proudly 'made in Italy', and a tour through the white-walled atelier – which specialises exclusively in its leather accessories – illustrates the methodical workmanship applied to these luxury products. The main workshop runs perpendicular to the centre of the villa and is set within a glass conservatory, once a long colonnade. More laboratory than factory, this is where 100 highly skilled artisans, dressed in light-brown lab coats, produce samples, special commissions and prototypes. Once approved, these are sent to factories for commercial production.
Materials, which are stored on site, arrive from tanneries and are subjected to a vigorous vetting system to guarantee the quality of the finished product. These are expertly carried out with scientific precision in specialised rooms in the atelier's new extension beyond the glass workshop. Indeed, research at the Montebello Vicentino site is painstakingly precise.
For example, a special climate chamber evaluates the resilience of the leathers, which are aimed at a global market – a handbag worn in humid Singapore must have the same durability as one carried in Paris, Dubai or, indeed, Russia. The 'tropical test', which is standard at Bottega Veneta, exposes the leather to 45°C heat and 95 per cent humidity for seven days.
The Martindale abrasion and piling test is used to guarantee a material's durability by mechanically rubbing it against coarse fabric – soft nappa leather is put through no fewer than 1,500 cycles, I'm told – and the strength of the material is determined with a mechanical dynamometer, which pulls and twists the leather. Yet another test involves the application of a liquid set to a pH level similar to that of human perspiration; this will help determine how best to minimise the effects of everyday wear and tear on the material. Montebello Vicentino's purpose is twofold: to produce samples and prototypes that may or may not be put into production, and to give products that have passed its exacting trials the final stamp of approval.
In addition to offices, workshops and Bottega Veneta's Scuola della Pelletteria – established in 2006, this is where future artisans are trained – Montebello Vicentino is also home to the house's guarded archives and museum rooms. Access to this treasure trove is positively Narniaesque: an oversize fairytale-like key opens a set of heavy wooden double doors to reveal polished glass vitrines and stuccoed mantelpieces. These display jewels and countless samples of the Knot Clutch, the minaudière first introduced in the 1980s and to which Maier added a metal clasp in the shape of a leather knot in 2001.
The centrepiece of an adjacent room is a long table strewn with a selection of the Cabat bag, a logo-free, basket-style woven leather tote made entirely by hand. It is a feat of technical craftsmanship that takes two artisans two full days to produce. While such facts go some way towards highlighting the savoir faire behind the brand, to fully grasp the virtuosity of Maier's work at Bottega Veneta is to wear his designs. "I am always thinking about private luxury," he explains. "You own something and you really get to understand it. The experience of wearing it elevates it to another level." One ingenious variation of the Cabat bag, which is now stowed in the archive, epitomises this idea of luxury as a multi-sensory and personal experience. The bag's supple calfskin, woven into the house's signature criss-cross pattern, has been secretly lined with a material that reacts with movement to replicate the sound of a traditional straw panier. It's the sound of pragmatism, if you like, superimposed onto a work of exquisite craftsmanship.
Maier was born in 1957 to a family of architects in Pforzheim, southwest Germany. Upon graduating from the venerable École de la Chambre Syndicale de la Couture Parisienne, widely considered to be one of the world's best fashion schools, he took up roles within the design studios of Parisian luxury brands, before acting as creative director of Revillon, followed by a nine-year stint in Hermès' womenswear department. In 1997, Maier launched his eponymous brand, specialising in casual luxe – influenced no doubt by the sunshine climate of Florida, where he has lived since 1999. Remarkably, Maier has managed all his demanding roles from his Delray Beach base, travelling to Europe and New York when necessary.
When the Gucci Group (now Kering), purchased Bottega Veneta in 2001, Tom Ford suggested Maier for the role of creative director. Exercising complete creative control, from product design to advertising, Maier set about returning the then ailing brand to its former glory. Championing craftsmanship, superior materials and wearability rather than overt branding, Maier realigned Bottega Veneta with the brand's famous 1970s slogan: 'When your own initials are enough.'
"I don't think I could pinpoint a Bottega Veneta woman or man," says Maier of the brand's demographic. "It is more about an attitude, a life philosophy; about an appreciation for excellence that is understated. They are people who have a keen sense of their values and priorities without needing to show them."
In 1966, Michele Taddei and Renzo Zengiaro set up Bottega Veneta in Vicenza, a short drive from the Montebello Vicentino atelier and still the location of the brand's headquarters (furniture and ready-to-wear are produced there). From early on, Bottega Veneta was rooted in traditional craftsmanship and techniques indigenous to the Veneto region. It was in the 1970s that the duo first introduced the Intrecciato motif, adding it to handbags and accessories. To this day, the Intrecciato weaving technique remains the distinctive style of the luxury house, and its many possibilities are explored by hand at the villa workshop in Montebello Vicentino.
To adorn bags such as the Veneta hobo, a leather base is pierced at a 45-degree angle, before colour-matched leather strips called fettucce (cut by a device reminiscent of a traditional pasta maker) are threaded and looped through the incisions. The Intrecciato is also at the heart of the aforementioned Cabat bag, the first item Maier designed for the brand in 2001; ready- to-wear followed in 2002 and fine jewellery in 2006. "I wanted it to be unlined, as beautiful on the inside as on the outside and to reflect Bottega Veneta's philosophy of understatement, luxury and contemporary functionality," he says of the complex construction.
Instead of a leather base, the bag is entirely woven throughout using approximately a hundred ribbons of double-sided leather. The strips, which measure over a metre-and-a-half in length, are woven by hand to form triangular panels, which are then joined by following the shape of a special mould. The artisans must remain standing throughput this lengthy process which takes an average of 48 working hours to complete and requires considerable body strength.
In the modelling and engineering departments, artisans develop Maier's sketches and photographs into patterns, paper models and trial samples. This requires a close rapport between Maier – whose studio is in New York - and the Italian operatives who bring alive the architecture of his ideas. "We thrive on a dynamic, two-way collaboration and mutual respect," says the designer whose modus operandi is very much anchored in the idea of community and social connectivity. Indeed, the villa atelier was conceived as a kind of creative hub with its own campus-like facilities, such as a free staff canteen, on-site gym and laundry service.
"After 15 years, I can't be more proud of what we've been able to achieve with the collaboration of all the people who constantly work for this company with incredible dedication and commitment," says Maier. Last year, the brand was the only fashion company to be recognised as one of Italy's best large firms, appearing on a top ten list compiled by the Great Place To Work Institute, a non-profit organisation that ranks multinationals in 45 countries.
"We work closely together to develop, test and solve design challenges," he explains. "The artisans give me feedback and suggestions, and so their contributions can be creative as well as technical. I like the sense that there are skilled hands behind Bottega Veneta who come together to make our products."
The run-up to September's 50th anniversary show at Brera Academy must have been a busy time at the villa atelier. Fifteen iconic archive bags were showcased, including one that managed to make time stand still for a second: a china-red leather clutch last seen in the 1980 movie American Gigolo, modelled by the film's ageless beauty, Lauren Hutton, who sparked a standing ovation. Maier matched the old with the new by also presenting the same number of SS17 bags on the catwalk – a clever way to show the seamless continuum of workmanship through the decades.
Continue reading for free
We hope you're enjoying The Week's refreshingly open-minded journalism.
Subscribed to The Week? Register your account with the same email as your subscription.
Sign up to our 10 Things You Need to Know Today newsletter
A free daily digest of the biggest news stories of the day - and the best features from our website