Genetic profiling: A fast-track ticket to optimal health
iamYiam founder Lorena Puica explains why she left a high-flying career in investment management to launch an innovative health service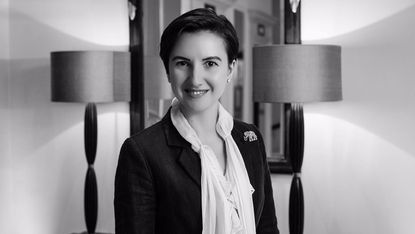 Sign up to our 10 Things You Need to Know Today newsletter
A free daily digest of the biggest news stories of the day - and the best features from our website
Thank you for signing up to TheWeek. You will receive a verification email shortly.
There was a problem. Please refresh the page and try again.
I left home at the age of 17, with €300 in my pocket and a burning ambition. By the age of 29, I had five degrees in finance, a published book and was working as director of strategy for multi-asset funds, looking after about £2.2bn and an army of portfolio managers. Working 80 hours a week, travelling three weeks of each month across time zones and pushing both intellectual and physical boundaries obviously comes at a price. On that intense journey to the highs of investment management, the price was my health.
I began suffering from the typical health problems many busy people complain of – stress, anxiety, insomnia, back and neck pain – but I just carried on, thinking this was normal. In your twenties you don't consider the possibility you could get a serious illness, you think you are immortal.
Eventually, I went to see a doctor, who was shocked by how imbalanced my hormones were for someone so young. He diagnosed a thyroid condition and immediately put me on a high dose of thyroxine. I was already vegetarian and very active ­– I'd participated in extreme sports for years – so aside from this condition, I considered myself healthy and didn't make any other lifestyle changes. I just expected the medication to work and fix the problems. But the heart palpitations and insomnia continued, I gained a lot of weight, I was losing my hair and aching all over. After five years on hormonal therapy, the doctors told me it wasn't working and I should have my thyroid removed.
Subscribe to The Week
Escape your echo chamber. Get the facts behind the news, plus analysis from multiple perspectives.
SUBSCRIBE & SAVE
Sign up for The Week's Free Newsletters
From our morning news briefing to a weekly Good News Newsletter, get the best of The Week delivered directly to your inbox.
From our morning news briefing to a weekly Good News Newsletter, get the best of The Week delivered directly to your inbox.
That was the turning point. I consulted several doctors, but none of them offered any other advice, so I decided to take charge of the situation. I started meditation, yoga, massage and acupuncture. I also switched to being vegan and within seven days of changing my diet I noticed the quality of my sleep improve phenomenally. Stress and anxiety hugely affect the quality of our sleep – and lack of sleep impairs our ability to make decisions. When you are grounded, calm and relaxed, you are much more creative, so you can see around problems. My quality of life improved in ways I never thought possible, just by being a bit calmer. I'm still vegan now – eating a more nutritious diet was the biggest contributor to getting better sleep and conquering my health problems. When you start feeling so good, you really don't want to go back.
I slowly came off the hormonal therapy and when I went to see the endocrinologist two years later, my blood tests showed I was completely healthy. I couldn't believe it.
Shortly after this, a friend invited me to participate in an extreme challenge to raise money for charity – seven marathons on seven continents in seven days. It had never been done before we did it [in February 2015] and I thought great! It's exactly as crazy as I'd want a challenge to be – if I manage to survive this, then I really am healthy. It ended up taking 10 days, because landing the plane in Antarctica took three attempts, but we did it.
During the challenge I had a lot of time to reflect. I asked myself: 'What am I good at? What do I love doing? What does the world need? Where do I feel I can have an impact?' I decided to leave my job to start something in the health world.
The concept behind iamYiam was to design the fastest possible journey for people to reach their maximum health potential and then stay healthy. Your genetics are the same throughout your life – whether you are 4 years old or 50; it's what you are made up of. iamYiam gives guidance on how to optimise your lifestyle, activities and nutrition, based on your genetic make-up and the demands of your current lifestyle.
Leveraging genetic data, lifestyle data and academic research, we combine all the information out there that's most helpful for preventative health and make it easy for people to take action. These days we are overwhelmed by data. There is so much science behind everything, but people are still confused, because we are all different genetically. Questions such as 'if I want to sleep better, what should I do and what should I eat?' or 'if I want to reduce my stress, what works for me personally?' can result in people embarking on lengthy trial-and-error processes – experimenting with different diets, activities and lifestyle adjustments, trying to figure out what works for them.
iamYiam provides the answers to these kinds of question by cross-referencing an individual's genetic data and information about their lifestyle with what scientific research says works for certain genetic predispositions and health conditions. The result is a truly personalised health-care plan.
The process is very simple. We send you a saliva-collection kit and you post a sample back to the laboratory. Technicians then extract the DNA and run an analysis to create an individual genome profile across 40 genetic parameters, covering diet, nutrition, fitness and health conditions. DNA is present in every single cell of our body and no two individuals have the same DNA, so this is a truly personalised analysis. We can look at your metabolic predispositions and see what your propensity is to burn fat during exercise, for example. Or how well predisposed you are to process certain types of food and whether you're susceptible to deficiencies of certain vitamins, minerals and antioxidants. In the fitness section, we look at whether you are better suited to strength or endurance and your predisposition to injury and flexibility.
The genetic testing takes 4-5 weeks and, in the meantime, we ask you to fill out a lifestyle questionnaire online. Once complete, we will recommend your personal and most relevant health goal related to lifestyle, disease and conditions. Goals range from stress, anxiety, depression, weight, back pain, neck pain and headaches, to hypertension, energy levels and so on. Or, if you prefer, you can set your own health goal.
The platform takes all your genetics and lifestyle data and runs it though a series of algorithms to produce your personalised activities plan and a nutrition plan with in-depth guidance tailored completely to you.
We have the ability to work with big pools of genetic data and use that for research. The algorithms are based on academic research that has been trialled on more than a million people to show that it works. If we see evidence that a certain portion of the population has benefited from a certain activity, then we optimise our algorithms to reflect that. Our data scientists ensure we stay abreast of the latest scientific enquiries and solutions.
Over 75 per cent of global healthcare costs are attributed to lifestyle diseases; that's what iamYiam aims to address, to lower that cost and make people's journey through life a lot more enjoyable, by being healthy on a continuous basis rather than just fixing problems with medication. Our mission is to enhance the health and wellbeing of one billion people by 2025, so we have a lot of work to do together.
iamYiam genetics and lifestyle profiling, £387; iamyiam.com
Continue reading for free
We hope you're enjoying The Week's refreshingly open-minded journalism.
Subscribed to The Week? Register your account with the same email as your subscription.
Sign up to our 10 Things You Need to Know Today newsletter
A free daily digest of the biggest news stories of the day - and the best features from our website