Tarang Arora: The story of Amrapali
Trace the fascinating history of the fine jewellery house at the Amrapali Museum of Jewellery in Jaipur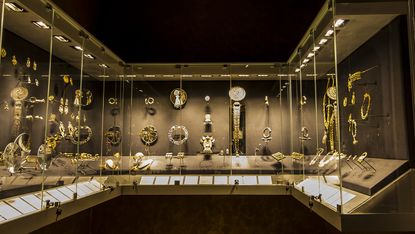 My father Rajiv Arora and his friend Rajesh Ajmera were both history students, and they founded Amrapali in 1978. My father's family members were all in professions such as medicine and law, and my grandfather had dreams of my father being a bureaucrat, but my father always wanted to start his own business. Rajesh's father was a successful emerald dealer in Jaipur, and Rajesh also wanted to start a business of his own, so the two of them got together and started selling handmade wooden boxes with copper embossing, which they commissioned from local craftspeople.
As they travelled around India selling their products, someone in Delhi told them that the garnet stone was in abundance in Jaipur, so they decided to find out more about garnet, and that's how they first got into jewellery, and realised the significance of jewellery in history.
In India, we always say that around every 20km the dialect of our language changes, as do clothing and jewellery trends in different tribes. For example, some nomads would wear a kilo of jewellery around their legs, which they wouldn't take off for 30 years or more, because it would be an investment that they'd travel with, and if they ever needed money, they could sell it. Every tribe had different stories like this that fascinated my father and Rajesh, so they started sourcing pieces of jewellery from small villages around Rajasthan, and when they acquired something very unique, they would often try to find the same piece, or something even better, so they could keep one and sell the other.
Subscribe to The Week
Escape your echo chamber. Get the facts behind the news, plus analysis from multiple perspectives.
SUBSCRIBE & SAVE
Sign up for The Week's Free Newsletters
From our morning news briefing to a weekly Good News Newsletter, get the best of The Week delivered directly to your inbox.
From our morning news briefing to a weekly Good News Newsletter, get the best of The Week delivered directly to your inbox.
As creative director, I want to share Indian jewellery with the world, because when many people think of Indian jewellery, they think of Maharajas and very elaborate pieces created for them, but there is also some very beautiful yet simple and affordable Indian jewellery out there too. Indeed, Amrapali is probably the only fine jewellery house where you can buy jewellery at anything from £5 to £1,000,000 or more.
This is why we opened a museum in Jaipur this year as a private collection of the 2,500 - 3,000 historic pieces of antique silver my father and Rajesh collected over the years, to show the journey of how they created Amrapali. When they started the business, they didn't even have £10, so a lot of hard work has got Amrapali where it is, but at the same time they fell in love with jewellery and craftsmanship, and it's amazing to have so many memories and so much inspiration in one place.
They really felt there was nowhere, not just in India, but in the world, that was a dedicated museum for Indian jewellery. Designers didn't have a place to go and see what Indian jewellery was about, or to find out about jewellery from different parts of India. For example, people in south India used to wear a lot of gold because gold represents the sun, and it used to be worn here because it wasn't extremely hot. However, in Rajasthan people wear a lot of silver because it represents the moon, and it's so hot there that gold heats up. There are so many stories like this to tell, and my dad and Rajesh have a saying that "we learn, we earn, and we return to the world", so we learn from society, we earn from society, and now it's time to return to society.
Indian jewellery making is different from jewellery making in the rest of the world because usually one person completes a piece of jewellery from start to finish, but in Indian jewellery, a group of specialist artisans work together to create the piece. Someone will make the base of the piece, then it will be passed on to an engraver who will engrave the gold, then it will go to the enameller who will enamel the piece in the areas where the engraver engraved the gold. After that, it will be passed on to the person who will set the stones, finally it will go to the polisher to be polished. There are many different steps and people involved.
On average we employ around 1,600–1,800 people in our workshop in Jaipur, but at times such as Diwali, our maximum capacity is about 3,000. Most of our craftspeople have been trained in jewellery craft in their homes by their families, but want something more stable with a guaranteed monthly income. They usually come to us because they're artisans, then we see what else they can learn with training from us, and how we can enhance their talent and expand their skills in different departments.
Amrapali is rooted in Indian ethnic chic, but ethnic pieces are very contemporary, and in some cases futuristic. Jaipur is the stone-cutting centre of the world, and at big stone auctions in countries such as Zambia, Colombia and Mozambique, the main buyers are from Jaipur, so I have a new challenge for my cutters everyday, and I love keeping them excited about working with new stones.
CEO and creative director of Indian Jewellery House Amrapali, TARANG ARORA grew up in Jaipur but moved to London to study gemology in 2002. He oversees all aspects of the brand, from sourcing stones to designing the collections. The Amrapali Museum of Jewellery opened in Jaipur January 2018. amrapalijewels.com

Continue reading for free
We hope you're enjoying The Week's refreshingly open-minded journalism.
Subscribed to The Week? Register your account with the same email as your subscription.