Ahead of the game: Scully St James's
Celebrated chef Ramael Scully, on opening his eponymous restaurant, forward planning and giving London diners something different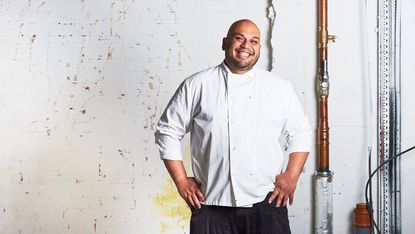 (Image credit: Thomas Bowles +44 7956938547)
I love food. I've been asked what would I do if food wasn't number one in my life and I haven't got a clue to be honest. That's why it's 110 per cent part of my life. It's always been in my blood to cook. I'm Malaysian, I grew up surrounded by good food. When I moved to Australia it was a bit of a culture shock with all the different types of food. I had Lebanese, Turkish, Greek and Italian friends. That's when I started learning about the European side of food.
When I first came to London, I was unhappy because I couldn't find my stepping-stone. I was classically trained in French and Italian cuisine then, as a young chef, I started to look at things differently – mix this spice with this and that spice with that – but it wasn't really allowed. I met Yotam Ottolenghi through a job ad I saw on Gumtree. I rang up and got an interview. I went to check it out the day before and was blown away by all the meringues stacked up and all the salads in vibrant colours and I was thinking to myself, "I hope this guy makes everything fresh". The interview was the shortest trial I've had in my life. I made up three simple salads, they showed me around and then told me I could go. I definitely didn't think I was going to get the job, but it ended up turning into 12 good years of friendship.
When I started working with Yotam, he kind of let me go a bit. We started the ball rolling by mixing Middle-Eastern cuisine with Asian cuisine – they are very similar in terms of the citrus flavours, the chilli, even the sesame (tahini) paste, but we use it in different ways. So the whole philosophy of this restaurant has been influenced by all the years I used to work for Yotam.
Subscribe to The Week
Escape your echo chamber. Get the facts behind the news, plus analysis from multiple perspectives.
SUBSCRIBE & SAVE
Sign up for The Week's Free Newsletters
From our morning news briefing to a weekly Good News Newsletter, get the best of The Week delivered directly to your inbox.
From our morning news briefing to a weekly Good News Newsletter, get the best of The Week delivered directly to your inbox.
What I'm trying to say is that my restaurant is based on my experiences, travels, the places I've lived – it's kind of built on the way that my mum and my grandma used to cook too. My mum is my biggest influence. There are so many chefs that I read and look up to, but my mother cooks in a way that I'll never understand. There are no recipes with mums, you know, they just cook how they feel. I wanted to build a restaurant with no restrictions, so I can cook what I feel, cook what's in season and change it as frequently as possible. So the whole thing is: every time you come to Scully's, it's going to be a little bit different.
For the decor, I went very Scandi, because I started travelling a lot to Copenhagen. We went with simple colours: sky blues, and downtown park greys. It doesn't feel stuffy, I hate stuffy restaurants – when you're paying a high price and you feel like the waiters are watching you – I didn't want that kind of vibe. Being in St James's, I have to look after all sides, from the mature to the people in suits, and the young people too. I also wanted to build an open kitchen so people can feel the theatre and so I can let myself go and say to the customers: "you just had a piece of fried corn bread, it takes seven days to prepare, and this is why it gets on the menu…" I think doing the Nopi cookbook with Yotam really helped me to figure out how to tell people stories about food, because I've found that people are really interested in how the dishes develop and what happens to them. Another thing I really wanted to showcase is my pantry: stuff that I make, the spices, the charcuterie, the curing, the pickling, and that all helps with my cooking.
When I cook, I don't work around the protein, I work on what's around me. Right now, kumquats are in season, so I'll get some in and do a Japanese sumashi style dish. I also used to live in Moscow and that taught me a few things about pickling, curing and preserving when winter came, and this is what we are doing at Scully. Every single thing is the restaurant takes weeks to get ready, but if you're in that philosophy, you're always on top of your dishes. You're not thinking about what's in season, you're already on top of the season. So with the kumquats, I'll preserve them in salt then come summertime I know they'll be nice in a quail dish.
Growing up, my mum used to make a thing called sodhi, using fish heads, and I'm making a similar dish for next week's menu. I have my sister and my cousins visit me sometimes and they will bring ikan bilis, which are dried anchovies – I've got 10 kilos in my house this year, which I'll fry until they are crispy. I'll also make the mother of Malaysian sambal: the belacan, which is fresh and dried chillies, toasted shrimp paste and lime zest. Once you make that, you can freeze it, and then every time you make a sauce, just take 5% of that, cook it with onions, garlic and olive oil and then toss it with some onions and it becomes a tomato spiced sambal with the crispy anchovies. I'll have that on a plate with a bit of veg and my mum's sodhi. I've got an incubator so I'm also trying to make my own garum – fish sauce – which will be ready in a year's time.
I also like preserving vegetables in soy sauce – it's a Korean technique called Ganjang. I marinate plum tomatoes in soy sauce, red wine vinegar, ginger, garlic and a bit of water, and demerara sugar and it's supposed to be the ultimate Bloody Mary tomato flavour.
One thing I learnt from working all those years with Yotam is that vegetables are number one. It made me think that to be a great creative chef in vegetables like he is, you've got to be one smart person, because vegetables are tricky to create. He used to teach me that sometimes less is more on a plate. I mean, all young chefs try to pile six or seven different things on a plate and it's too busy. So while food has always been a part of me, it's chefs who have taught me who I am now. I read a lot of cookbooks, I keep myself maintained and I have great people working around me.
We're not following the rule that we have to have the same dish on the menu every day – that's really important for me. It gets me being more creative and it teaches younger chefs that you should cook how you feel and with what's around you. This is one thing about my palate, I like simple things but if I'm going to do this restaurant, I want to make things people never thought about making. I want to treat you with flavours that you don't even think about cooking at home.
RAMAEL SCULLY is an award-winning Malaysian-born chef who was brought up in Sydney, Australia. He moved to London in 2004 and started working for Ottolenghi in Islington before becoming head chef at Nopi in 2011. Scully St James's is his first solo venture. Scully St James's, 4 St James's Market, London SW1Y 4AH; scullyrestaurant.com

Continue reading for free
We hope you're enjoying The Week's refreshingly open-minded journalism.
Subscribed to The Week? Register your account with the same email as your subscription.