Look up and learn: ten of England's most unnoticed historical sites
Make the most of lockdown exercise and discover the heritage on your doorstep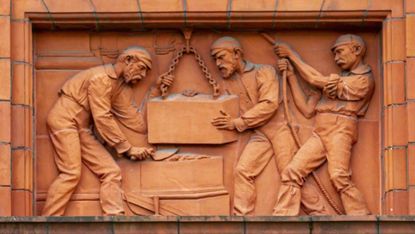 (Image credit: © Martin Henderson/Art UK)
A campaign has been launched to encourage people to "look up" and learn when out and about on their daily exercise during lockdown.
With so much heritage on our doorsteps - and 99% of England's population living within one mile of a listed building or place - Historic England's new initiative is calling on explorers to share knowledge of their local areas. You can document your story or image and enrich the list at historicengland.org.uk.
Duncan Wilson, chief executive of Historic England, said: "For many of us during lockdown, the main event of every day has become a walk or bike ride, which is the time when we can really envelop ourselves in everything around us. A daily dose of exercise and fresh air is so important for our health and well-being, and research has shown that heritage can have a similar effect.
Subscribe to The Week
Escape your echo chamber. Get the facts behind the news, plus analysis from multiple perspectives.
SUBSCRIBE & SAVE
Sign up for The Week's Free Newsletters
From our morning news briefing to a weekly Good News Newsletter, get the best of The Week delivered directly to your inbox.
From our morning news briefing to a weekly Good News Newsletter, get the best of The Week delivered directly to your inbox.
"But while taking our usual, well-trodden routes, do we really take the time to stop and look up? We want people to absorb their historic surroundings, be curious, discover something new and perhaps uncover some fascinating stories."
From carvings on buildings to vampire rabbits, here are ten of the most intriguing yet often unnoticed sites across the country.
1. Beaver finials in Oxford Street
London
High above London's major shopping street stand four stone beavers, who have spied on shoppers for more than 130 years. Sitting atop 105-109 Oxford Street, which used to be Henry Heath's hat factory and shop, these animals symbolised that Heath's hats were finished with the finest of fur – beaver fur – which was favoured at the time due to its excellent waterproof quality. Despite the common knowledge that the mercury-based vapours produced by the treatment of fur caused workers health issues such as tremors and dementia (hence the famous saying "mad as a hatter"), it wasn't until the mid-1800s that silk started to become the preferred finish for top hats, and eventually replaced fur altogether.
2. Stella the Stegosaurus at Cromford Canal
Derbyshire
Cromford Canal is a popular walking route in Derbyshire, but not all passers-by manage to spot its hidden sites, including a life-sized dinosaur. Grazing in the undergrowth on the opposite side of the path is Stella the Stegosaurus, who was built by local, Simon Walker, and inspired by the Grade I listed Crystal Palace dinosaurs in London. Next to the canal, a 15th century listed bridge has an inscription carved on one of the parapet stones which records the "Leap of Mr BH Mare 1697" – another gem easy to miss. Apparently, Mare's horse (which he was riding at the time) jumped over the parapet into the river below, but both miraculously survived the very large drop. Next to the bridge are the ruined remains of a chapel and an 18th century fishing lodge built for Richard Arkwright, marked with a Latin inscription that translates as "Sacred to Fishermen".
3. First World War evacuation route markers
Saffron Walden, Essex
In 1915, fearing the possibility of a coastal invasion by German troops, the government created an evacuation plan for civilians from Essex to Oxfordshire via Hertfordshire. This was to avoid main roads, which were to be kept free for the movement of troops. Certain towns were designated as rest stations and the routes were subtly marked with white arrows on walls and gates, two of which still survive in Saffron Walden, Essex.
4. Vampire Rabbit of Newcastle
Newcastle
Perched menacingly above the ornate arched door of the Cathedral Buildings is the Vampire Rabbit of Newcastle. Erected in 1901 along with the building itself, no one quite knows the origins of this fanged gargoyle. While some say he appeared to scare away grave robbers who would sneak into the opposite graveyard at night, others suspect he was meant to be a hare (possibly symbolising spring and the coming of Easter) whose ears were put on backwards accidentally.
5. The Nursemaids' Tunnel
Regent's Park, London
The Nursemaids' Tunnel in London is a pedestrian subway underneath Euston Road that connects Regent's Park to Park Crescent. The tunnel was built in 1821 after residents petitioned for a "subterraneous communication be made between the two Gardens, so as to obviate the necessity of crossing the New Road, a matter of considerable danger at most times to children, and of inconvenience to ladies" (EB Wilbraham, 28 June 1821). While to most Londoners it just looks like your average subway, the nanny's tunnel was listed at Grade II in 2020 for its excellent architectural design and is a wonderful example of innovations during the regency period.
6. Sailor's Stone and Celtic Cross at Gibbet Hill
Hindhead Commons, Surrey
In 1786 a sailor was murdered by three men on Gibbet Hill as he journeyed from London to Portsmouth. A stone was laid there to commemorate the sailor, with an inscription that is now near impossible to read. The three murderers were tried and hung not far from this spot, and Gibbet Hill became shrouded in superstition. But in 1851 a Celtic cross was erected in an attempt to banish any fears, and both the Sailor's Stone and the Celtic Cross can still be found today when walking along the Old Portsmouth Road.
7. Starlight Castle at Seaton Delaval Hall
Northumberland
Buried within the grounds of Seaton Delaval Hall in Northumberland stand the remains of Starlight Castle. Legend states that Sir Francis Delaval built the castle in just a day for one of his many mistresses, as part of an elaborate bet. The site was actually a folly, built as a viewing point for visitors to admire Holywell Dene, at the end of which was a glass works and coal port, which was how the Delaval family made their fortune. As nature reclaims the spot, it would be very easy to miss the magical Starlight Castle, which inspires legends and shines a light on Northumberland's industrial past.
8. Water pump on the corner of Broadwick and Poland streets
Soho, London
In 1854, a severe outbreak of cholera in London killed 616 people and thousands of people had died in previous outbreaks. At the time, nobody knew for sure how diseases like this were spread but physician John Snow thought cholera could be water-borne. He studied the causes and traced the outbreak to the contaminated water from this single pump in Soho. His findings led to fundamental changes in London's water and waste systems, and then those of other cities around the world, resulting in massive improvements to public health on a global scale.
9. The Peel Building carvings
Salford
The Peel Building in Salford was originally the Salford Royal Technical Institute before it became repurposed by Salford University. This impressive redbrick, Grade II-listed building is hard to miss, but what often goes unnoticed is the beautifully detailed reliefs carved into its façade. There are four separate panels, each representing the different trades and industries associated with the school: engineering, science, building, and art and science.
10. Bells of the Loughborough Carillon
Leicestershire
The Loughborough Carillon in Queen's Park was built between 1922 and 1923 to commemorate those lost in the First World War. Standing at 46 metres, the tower is a well-known landmark to locals. However, it is sometimes forgotten that at the top of the tower sits a carillon of 47 bells made by the renowned John Taylor & Company bell foundry, each of which is a varying size and shape to make a different note on the musical scale. Many of the bells are inscribed in memory of fallen relatives and friends, including the largest bell in the tower (also known at the Taylor bell), which remembers the Taylor family's three nephews who were killed in action in France. Bell recitals are given during the summer months.

Continue reading for free
We hope you're enjoying The Week's refreshingly open-minded journalism.
Subscribed to The Week? Register your account with the same email as your subscription.