Jeans Genius: in conversation with Diesel founder Renzo Rosso
The fashion provocateur on style, subversion and staying true to himself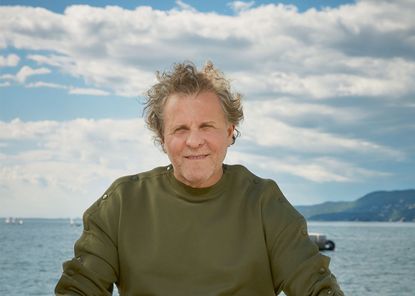 The name Renzo Rosso is strangely satisfying to say, especially if you pronounce it in an Italian accent. Roll the Rs and amplify the Os for the full rhythmic effect – it's succinct, commanding and pretty cool. His is a name, one could argue, that was destined for great things, which is just as well given the entrepreneur's ranking as one of Italy's wealthiest men. Rosso, the billionaire founder of Diesel and sole owner of Italian fashion and lifestyle conglomerate OTB – an acronym for Only The Brave – is patently pleased with his name, too. He has his initials tattooed on the middle and ring fingers of his right hand in bold cursive font.
Now 63, Rosso is known as the 'Jeans Genius' who built an empire thanks to clever, subversive and at times controversial advertising. He flipped the idea of denim on its head in the early '90s, taking jeans back to their utilitarian workwear roots by pioneering the distressed, ripped and worn look. Diesel jeans were expensive and pitched as a premium product, and anyone who was anyone owned a pair.
Despite his considerable wealth and influence, Rosso is keen to play down his power. "My philosophy is that everyone is the same; it's just that we have a different responsibility," he tells me in a thick Italian accent when we meet in Trieste, ahead of this year's International Talent Support Contest, an incubator programme that OTB has sponsored since the scheme was launched in 2002. "I don't have bodyguards. I can go to a simple bar and shake hands with everybody. I have this simplicity that my parents gave to me," he adds. When I put it to him that he's increasingly described as an Italian Bernard Arnault – the chairman of LVMH, whose nickname is 'the Wolf in Cashmere Clothing' – Rosso is quick to disagree. "Ah, no, we are very different! He's fantastic and a big billionaire, you know. Me? I'm still a simple man working with passion with my team and [I'm] involved even in the little projects."
Subscribe to The Week
Escape your echo chamber. Get the facts behind the news, plus analysis from multiple perspectives.
SUBSCRIBE & SAVE
Sign up for The Week's Free Newsletters
From our morning news briefing to a weekly Good News Newsletter, get the best of The Week delivered directly to your inbox.
From our morning news briefing to a weekly Good News Newsletter, get the best of The Week delivered directly to your inbox.
Being hands-on has certainly proved lucrative for the Italian: according to Forbes, his net worth currently stands at $3.3 billion. And while this sum does pale in comparison with Arnault's $77.3 billion fortune, Rosso is not fooling anyone with his 'simple man' sobriquet. Why? For the simple reason that he's one of the few, if only, entrepreneurs who's managed to transition successfully from the world of mass-market fashion to the inner sanctum of luxury retail: as well as Diesel, OTB is the parent company to iconic fashion houses Marni, Viktor & Rolf and Maison Margiela. In addition to this, it owns childrenswear company Brave Kid, and Staff International, a manufacturer that produces apparel under the 'Made in Italy' hallmark for a host of international brands including Marc Jacobs, Dsquared2 and Just Cavalli. Rosso also owns a significant share in EcorNaturaSì, Italy's biggest producer and distributor of organic food products.
Physically, Rosso looks friendly but tough. His softer features – plump cheeks like the character on a Toby jug; a mop of curly blonde/grey hair – contrast with a strong jaw, wolfish blue eyes and numerous tattoos. Covering his entire left shoulder is the inked profile of a punk-rock Mohawk – a favourite emblem of the Diesel brand. It appears that the Italian billionaire is a bit of a paradox, inside and out.
Rosso is animated when he speaks, although today he's walking with a limp, having injured his leg playing football. The sport is a passion of his – so much so that in May this year, his group acquired the club Vicenza Calcio SpA; he has since merged it with his first club, Bassano Virtus, bought in 1996. The acquisition was also a tactical one: OTB is based in Breganze, which is 20km away from the city of Vincenza. "We have more than 2,000 employees near Vincenza – the biggest industry there. I think this is very social and important [as a way of supporting] families. Vincenza was a very famous team before, and I want to do something special. I want to put the modernity back in; to create a new model for soccer."
The Italian, who was raised in a modest farmhouse in Brugine, a tiny town in the northern region of Veneto, is the undisputed king of subversion when it comes to recalibrating a brand. Creating a "new model" for football may sound supremely ambitious, but the billionaire entrepreneur has made his name by pushing the envelope when it comes to media communication and dismantling prevailing fashion styles. In 1978, at the age of 20, Rosso co-founded Diesel with denim legend Adriano Goldschmied. He took over the company in 1985 and quickly revolutionised the industry. Rosso launched jeans that were distressed, engineered and cleverly treated. More than this, he aligned his brand with a socially and politically engaged youth culture by using imagery that celebrated self-confidence, sexuality and financial independence – Diesel's ripped jeans weren't cheap at $100 a pop.
Rosso's message was communicated via the iconoclastic images of Swedish advertising gurus Johan Lindeberg and Jocke Jonason, whose partnership with Rosso ran from 1990 to 2001 under the campaign name 'Diesel for Successful Living'. This gave rise to some of fashion's edgiest images, rivalled only by Benetton's infamous portfolio of shock-art posters depicting everything from artfully arranged condoms to a Mafia killing in Palermo. Diesel's ads were more abstract in their use of parody and provocation, using visually alluring images to revel in the divide between old and new cultures, while homing in on topical issues surrounding religion, race, sexuality and violence, with a heavy dose of dark humour thrown in for good measure.
A famous ad from this era shows a black man dressed in Diesel jeans diving into a swimming pool in an apartheid-divided South Africa. Another poster, from 1995, focuses on two sailors kissing as their crew mates celebrate the end of World War II in the background. Shot by legendary photographer David LaChapelle – it was one of his first black-and-white works – the image was a reaction to the US military's 'Don't Ask, Don't Tell' policy, implemented by the Clinton administration, which encouraged gay, bisexual and lesbian soldiers to hide their sexual orientation as means of remaining in the armed services, where same-sex relationships were prohibited. "I have done many different things in my life, but denim and communication are the two most important. We changed the rules of the '90s," says a confident Rosso.
This sentiment is echoed by Jocke Jonason, who only has good things to say about his former client. "With every new image, Renzo put his company out there for people to judge," explains the creative director over the phone from his office in Stockholm, where he now helms the NEW ad agency. "That is fearlessly brave. No other company dared to do that. It was a real creative process. I felt I was part of an Italian family, where we were all fighting and battling but in the end everyone was happy with the result. It's the best creative process I have ever been part of."
Renzo has stood firm, despite the backlash sparked by some of Diesel's more contentious creative offerings. In 2010, the UK's Advertising Standards Authority banned a series of the brand's 'Be Stupid' ads, which encouraged consumers to behave less responsibly in order to enjoy a fuller life. One of the offending posters, showing a model exposing her breasts to a security camera, was deemed obscene, and was lambasted for objectifying women. Rosso's take, however, was that the campaign (as a whole) sent an empowering message to Generation Y, encouraging them to embrace a sense of independence.
Like it or not, the Italian has a predilection for courting controversy, and his justification has always been that he's simply plugging into the zeitgeist. Be Stupid, a campaign that nonetheless won the Grand Prix award at France's prestigious Cannes Lions International Festival of Creativity in 2010, was Diesel-speak for 'be impulsive, creative and unapologetic' – and perhaps it's no coincidence that Instagram, the media's answer to this very attitude, was launched that same year.
Back to now, and the awards keep coming, which is good timing because this year Diesel celebrates its 40th anniversary. The brand won a record number of accolades at Cannes Lions in June, including three for the Fall 2017 campaign 'Go With The Flaw', a short film that challenges conventional beauty standards by featuring models with various imperfections. But it was Diesel's unusual marketing event during New York Fashion Week in February that racked up the most prizes: nine Lions were awarded to the brand for the deliberately misspelt 'Deisel' project, a pop-up shop on Canal Street selling 'fake' goods, all printed with the same sabotaged logo. It was later revealed that the knock-offs were, in fact, part of a special limited-edition collection.
Although Diesel is not the cult brand it once was, Rosso is determined to rekindle its rebellious spirit, and clearly these recent awards have put the wind back in his sails. "I was out [of the company] for nine years, because it was doing very well," he explains. "We increased the sales every year, but then the product became less [desirable] because it was not driven by my DNA. Now I am here trying to change the company back to the way it was. Thanks to my kids, my mind is young. They keep me in good shape."
Rosso has has seven children: five girls and two sons. He tells me that his 15-year-old daughter India keeps him abreast of social media. His eldest daughter, Alessia, 31, works in marketing at Diesel US, while twins Luna and Asia are both still at college. Baby daughter Sydne is only two years old. His sons help him run the business. Andrea, 40, is the creative director of Diesel's licensing businesses – from eyewear and fragrances to furniture and watches – and has an independent (non-OTB) brand, Myar, which reconditions army surplus items. His brother Stefano, 39, is CEO of Diesel North America and vice president of the Vicenza football club. "It's a very difficult job," says Rosso of Stefano's overseas responsibilities. "He went [to the US] last year and the company was not profitable, but it's a good exercise for him to [prove] his capacity and become strong."
If Rosso's success is anything to go by, strength comes from taking educated risks. Two years ago, the OTB tycoon authorised the scaling down of Diesel's wholesale output and instructed the implementation of stricter guidelines on distribution. The changes, made in an effort to preserve the premium allure of the brand, had significant but expected financial repercussions. "We cut €250 million [from retail sales]. A lot of money!" he says with a resigned laugh. "I can take this kind of decision, because I own 100 per cent of the company. I am brave. If you are a public company, you cannot do this. Next year, we can have a fantastic [comeback]."
If this sounds overconfident, remember that Rosso has a knack of turning difficult – and delicate – situations to his advantage. In October 2014, he appointed John Galliano as creative director of Maison Margiela. The British designer had famously been fired by Dior following a drunken, anti-Semitic rant in a Paris bistro in 2011. Rosso, who was keen to support Galliano's rehabilitation, paid no heed to the criticism he received. And if you look at the numbers, the Italian's decision was financially astute: within 12 months, Maison Margiela (below) saw a 30 per cent rise in revenue. In July 2018, in Paris, Galliano presented his second menswear collection for the label, proof again that it is progressing under the Brit's direction.
Rosso is clearly no poster boy for political correctness, and some of his statements are blatantly vainglorious, but you could argue that even these add to his roguish charm. "I have enormous social responsibility," he says. "I am friends with the Dalai Lama, who told me, 'Renzo, you need to use your name and the name of your company so that many other people can benefit from it.' So I built my foundation [the non-profit Only The Brave Foundation], which I am very proud of. Every day, I have people writing to me who need my help, and I am very present with this. It's not that I just give money. The rule is that [when we take on] a project, it is from the beginning to the end. If I have $100 to invest, I want this $100 [to go] all to you."
He certainly digs deep when it comes to funding charity projects. In 2012, the OTB group sponsored the repairs to the 400-year-old Rialto Bridge in Venice, to the tune of €5 million, one of the largest donations of its kind by a privately owned Italian company.Last year, Diesel's very first artistic director, Nicola Formichetti – best known as Lady Gaga's stylist – announced his departure from the brand, having helmed the creative team for four years. The split was amicable: Rosso and his protégée remain firm friends, but the Italian magnate is in no hurry to replace him. "For the moment, I have taken this position. We have a lot of projects and capsule [collections] planned, and I [want] to run them. We bring a lot of energy and creative people from outside, and, through their interpretation of my DNA, [Diesel] is working very well."
Rosso is confident about the future of the brand. "I am very happy to be back," he says, adding, "I want Diesel to be desired by the new consumer, the millennials. But now I am very pleased with our products and campaigns."
Ever the provocateur, Rosso is already up to his usual marketing mischief: this July, he rocked up to Maison Margiela's Paris show wearing a T-shirt emblazoned with the words 'Hate Couture' – the 'u' of 'Haute' had been visibly scribbled out. According to the Italian, the slogan was a prelude to Diesel's Fall campaign, which promises to tackle trolling and toxic opinions online through innovative advertising. He has chosen rap diva Nicki Minaj as his new muse; the outspoken singer is famous for the scathing retaliations she fires at 'haters' on Instagram.
So there you have it: he may not be putting the world to rights, but Renzo Rosso is intent on shaming the haters in style. What's more, he'll probably win more advertising awards and make a whole lot of money in the process. You have to give it to him, that does take a certain kind of bravery.

Continue reading for free
We hope you're enjoying The Week's refreshingly open-minded journalism.
Subscribed to The Week? Register your account with the same email as your subscription.