UK supermarkets 'contributing to antibiotics crisis'
Drug-resistant infections could kill 50 million people worldwide by 2050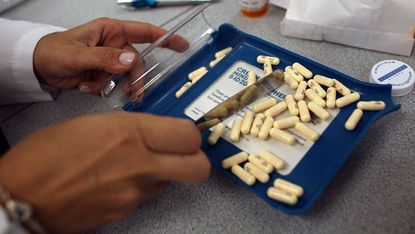 (Image credit: Joe Raedle/Getty Images)
Most of Britain's leading supermarket chains have failed to reduce the amount of antibiotics given to animals on their farms, despite the potential risk to human lives, according to a new report.
Lidl performed worst out of the nine supermarket chains investigated by pressure group Alliance to Save Our Antibiotics, while Waitrose performed best. Lidl has no publicly available policy on its usage of antibiotics on farms, but told The Guardian it was working on guidelines that would be published soon.
"The policy it sent to The Guardian is four sentences long and 'encourages producers to optimise welfare, health, hygiene, husbandry and biosecurity' of their animals, using antibiotics 'as little as possible and as much as necessary', without containing any specifics on how this can be achieved or measured," reports the newspaper.
Subscribe to The Week
Escape your echo chamber. Get the facts behind the news, plus analysis from multiple perspectives.
SUBSCRIBE & SAVE
Sign up for The Week's Free Newsletters
From our morning news briefing to a weekly Good News Newsletter, get the best of The Week delivered directly to your inbox.
From our morning news briefing to a weekly Good News Newsletter, get the best of The Week delivered directly to your inbox.
By contrast, Waitrose was found to have a clear policy on antibiotics in its supply chain, banning the routine use of antibiotics on farms that supply its products, and enforcing a strategy for reducing the amount used.
The overuse of antibiotics in healthy farm animals is known to be a major cause of growing antibiotic resistance in humans, which gives rise to superbugs.
Drug-resistant infections kill around 700,000 people worldwide each year, and this figure could increase to ten million by 2050, according to experts.
Earlier this year, a separate study found that major restaurant and pub chains including Joe's Kitchen and Harvester still serve meat from animals routinely treated with antibiotics, says The Independent.
In 2016, a University of Cambridge study found superbug strains of E.coli in 22 out of 92 chicken pieces purchased from seven different supermarket chains. The bug was found in samples from all of the supermarkets.
Coilin Nunan, scientific advisor at the Alliance to Save Our Antibiotics, told The Guardian, "Much greater cuts in use are urgently needed if we are to preserve our remaining antibiotics. Intensive livestock farmers have much to learn from the practices of more extensive farming systems, which often have minimal antibiotic use."
How is the growing resistance to antibiotics revealing itself?
As the threat from one form of bacteria is brought under control, other bugs take its place. Hospital infections from MRSA and C. difficile have fallen sharply in the last decade, but they have been replaced by other bacteria such as E. coli and klebsiella, which are now the most "frequent agents" of hospital-acquired infection in the UK. Dr Ibrahim Hassan, a consultant microbiologist at Wythenshawe Hospital in Manchester, told the BBC that he is seeing more and more cases where patients have infections that are resistant to antibiotics. "You don't have too many options in terms of treatment," he said. "We're beginning to see that in some hospitals, patients coming in with this infection with no antibiotic that can be used to treat them."
Why is resistance to antibiotics increasing?
One of the reasons is that they have been prescribed too readily, writes microbiologist Professor Valerie Edwards-Jones in the Daily Telegraph. "Today, GPs are less likely to over-prescribe them," she says, "but for many years they were dished out recklessly, resulting in resistance to their effects". Adding antibiotics to animal feed was "disastrous", she writes, because it introduced the drugs into the food chain and increased the opportunity for resistance. "Over time, micro-organisms are able to mutate and build resistance to antibiotics until they can survive exposure to the drugs."
What will happen if resistance continues to build?
If no action is taken, Davies says we will find ourselves in an "almost 19th century environment" where people die from infections after undergoing routine operations. Standard procedures such as hip replacements would become far more risky and treatments that suppress the immune system, such as chemotherapy and organ transplants, would become almost impossible.
What needs to be done?
Clearly, the medical profession needs new and effective antibiotics. But Edwards-Jones says the war against bacteria starts at home with "basic hygiene". She also urges more awareness of the appropriate use of antibiotics – for example, the fact that "95 per cent of sore throats are caused by viruses – for which antibiotics are useless".
She says hospitals have spent about £250m on better infection awareness since 2005, introducing measures such as strict antibiotic protocols, hand sanitisers and restrictions on visiting hours. Davies says there needs to be more education of doctors, nurses and vets, so that they know "the risks and advantages" of prescribing antibiotics and "think about that balance". She also believes medical professionals need to spend time with patients explaining why they're not prescribing the drugs.
Antibiotics resistance could cause 10m deaths a year by 2050
19 May
Resistance to antibiotics could lead to the deaths of ten million people a year globally by 2050, a report commissioned by the UK government has warned.
The research, described as "hugely influential" by the BBC, was led by economist Jim O'Neill who said that unless the world acts soon medicine could be "cast back into the dark ages".
"We need to inform in different ways, all over the world, why it's crucial we stop treating our antibiotics like sweets," he said.
Comparing the increasing resistance to antibiotics to "facing a growing enemy with a largely depleted armoury", O'Neill said the report's recommendations were difficult but necessary.
"We have made some pretty challenging recommendations which require everybody to get out of the comfort zone, because if we don't then we are not going to be able to solve this problem," he said.
Many antibiotics that were once thought to have put an end to infectious disease are "no longer working because the bugs have become resistant to them", explains The Guardian, citing tuberculosis as a prime example.
O'Neill's Review on Antimicrobial Resistance says the global financial cost of no action would be the loss of ten million lives a year by 2050 and £69tn a year.
Amongst the report's recommendations is the proposal to force drug companies to either research and develop new antibiotics or be prepared to fund other companies to do so.
"We have not seen a truly new class of antibiotics for decades. It is in policy makers' hands to change this," O'Neill said.
Professor Dame Sally Davies, the government's chief medical officer for England, who previously described antimicrobial resistance as "as big a risk as terrorism", welcomed the report's findings, saying: "At present around seven per cent of deaths are due to infections. If we do not act, this could rise to 40 per cent – as it was before we had antibiotics."
There is a "genuine fear that the world is heading into a post-antibiotic era", says the BBC health editor James Gallagher.
"A simple cut to your finger could leave you fighting for your life. Luck will play a bigger role in your future than any doctor could."
Post-antibiotic era warning after gene mutation detected
19 November 2015
Scientists have warned of a "post-antibiotic era" after identifying a treatment-resistant bacteria gene with a "ridiculously high" transfer rate.
Bacteria identified in patients and livestock in China were able to reject colistin, known as the antibiotic of last resort, in what was called a "worrying development" by experts.
If bacteria become fully resistant to antibiotics, this could lead to an event known as the "antibiotic apocalypse", severely affecting treatment for even the most common ills.
The MCR-1 gene mutation seems to be the culprit for colistin-resistant bacteria, say Chinese scientists in new report in The Lancet Infectious Diseases. It found resistance in a fifth of animals tested, 15 per cent of raw meat samples and one in 16 patients. Laos and Malaysia appear to have been exposed to the gene mutation as well.
Speaking to BBC News, Professor Timothy Walsh, from the University of Cardiff, who collaborated on the study, said "all the key players are now in place to make the post-antibiotic world a reality". He pointed out that MCR-1 spreading globally was a case of "when, not if" and that this will mean modern drugs will be left unable to treat patients infected with deadly bacteria such as E.coli.
Professor Mark Wilcox, from Leeds Teaching Hospitals NHS Trust, pointed out that the highest danger in this case is the fact that "the transfer rate of this resistance gene is ridiculously high". That means that while resistance to colistin has been seen before, in cases in Greece, the US and Hungary, this particular mutation is easily shared among different bacteria due to its DNA formation.
"Do I fear we'll get to an untreatable organism situation? Ultimately, yes," said Professor Wilcox. "Whether that happens this year, or next year, or the year after, it's very hard to say."
According to the BBC, the Chinese government is "moving swiftly" to address the problem, with meetings planned for this weekend with representatives from the Chinese health and agriculture ministries. In addition to this, China has banned vets from using colistin, in an attempt to curb its exposure to the gene mutation.
But it's too little, too late, says Wired magazine, which has even prepared an obituary for colistin, stating as cause of death the "overuse of the antibiotic drug, the same problem that did in carbapenem, methicillin, and vancomycin", other wide-range antibiotics.
It points out that the drug was known to be toxic which is why "China never approved it for use in humans", farming it out instead to pig farmers.
The use of antibiotics in farming is nothing new and, in the case of pigs, feeding them antibiotics is a common procedure used to fatten them. China, says Wired, used 12,000 tons of colistin a year in pig farming alone. "How many more antibiotics have to die before they learn their lesson?" asks the magazine.
Antibiotics: call to punish doctors who overprescribe drugs
18 August
Doctors who continuously overprescribe antibiotics should face disciplinary action, the UK's health watchdog has urged.
The National Institute for Health and Care Excellence (Nice) has released fresh guidelines aimed at tackling high levels of over-prescribing which is fuelling the rise in drug-resistant infections.
It said that antibiotic prescribing has been increasing for several years and estimated that 10m prescriptions a year were being given unnecessarily to treat coughs, colds and minor infections.
Research suggests that nine out of 10 doctors felt pressured to prescribe the drugs and 97 per cent of patients who ask for antibiotics receive them.
"This is really hazardous practice," Professor Mark Baker, director of the Centre for Clinical Practice at Nice, told the Daily Telegraph.
He said some patients are addicted to the idea of antibiotics and will seek out GPs willing to write prescriptions. "If they know there's a soft-touch doctor then they go to them. Often they'll go to their GP and then try another one, and then go on to an A&E department."
Doctors who fail to adhere to the guidelines could appear before the General Medical Council, which has the power to withdraw their right to practice.
Other recommendations include delayed prescribing, where patients will only be given antibiotics if their condition worsens, and hiring "antimicrobial stewards" who will work to identify high prescription levels.
Doctors are also being urged to spend more time explaining to their patients why it is dangerous for them to receive antibiotics for minor infections.
Calls to discipline individual doctors have angered The Royal College of GPs, which represents family doctors across the country, according to the BBC.
"Any suggestion that hard-pressed GPs, who are already trying to do their jobs in increasingly difficult circumstances, will be reported to the regulator is counter-productive and unhelpful," said the college's Dr Tim Ballard.
Drug firms 'should be given cash incentives' to develop antibiotics
14 May
A global fund should be set up to incentivise pharmaceutical companies to revive antibiotic research and development, a government review team has concluded.The proposals aim to counter the growing crisis of drug-resistant superbugs and have been drawn up by the antimicrobial resisitance (AMR) committee. It wants to see a $2bn (£1.3bn) innovation fund that would be financed in part by the industry, as well as by international governments and taxpayers.
If implemented, it could "supercharge antibiotics discovery, potentially saving millions of lives for a fraction of the $100tn cost of inaction", said Jim O'Neill, economist and head of the committee.
"No new classes of antibiotics have been created for decades and our current drugs are becoming less effective as resistance increases," he said, estimating that up to ten million people could die every year from untreatable infections unless new drugs are developed.
"We need to kick-start drug development to make sure the world has the drugs it needs, to treat infections and to enable modern medicine and surgery to continue as we know it."
Two of the world's largest pharmaceutical companies, Roche and GlaxoSmithKline, have already committed to the scheme, but have yet made no official financial commitment.
The reason drug companies are reluctant to invest in new antibiotics is because they "work too well," says the Daily Telegraph. The drugs are expensive to produce and offer a poor return as they are only taken for a short period.
Rewarding drug companies with a lump sum for developing new drugs would also get rid of the link between sales volume and profits, which fuels the overuse of the drugs and leads to resistance.
Unless big pharmaceutical companies take urgent action to develop new drugs, they risk a public backlash similar to the one faced by bankers in the wake of the financial crisis, the Financial Times reports. "If we get closer to 2050 and there are ten million people around the world dying [from drug-resistant infections], guess who is going to be blamed?" said O'Neill.
Antibiotic-resistant superbugs 'will kill more than cancer' by 2050
11 December 2014
Drug-resistant diseases are predicted to cause an extra 10 million deaths every year unless urgent global action is taken, a new study has revealed.
Superbugs, currently responsible for 700,000 deaths a year, could kill more people than cancer by 2050 at a cost of £63 trillion to the global economy.
A panel of experts, led by economist Jim O'Neill looked at the increase in drug-resistant strains of bacteria and the over-use of antibiotics globally.
David Cameron ordered the review earlier this year after he described superbugs as one of the biggest health threats facing the world today and warned of a return to the "dark ages of medicine" if no action is taken to tackle the growing resistance to antibiotics.
As well as known antibiotic resistant diseases, the team also focused on some of "the most worrying diseases" that are becoming resistant to drugs, including malaria, tuberculosis and HIV, ITV reports.
The success of a vast range of medical procedures, including Caesarean sections, chemotherapy and transplant surgery depends on effective antibiotic treatments being available. Without them, such procedures would simply be too dangerous to carry out.
The group suggested a number of ways of dealing with the crisis, including global regulation of the use of antibiotics on both humans and animals, altering drugs to reduce resistance and increasing funding for the development of new and more effective treatments.
England's chief medical officer Professor Dame Sally Davies welcomed the report, telling the BBC it is a "compelling piece of work, which takes us a step forward in understanding the true gravity of the threat."
Antibiotic-resistant superbugs threaten return to 'dark ages'
02 July
David Cameron has warned of a return to the "dark ages of medicine" if no action is taken to tackle a growing resistance to antibiotics.
The prime minister has pledged that the UK will lead a global effort to develop new drugs and announced a review into why no new classes of antibiotics have been introduced for more than 25 years.
A panel of experts, led by economist Jim O'Neill, will also look at the increase in drug-resistant strains of bacteria and the over-use of antibiotics globally.
Cameron described the rise in antibiotic-resistant superbugs as one of the biggest health threats facing the world today.
"This is not some distant threat but something happening right now," Cameron told The Times. "If we fail to act, we are looking at an almost unthinkable scenario where antibiotics no longer work and we are cast back into the dark ages of medicine where treatable infections and injuries will kill once again."
President Barack Obama and German Chancellor Angela Merkel have reportedly agreed to take co-ordinated action to find new drugs after Cameron raised the issue with them privately at a G7 summit last month.
Prof Dame Sally Davies, the government's chief medical officer for England, has previously described antimicrobial resistance as a "ticking time bomb" and warned that the threat is as great as terrorism.
Davies warned that if no action was taken, people risk dying from infection for routine operations, with treatments that suppress the immune system such as chemotherapy and organ transplants becoming almost impossible.
Today Davies said she was "delighted" to see the prime minister taking a global lead on the issue. "New antibiotics made by the biotech and pharmaceutical industry will be central to resolving this crisis which will impact on all areas of modern medicine," she told the BBC.

Continue reading for free
We hope you're enjoying The Week's refreshingly open-minded journalism.
Subscribed to The Week? Register your account with the same email as your subscription.