17 old proverbs we should use more often
We dare you to say "Many a little makes a mickle" without smiling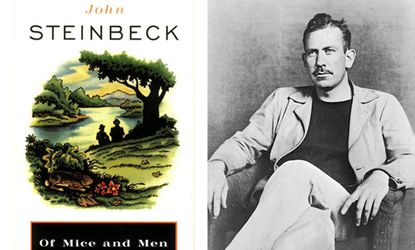 (Image credit: (Amazon.com, Hulton Archive/Getty Images))
Sign up to our 10 Things You Need to Know Today newsletter
A free daily digest of the biggest news stories of the day - and the best features from our website
Thank you for signing up to TheWeek. You will receive a verification email shortly.
There was a problem. Please refresh the page and try again.
1. MANY A LITTLE MAKES A MICKLE
Mickle, an Old English word meaning "much" or "a lot," went out of fashion in the 16th century (except in Scotland, where it held on), but it has such a nice ring to it. It's sometimes spelled "muckle." Later versions of this phrase like, "many a muckle makes a mickle" and "many a mickle makes a muckle," don't really make sense, but are very fun to say.
2. THE MOTHER OF MISCHIEF IS NO BIGGER THAN A MIDGE'S WING
Subscribe to The Week
Escape your echo chamber. Get the facts behind the news, plus analysis from multiple perspectives.
SUBSCRIBE & SAVE
Sign up for The Week's Free Newsletters
From our morning news briefing to a weekly Good News Newsletter, get the best of The Week delivered directly to your inbox.
From our morning news briefing to a weekly Good News Newsletter, get the best of The Week delivered directly to your inbox.
A midge is a small, gnat-like flying insect.
3. NEAR IS MY KIRTLE BUT NEARER IS MY SMOCK
A fine way to say "look after your closest interests." A kirtle is a woman's gown or outer petticoat. A smock is a woman's undergarment.
4. A PECK OF MARCH DUST IS WORTH A KING'S RANSOM
A peck is unit of dry goods equal to about 8 quarts (or 9 liters). If it's dry enough in the month of March to get that much dust, things are going well, weather-wise.
5. BETTER WED OVER THE MIXEN THAN OVER THE MOOR
In other words, it's better to marry a nearby neighbor than a stranger from far away. A mixen is a household dung-heap/compost pile.
6. IF YOU'RE BORN TO BE HANGED THEN YOU'LL NEVER BE DROWNED
This is a way to qualify someone else's good luck. Also good for the situation where someone is gloating over escaping a near disaster.
7. BRAG IS A GOOD DOG, BUT HOLDFAST IS BETTER
Silent, patient, and reserved is usually the best way to go.
8. NE'ER CAST A CLOUT TILL MAY BE OUT
Clout is an old term for a piece of cloth or a rag. No matter how tattered it may be, don't get rid of it until you are sure the cold weather has passed.
9. LET THE COBBLER STICK TO HIS LAST
Here, last means a metal or wooden model on which shoes are shaped by the shoemaker, or cobbler. In other words, stick to what you know.
10. HE THAT FOLLOWS FREITS, FREITS WILL FOLLOW HIM
Freit is an old Scots term for omens or superstitions. Those who go around looking for them, will bring the results on themselves.
11. FOOLS AND BAIRNS SHOULD NEVER SEE HALF-DONE WORK
Bairn is a word for "child" still used in Northern dialects. This proverb says that it's a mistake (i.e., something only those who are not too bright do) to judge a work before it is finished.
12. WHEN ALL FRUIT FALLS, WELCOME HAWS
Haws are the edible but not very delicious berries that grow on hawthorn bushes. This proverb was commonly deployed in gossip about someone selecting an old or undesirable mate, but is useful for any "take what you can get" situation.
13. WHEN THE FURZE IS IN BLOOM, MY LOVE'S IN TUNE
Furze is a common name for an evergreen shrub that basically blooms all year. So a promise to link your love to the furze bloom is a good one. It also goes by the common name gorse, explaining a related proverb, "When the gorse is out of bloom, kissing's out of fashion."
14. JOUK AND LET THE JAW GO BY
Jouk is a Scots verb for turning or bending the body to escape a blow. A jaw is the surge of a wave. So, when there's trouble, duck out of the way and let it roll on past.
15. THOSE WHO PLAY AT BOWLS MUST LOOK OUT FOR RUBBERS
Bowls here refers to the old game of lawn bowling. Rubbers are obstacles or uneven areas on the ground. So, if you're going to embark on something, be aware of the things that can cause you trouble.
16. A POSTERN DOOR MAKES A THIEF
A postern door is a back door. If there's an opportunity to steal, someone is bound to take advantage of it.
17. THE BEST LAID SCHEMES O' MICE AN' MEN, GANG AFT AGLEY
This one is better known in the version, "The best laid schemes of mice and men often go awry," but that's not how it originally went. The phrase, courtesy of a 1786 poem by Robert Burns, first was rendered with the Scots ending, which somehow sounds more like things going all cockeyed and not as planned.
Continue reading for free
We hope you're enjoying The Week's refreshingly open-minded journalism.
Subscribed to The Week? Register your account with the same email as your subscription.