The most persuasive judicial response to voter suppression laws yet
Two judges — a Reagan conservative and an Obama liberal — stand up against the discriminatory laws sweeping America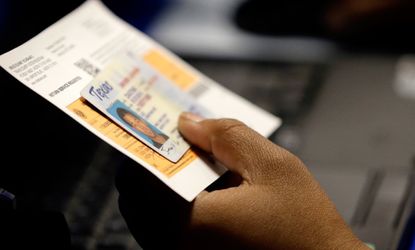 (Image credit: (AP Photo/Eric Gay))
Sign up to our 10 Things You Need to Know Today newsletter
A free daily digest of the biggest news stories of the day - and the best features from our website
Thank you for signing up to TheWeek. You will receive a verification email shortly.
There was a problem. Please refresh the page and try again.
Don't read the federal trial court ruling that struck down Texas's voter ID law on Thursday without also reading Friday's dissent in the roiling dispute over a similar law in Wisconsin. They are different sides of the same coin — one focusing on evidence of voting discrimination in a state, the other focusing on an appallingly blasé response to such discrimination by the federal judiciary. And taken together they represent the most cogent and persuasive judicial response yet to the new wave of voter suppression laws sweeping the nation.
The Texas ruling, by U.S. District Judge Nelva Gonzales Ramos, reminds us in excruciating detail of how little truly has "changed" in the fight for voting rights in America over the past 50 years, despite what the conservatives of the United States Supreme Court claimed in Shelby County v. Holder, the 2013 decision that gutted the Voting Rights Act. After a long trial in which she heard from 68 witnesses, including 54 from voting rights advocates alone, Judge Ramos found that the past, indeed, isn't dead, or even the past, in Texas. The evidence, she found, "describes not only a penchant for discrimination in Texas with respect to voting, but it exhibits a recalcitrance that has persisted over generations despite the repeated intervention of the federal government and its courts on behalf of minority citizens."
It was this "recalcitrance," — a diplomatic word if there ever were one to describe some of the motives behind these measures — that the Supreme Court downplayed in its Shelby County ruling. The South was getting less discriminatory, Chief Justice John Roberts famously wrote, and so deserved for its progress to be freed from the bonds of "preclearance" under Sections 4 and 5 of the federal voting law. But that conclusion, always dubious, was immediately undermined but what officials in states like Texas and North Carolina did in the hours following the announcement of the Shelby decision. They immediately proved the chief justice wrong — and nowhere more quickly than in Texas.
Subscribe to The Week
Escape your echo chamber. Get the facts behind the news, plus analysis from multiple perspectives.
SUBSCRIBE & SAVE
Sign up for The Week's Free Newsletters
From our morning news briefing to a weekly Good News Newsletter, get the best of The Week delivered directly to your inbox.
From our morning news briefing to a weekly Good News Newsletter, get the best of The Week delivered directly to your inbox.
Reading through Judge Ramos's long order, then, is like reading a rebuttal to Shelby County, a point-by-point refutation of the chief justice's declaration that "current conditions" in the South no longer justify the extraordinary (and extraordinarily effective) remedy of federal preclearance. First you read about the racial prejudice that still animates politics and voting in Texas. You read about the ways in which black and Hispanic citizens are discriminated against still in voting practices. Then you read about how in-person voter fraud is a myth. Then you read about how the new Texas law doesn't do anything to solve a voting problem — absentee ballots — that actually does exist.
You read about the ways — page after page after page, it seems — in which Texas failed to adequately defend or justify the restrictions its officials sought to impose upon some of its citizens. And then you read about how the new law would disproportionately impact black and Hispanic voters. You read Judge Ramos' order, and the facts layered throughout it, and you wonder what country Chief Justice Roberts and his conservative colleagues on the Supreme Court were describing when they wrote the majority opinion in Shelby County. Surely not one in which white state officials design a law to make it harder for low-income citizens, or the poor and elderly, or citizens of color, to exercise their right to vote.
Which brings me to Judge Posner of the dissent in Wisconsin. In Frank v. Walker, posted just hours after Judge Ramos issued her ruling in Texas, the irrepressible conservative judge excoriated his colleagues on the 7th Circuit for refusing to review en banc a panel decision of that court that upheld Wisconsin's restrictive voter ID law. Judge Posner naturally didn't focus upon Shelby County — you can't get much further from the South than Wisconsin — but instead upon the way his 7th Circuit colleagues too broadly interpreted the mandate of the Supreme Court's decision in Crawford v. Marion County Election Board. That2008 case out of Indiana endorsed the modern iteration of voter identification laws and is thus directly responsible for the widespread voter suppression laws we see today.
By allowing Wisconsin's law to continue to stand without another round of appellate review, Judge Posner wrote, the 7th Circuit failed to recognize the dispositive differences between the facts before the justices in Crawford in 2008 and the facts before the 7th Circuit now. The two state statutes are so different, Judge Posner concluded, that they are defined as much by their differences as their similarities. In almost every respect, he said, the Wisconsin statute is more restrictive and thus less constitutionally sound. And this from a judge who originally endorsed the Indiana law in Crawford! Here's the vital passage:
Judge Posner is saying an awful lot here. He is saying that Crawford unleashed a "changed political culture" in which members of one party have felt emboldened to move to restrict the voting rights of citizens most likely to vote for the other party. He is saying that given what we now know about these restrictive voting laws, the benefit of the doubt given by the Crawford court to Indiana lawmakers cannot necessarily be given to lawmakers in every state that has subsequently enacted such restrictive laws. He is saying that when the Supreme Court ultimately returns to evaluate these new voter identification laws it, too, should recognize how much has changed since Crawford was decided. That's a particularly relevant issue now that the Supreme Court has stayed enforcement of the Wisconsin law pending further review.
But don't hold your breath. Supported by irrefutable evidence of discrimination or not, Judge Ramos' ruling may be overturned by the 5th U.S. Circuit Court of Appeals, one of the most conservative in the nation and one that already has shown some degree of hostility toward the rights of minority voters. And if those 5th Circuit judges uphold her ruling there still are five justices of the Supreme Court who appear poised to endorse and expand the scope of Shelby County by protecting Texas's blunt response to it.
The same is true about the Wisconsin law. Even though the justices evidently won't force its enforcement upon voters this election cycle, at least one more justice will have to back away from the precedent of Crawford, and Shelby County for that matter, for the Wisconsin law to be struck down.
Whether or not that occurs, this term or next, it's arguable that the damage to the cause of voter suppression nevertheless has been done this week. These two narratives — from the most disparate of judicial sources, a Reagan conservative and an Obama liberal — will at least demonstrate to future historians that there were loud and pained voices during this era, voices from both sides of the ideological spectrum, who stood up against what these laws really are, and what they represent, and tried to stop them. And that is no small thing.
Continue reading for free
We hope you're enjoying The Week's refreshingly open-minded journalism.
Subscribed to The Week? Register your account with the same email as your subscription.
Sign up to our 10 Things You Need to Know Today newsletter
A free daily digest of the biggest news stories of the day - and the best features from our website