6 common money fears — and how to banish them forever
Don't let these financial worries keep you up at night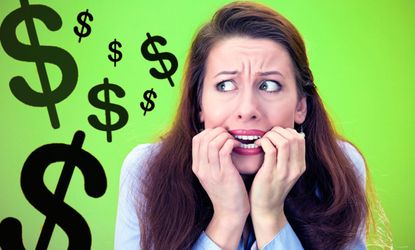 (Image credit: (Illustration by Sarah Eberspacher | Photos courtesy iStock))
When you were a child, the things that spooked you the most at night were probably the monsters that lived in your closet and under your bed.
These days, however, your late-night worries are likely much more tangible and probably revolve around money.
In fact, a recent study found that 66 percent of people named some form of a fear of money as the thing that scared them most — trumping crime, snakes, spiders … and even death.
Subscribe to The Week
Escape your echo chamber. Get the facts behind the news, plus analysis from multiple perspectives.
SUBSCRIBE & SAVE
Sign up for The Week's Free Newsletters
From our morning news briefing to a weekly Good News Newsletter, get the best of The Week delivered directly to your inbox.
From our morning news briefing to a weekly Good News Newsletter, get the best of The Week delivered directly to your inbox.
If you're caught up in the nocturnal money worries cycle, there is hope — for both your sleep and finances.
We pinpointed six of the most common financial fears that plague our slumber, and then tapped a psychologist and CFP® to help us delve into what's really behind those worries — and how to conquer them.
Financial fear no. 1: A catastrophic event will drain my bank account.
Why it scares us: It's a common scenario: You hear a story about your best friend's cousin's terrible car crash, and you automatically start to wonder when an accident, medical catastrophe ,or natural disaster will strike you.
"To have fear means you've made an appraisal that something bad is about to happen — or could happen — to you," says Moira Somers, a clinical neuropsychologist with a practice focused on financial psychology. "One way to settle down a fear is to ask yourself: What have I got in place to cope with that should it happen?"
How to conquer it: For starters, you have to assess whether your fear is founded on objective data, Somers says.
"If you just bought a brand-new home with manufacturers' warranties, you know that you're less exposed [to risk]," Somers explains. "But if your home is 100 years old and the foundation is cracking because of shifting soil, then that's a very real risk."
If you're indeed justified in your worries, it's time to fixate less on the "what if" and more on the "then what?"
"If you focus your energy on what you can control, then all of the things that you can't control will have less of an impact if the worst were to happen," says Bill Losey, CFP® and author of Retire in a Weekend.
That includes building up an emergency fund of ideally six months' worth of take-home pay, so you have a cushion to cover that roof repair or fender bender. Another important to-do: reviewing your insurance coverage. For example, is your homeowners insurance enough to cover that natural disaster you worry about? Do you need to opt for a different health plan?
While you can't predict when something bad is going to happen, you can be prepared if it does.
Financial fear no. 2: I'll lose my life savings in the stock market.
Why It scares us: Anyone who experienced the last recession either lost some money themselves, knows someone who did, or read scary media reports about people who lost all of their money.
With those kinds of headlines haunting us, why wouldn't we fear the markets?
"If financial news is on TV, it doesn't matter if it's good or bad — people have developed a heightened state of fearfulness," Somers says.
But the reality is that, unless you're 100 percent in stocks and don't pay attention to your portfolio, then you're not likely to suffer complete financial ruin from market volatility, says Losey. The take-away here? Try to keep some perspective.
How to conquer it: Figure out what your comfort level with risk is by reframing the concept of loss in different ways. For instance, ask yourself if you're O.K. with losing 20 percent of your portfolio if a market correction occurs — then find an alternate way to make those numbers feel more real.
"You might say yes quickly to losing 20 percent. But if you ask yourself instead, 'Am I prepared to see my investment drop from $100,000 to $80,000?' then you might freak out and say no — even though it's the same question, just worded differently," Somers says.
Assessing your comfort with risk can then help you determine how you might diversify your portfolio across asset classes, the sizes of the companies you're investing in, and even between national and international investments, Losey says.
But also keep in mind that not investing in the stock market also carries some risk because you're overlooking the fact that inflation will slowly erode the typical return you might see in a savings account. Case in point: The average national savings interest rate is a mere 0.17 percent.
Financial fear no. 3: I'm going to get a pink slip.
Why it scares us: Let's be clear: The job market has not been kind to many of us. A recent survey shows that one in five people who have been laid off in the past five years still don't have jobs — and those who do have had to take a pay or title cut.
Somers says the fear of losing employment is a leading cause of stress, especially among those who've experienced a layoff in the past. "Compared to 40 or 50 years ago, there's far less loyalty toward employees now," she says. "There are far fewer pension funds and fewer full-time jobs out there that pay a living wage."
How to conquer it: "Your greatest asset is your ability to earn an income," says Losey, so his recommendation is to invest in yourself by learning new skills or continuing your education — even if you only have time to take language lessons or coding class on the weekends.
In the same way that you would diversify a portfolio, you need to "diversify your education and skill base to make yourself recession-proof."
It also helps to be proactive about your next career move, Losey adds. He suggests taking advantage of annual reviews with your manager to express interest in the company's future and, without bragging, point out specific things that you've done to increase, say, the company's bottom line or employee morale.
That said, don't rely solely on your current employer to help boost your earning power. In fact, research shows that staying for more than two years at a job can, over a lifetime, reduce someone's income by half because you're more likely to get a pay hike if you move.
Financial fear no. 4: I'm destined to be a "bag lady."
Why it scares us: "This fear is persistent, particularly in women — regardless of the health of their bank accounts, the status of their jobs or their level of education," Somers says.
One 2013 study found that almost half of American women are afraid of becoming bag ladies, despite the fact that 60 percent are primary breadwinners.
A lot of this fear is based in real financial pressures that are unique to women: They earn lower salaries than men, they need more in retirement savings to sustain a longer lifespan, and they often have to exit the workforce for years to raise kids.
"The 'bag lady' image reflects the collective-unconscious fears over how vulnerable women have been," Somers says. "There is a basis in reality, but it's really overblown in many of us."
How to conquer it: At its root this is a fear about losing financial independence. And that really boils down to knowing how much you're making versus how much you're spending. So if you don't already have a budget in place, you may need to do some math ASAP to figure out if you're living within your means — and in a sustainable way.
Losey recalls working with one retiree who got a sorely needed wake-up call after she told Losey that, based on her current spending, she'd run out of money in 10 years. "She was afraid of becoming a bag lady," Losey recalls. "So she reduced her expenses, found a part-time job, and chose not to put any more long-term debt on her credit card unless she could pay it off the following month."
Somers also points out that many people tend to turn a blind eye to the real things that can derail them, financially speaking. They might, for instance, fixate on a low 401(k) balance as the source of their money stress, while ignoring the fact that they spend $500 on eating out each month.
"It's often not your retirement funding that's the problem," she says. "It's the fact that you've got this huge debt because you didn't correctly identify the most realistic threat to your financial well-being — your own behavior."
Financial fear no. 5: I'll never dig out of debt.
Why it scares us: The average indebted household currently holds more than$15,000 in credit card balances — and if five-figure consumer debt doesn't scare you, then we don't know what will. (Well, actually, we do: The interest rate on that debt could potentially balloon to 29.99 percent.)
Part of what lies behind this fear is ignorance about the consequences of paying compound interest. The ugly truth is that poor financial literacy around the world means consumers are more susceptible to racking up debt — although some countries are making efforts to reverse this trend.
"In Canada, for example, credit card companies are now required to explain on their bills exactly how long it'll take to pay off your debt if you make only minimum payments each month," says Somers, who calls Canada home.
On a recent bill, Somers had a $4,000 balance — which she planned to pay off in full — and the minimum-payment-only-pay-off timeline on her statement was a whopping 53 years and three months!
How to conquer it: Having a fear of credit cards could actually be a good thing, says Somers, because it can prompt you to come up with a plan to tackle that debt.
To get started, consider calling your credit card vendor to see if you can negotiate a lower interest rate. Losey's suggestion? Hint that you're considering another provider that offers a better rate.
"It's much less expensive for companies to keep an existing customer than to find a new one," Losey says, adding that even if you nab a lower rate for just a year, "that still means more money in your pocket for other costs."
Once you've lowered your rates, figure out the amount you'd need to pay — and what works with your budget — to eliminate that debt in five years or less.
Another important part of the debt-free equation, of course, is to make sure you aren't racking up more debt. Aim to leave your worst-offender cards at home (the ones with the highest interest rates), so you'll be more inclined to stick to using cash or your debit card. Better yet, put your cards on ice, so you physically can't use them.
Financial Fear No. 6: I'll be bankrolling my kids forever.
Why it scares us: To be fair, the post-recession job market has been tough, and Millennials aren't faring well — 44 percent of young, working college grads are considered underemployed, meaning the quality of the jobs they hold don't match their skill sets.
And when the kids return to the nest, they eat your groceries, use your electricity, drive your car and eat up your income in more ways than you might even realize.
"What I see a lot in my practice is parents dipping into their retirement savings and compromising their own financial wellbeing to help their kids," Somers says.
How to conquer it: Of course, you don't want your children to be homeless, but you also don't want to put everyone's financial security at risk. So the key is to help them without enabling them, says Somers.
You can do this by setting limits and establishing boundaries, which helps nip mooching behavior in the bud before it gets worse. Just be sure to bake in some time for them to prepare for financial independence.
When Losey decided to finally stop paying his son's cell phone bill, he gave him three to four months notice. "I told him, effective January 1, we're switching plans and I'm taking you off," he says. "That gave him time to figure out what kind of plan he wanted, and time to make the extra money to cover the bill."
Bottom line: Never put your own retirement at jeopardy because of your grown children, even if it means exercising some tough love. "The sooner you have those conversations with your kids and place limits, the better off they're — and you're — going to be," Losey says. "Parents don't have unlimited resources."
This story was originally published on LearnVest. LearnVest is a program for your money. Read their stories and use their tools at LearnVest.com.
More from LearnVest...

Continue reading for free
We hope you're enjoying The Week's refreshingly open-minded journalism.
Subscribed to The Week? Register your account with the same email as your subscription.