How Bill Simmons' unjust suspension exposes America's toxic Football Industrial Complex
The NFL is too big to fail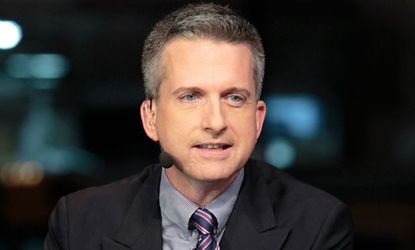 (Image credit: (AP Photo/ESPN Images, Don Juan Moore))
Sign up to our 10 Things You Need to Know Today newsletter
A free daily digest of the biggest news stories of the day - and the best features from our website
Thank you for signing up to TheWeek. You will receive a verification email shortly.
There was a problem. Please refresh the page and try again.
On Wednesday, ESPN suspended Bill Simmons for saying out loud what ESPN's own reporting had already confirmed.
The Grantland editor — who is probably ESPN's most valuable commentator — called NFL commissioner Roger Goodell a "liar" in an expletive-filled tirade on his popular podcast Monday. Simmons was blasting increasingly implausible NFL claims that Goodell had not seen or been aware of horrifying video of star running back Ray Rice punching his wife in the face before giving the former Baltimore Raven a meager two-game suspension. Indeed, Simmons' broadside against Goodell came mere days after a bombshell report from ESPN's Outside the Lines "found a pattern of misinformation and misdirection employed by the Ravens and the NFL" in their handling of Rice's abuse case. Specifically, ESPN's reporters wrote that Goodell was dishonest with the public in claiming he didn't know that Rice had punched his wife until September, when TMZ released a now-infamous videotape of the incident.
Bolstering ESPN's reporting, other well-connected journalists wrote months ago that the league knew a security camera caught Rice punching out his then-fiancée. And this month, The Associated Press obtained an audio recording of someone in the league office receiving a copy of the tape way back in April.
Subscribe to The Week
Escape your echo chamber. Get the facts behind the news, plus analysis from multiple perspectives.
SUBSCRIBE & SAVE
Sign up for The Week's Free Newsletters
From our morning news briefing to a weekly Good News Newsletter, get the best of The Week delivered directly to your inbox.
From our morning news briefing to a weekly Good News Newsletter, get the best of The Week delivered directly to your inbox.
Nonetheless, Simmons has been suspended for three weeks, barred even from using his own Twitter account. The offending podcast is gone, too, wiped from the archives.
Some have suggested that ESPN suspended Simmons for criticizing the network, not the NFL; Simmons ended his rant by daring the network to come after him. This argument holds no water. Simmons has routinely blasted the sports media for its fawning coverage of the league. Consider a 2010 column, where Simmons accused the NFL of "manipulating the mainstream media" — a collective that undoubtedly includes ESPN.
For its part, ESPN says it punished Simmons because he did not "operate within ESPN's journalistic standards." Which begs the question: Just what kind of "journalistic standards" is ESPN feigning to defend here?
This is the same network that ran a report on a gay football player's showering habits. It's the same network where an analyst called homosexuality a "sin" and an "open rebellion to God" while discussing the NBA's first openly gay player. And it's the same network that somehow continues to employ Stephen A. Smith, a talking head who repeatedly said women sometimes "provoke" men into beating them. (For the record, Smith received a one-week suspension for his nonsense.)
Here's the truth: It is impossible to view the suspension as anything other than a frightened media company being cowed into action because of its cozy relationship with a major financial partner.
ESPN pays the NFL $15 billion for the right to air Monday Night Football through 2021. That $15 billion link — not to mention ESPN's need to monetize blanket coverage of the NFL — poses an ethical quandary that bulldozes the traditional barrier between editorial integrity and corporate desire.
We've seen this exact servitude before, when ESPN at the last minute pulled out of a joint reporting project with PBS's Frontline that investigated the NFL's odious, decades-long efforts to cover up the dangers of head trauma in the sport. Coincidentally, NFL brass, including Goodell, met with ESPN executives shortly before the network backed out.
Then as now, the NFL's indomitable muscle intimidated a financial bedfellow — one that, as a journalistic enterprise, is supposedly tasked with objectively covering the league — to toe the line and squelch discord.
For all the speculation that we are witnessing the beginning of the end of the NFL, that scandal after scandal will tear the league apart, the Simmons suspension laid bare a basic truth about the NFL: It is too big to fail. Bill Simmons is the most famous sports commentator in America. He is among ESPN's most prized assets. But he is nothing compared to the mighty, toxic NFL.
As the NFL flailed amid a trickle of negative publicity, some called for viewers to boycott the league. Yet ratings are hardly down, if at all, through the first three weeks of the season. No sponsors have jumped ship. A few major backers made hollow threats — Anheuser-Busch said it was "disappointed" in the NFL — but none seriously considered ending their partnerships with the $10 billion league.
If footage of a player punching his wife, photos of an abused child's scarred legs, multiple domestic violence arrests and subsequent suspensions, and weeks of infuriatingly tone-deaf press conferences have made but a teensy dent in the ratings, why should we expect anything to be different in the coming weeks? Months? Once the drip drip of bad headlines dries up, the outrage will evaporate with it.
Every week, the NFL asks if America is ready for some football. And every week, despite scandal, viewers have answered, "Yes." Come February, as the receding memory of Goodell's astounding ineptitude is eclipsed by the spectacle of America's biggest sectarian holiday, will millions of people really vote with their remotes and not watch the big game?
Simmons himself made that very point Monday — right after eviscerating the league.
"It sucks. This league sucks. I don't even want it in my life," he said. After a pause, he continued: "It'll be one good Patriot game I'll be back in, but right now I'm disgusted."
Continue reading for free
We hope you're enjoying The Week's refreshingly open-minded journalism.
Subscribed to The Week? Register your account with the same email as your subscription.
Sign up to our 10 Things You Need to Know Today newsletter
A free daily digest of the biggest news stories of the day - and the best features from our website
Jon Terbush is an associate editor at TheWeek.com covering politics, sports, and other things he finds interesting. He has previously written for Talking Points Memo, Raw Story, and Business Insider.