Why I'm in favor of class warfare
It may be the only way to prod the Fed to stop overhyping inflation paranoia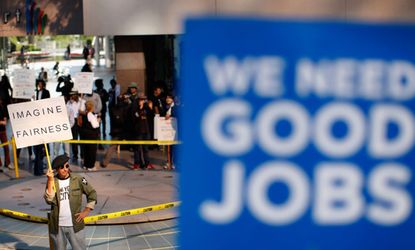 (Image credit: (David McNew/Getty Images))
America needs a class war.
Really. And not just because, as the Washington Free Beacon's Matthew Continetti demonstrated in a masterful column, we live under a progressive oligarchy.
And not just because, as the Washington Examiner's Tim Carney has repeatedly shown, a lot of our inequality and economic misery is caused by the regulatory capture of big government by big business.
Subscribe to The Week
Escape your echo chamber. Get the facts behind the news, plus analysis from multiple perspectives.
SUBSCRIBE & SAVE
Sign up for The Week's Free Newsletters
From our morning news briefing to a weekly Good News Newsletter, get the best of The Week delivered directly to your inbox.
From our morning news briefing to a weekly Good News Newsletter, get the best of The Week delivered directly to your inbox.
And not just because, as The New York Times' Ross Douthat has explained, social liberalism is a form of class warfare by the rich against the poor.
(Obviously, those three threads are connected. Add the fourth, brutality by men in uniform, and you get what James Poulos has called the pink police state.)
So yes, those are all reasons why we need a class war — a policy-, protest-, and rhetoric-focused conflict in which America's downtrodden middle and bottom rise up against the gluttonous elite. But there's another key reason why I want to revive the great populist cause of the good old days: inflation.
There is no neutral monetary policy. There will be a certain quantity of money in the economy. What that quantity is will advantage certain people over others. This is why monetary policy was once a vigorous and important part of our political debates.
If you have extremes (zero inflation, high inflation), everybody hurts. But inside those extremes, broadly speaking, if you have less inflation, the rich benefit; if you have more inflation, the less-rich benefit. It's not just that too-stable prices benefit creditors at the expense of debtors. It's that a burst of inflation reshuffles the economic cards. It creates economic instability — and those who have the most to lose from instability are those who have economic security. To put it very simply and very sharply: Too-stable prices are a transfer from the poor to the rich.
As a group of maverick, broadly libertarian-conservative economists known as market monetarists have argued very convincingly, the 2008 crisis went from a sectorial crisis in housing to a mini-depression because the Federal Reserve acted to restrain the money supply, fearing inflation. And the reason we have such a slow recovery is because, still fearing inflation, the Fed has refused to increase the money supply to where it should be.
The results have been predictable. The recovery has been just strong enough to prop up stock prices and the most productive sectors, such as finance and technology, helping the rich get richer, but not strong enough to truly help the less well-off. It may well take the pitchforks of class warfare to convince our financial overlords of their folly.
Ever since the dreaded era of 1970s stagflation, the world seems to have decided that monetary policy should be left out of politics and up to technocrats. But there's no such thing as an apolitical technocrat. And the people who run the Fed have mostly one goal in mind: price stability. That's great for the rich, and pretty terrible for everyone else.
Inflation has never been lower, and inequality has almost never been higher. Inflation has never been lower, and after each recession, the recovery is slower, and creates less jobs. Inflation has never been lower, and technological investment and innovation seem to be at a relative standstill.
We live in a bizarre world where everyone seems to agree that moderate inflation is bad. Well, it's bad for the rich. But actually, it's good for everyone else. Fifteen percent inflation in the 1970s was bad. But in the Reagan era — Morning Again in America! — inflation was running at about 5 percent. Would it be so bad if inflation were at 3 percent today?
William Jennings Bryan, the great commoner, said the common man was being held up on a cross of gold. He was right. He's still right. And his is the kind of class warfare we need.

Continue reading for free
We hope you're enjoying The Week's refreshingly open-minded journalism.
Subscribed to The Week? Register your account with the same email as your subscription.