ISIS and the echoes of the West's religious terror
The English Parliament once treated the Irish the same way ISIS treats its victims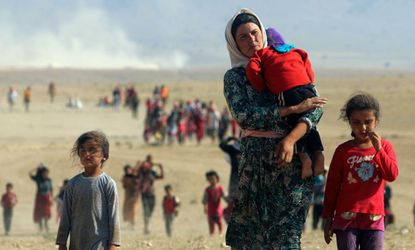 (Image credit: (REUTERS/Rodi Said))
Sign up to our 10 Things You Need to Know Today newsletter
A free daily digest of the biggest news stories of the day - and the best features from our website
Thank you for signing up to TheWeek. You will receive a verification email shortly.
There was a problem. Please refresh the page and try again.
Convert, leave, or die. That's the trio of awful options ISIS is giving to Christians in Iraq.
Sadly, there's an all-too-familiar ring to this ultimatum. These were the exact options given to all Catholic clergy in Ireland when England instituted the penal laws against Catholics several hundred years ago.
When William of Orange defeated his father-in-law, the deposed King James II, along with his Irish Catholic allies at the Boyne in 1690, Parliament was determined that an Irish Catholic uprising never threaten their rule again, and so they passed penal laws, or "papist codes." As author Thomas Keneally put it, these codes were "aimed at keeping the native Irish powerless, poor, and stupid."
Subscribe to The Week
Escape your echo chamber. Get the facts behind the news, plus analysis from multiple perspectives.
SUBSCRIBE & SAVE
Sign up for The Week's Free Newsletters
From our morning news briefing to a weekly Good News Newsletter, get the best of The Week delivered directly to your inbox.
From our morning news briefing to a weekly Good News Newsletter, get the best of The Week delivered directly to your inbox.
The details of these laws should still shock us. All Catholic bishops, and religious clergy (friars, etc), had to leave the country or face death. Any bishops coming from foreign countries were to be killed. All remaining Catholic priests were to sign an oath that was abominable to their conscience, or be killed. Catholic priests caught "perverting" a Protestant (i.e., receiving them into the church, or marrying them to a Catholic) were to be killed. Ordinary Catholics could not have schools, could not teach in schools, and could not be the guardian of a child. They could not travel abroad to attend schools. They could not own a horse worth more than five pounds. They could not accept substantial gifts from Protestants. Catholics could not live within five miles of incorporated towns. (This law applied to 80 percent of the island's population.)
Any decent Catholic church building was confiscated and given to the official "Church of Ireland." Catholics were to be whipped if they refused to work on Catholic holidays or visited holy sites. They could not own weapons. Upon death, Catholics were to split their lands among all their children, unless a child or a child's spouse was a Protestant, in which case the Protestant child was given the entire estate. Catholics were excluded from all professions and from voting. No tradesman was allowed to have more than two Catholic apprentices. There were standing bounties made available to "priest-hunters." The old Catholic Encyclopedia summarizes the papist codes this way: "The law presumed every Catholic to be faithless, disloyal, and untruthful, assumed him to exist only to be punished, and the ingenuity of the Legislature was exhausted in discovering new methods of repression."
Customs and economic realities grew alongside these statutes, whereby even after the laws were softened, left unenforced, or repealed outright, it was common for Catholic peasants to ask permission to marry each other from the Lord and Lady at their local "big house." Footman of local gentleman might travel ahead of their master's carriage to whip peasants, their carts, donkeys, and horses into ditches to make way. Even after Emancipation, when Catholics were no longer excluded from the vote on account of their religion, Parliament would raise the property requirements to exclude them based on their enforced poverty.
It was not just religious contempt that animated these laws. It was a religious contempt joined with and amplified by the desire for land and power. England and Scotland could hold only so many great houses. There was a need for more. Ireland's pastures were to the English aristocracy what the great West was for America, a Manifest Destiny.
Now, these laws were not always or effectively enforced. Irish Catholics found ways to educate their children at illegal "hedge schools." The Catholic Church continued to send bishops to the isle, and some people found ways of sending their children to Spain, France, or Rome for an education. The penal laws failed to achieve their aim of de-Catholicizing Ireland. The faith survived because it thrives in persecution and because of the support of institutions beyond England's reach. But an older map of the gaeltacht, where the Irish language is still a mother tongue, doubles as a map of places where the difficulty of the terrain and the wildness of native resistance finally restrained the English cupidity for Irish land and estates.
The full results of these English policies would unfold over centuries. A century and a half after the codes were installed, Irish Catholics were concentrated on poorer lands, relied far too heavily on calorie-rich potatoes, and had no margin for failure when it came to the rent system of agriculture. When the famine came in the 19th century, over 1 million Irish died of starvation or disease. Nearly 2 million more emigrated. In some waves, about one in five emigrants died on the journey. Ireland lost one quarter of its population in just over a decade. The prefamine population of Ireland was higher in 1840 than it is even today. As Ireland's men and children were dying, Parliamentarians speculated that the crop failure was "a Visitation of Providence, an expression of divine displeasure," and entertained themselves with cartoons depicting the Irish as simians, while they dined on still-cheap Irish beef and butter.
Now, the analogy between the England of centuries past and Islamic terrorists of today is far from perfect. As brutal and cruel as the English were, they weren't sending out propaganda videos depicting the gruesome execution of innocents. And the world in the 17th, 18th, and 19th century was far more violent and backward than the world we live in today — which makes ISIS's third-century bloodlust seem all the more shocking than England's.
Nonetheless, there are several lessons in this historic tragedy. Religious persecution like that of the English Parliament or ISIS is most deadly and destructive when it is knitted together into a full ideology by a rapacious greed. There are no dreams of genteel estates in the Levant, but ISIS fighters do dream of exercising power. And they are amassing fortunes from their war making. Their religious ideology blinds them to the reality that they are a murder gang; the spoils of war are a sign of divine favor.
Like the English, they cannot imagine living peacefully with their enemies. And they have recent history to back them up. The enemy within Ireland served as a stand-in for the enemy abroad in Spain, or Rome. Raping and pillaging the Irish was a partial substitute and even a salve for a foreign conflict that was desired and feared simultaneously. Impoverishment and humiliation for these domestic symbols of foreign evils are cast as policies of defense. ISIS thus makes Christians and religious minorities their domestic version of Israel, Assad, Twelver apostasy, and the Great Satan.
Over 300 years passed between the Boyne and the Good Friday agreement of 1998, which seems to have been the final extinguishment of violent religious hostility and counterattack in Ireland. If the past teaches us anything, we have many generations of misery to go in the Middle East.
Continue reading for free
We hope you're enjoying The Week's refreshingly open-minded journalism.
Subscribed to The Week? Register your account with the same email as your subscription.
Sign up to our 10 Things You Need to Know Today newsletter
A free daily digest of the biggest news stories of the day - and the best features from our website
Michael Brendan Dougherty is senior correspondent at TheWeek.com. He is the founder and editor of The Slurve, a newsletter about baseball. His work has appeared in The New York Times Magazine, ESPN Magazine, Slate and The American Conservative.