Girls on Film: 5 things that need to happen before Hollywood will ever truly change
If these changes happen, then we'll know Hollywood is finally moving in the right direction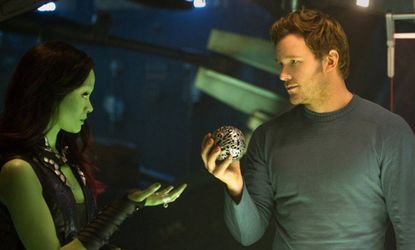 (Image credit: (<a href="https://www.facebook.com/guardiansofthegalaxy/photos_stream">Facebook.com/Guardians of the Galaxy</a>))
Sign up to our 10 Things You Need to Know Today newsletter
A free daily digest of the biggest news stories of the day - and the best features from our website
Thank you for signing up to TheWeek. You will receive a verification email shortly.
There was a problem. Please refresh the page and try again.
In this age of cookie-cutter Hollywood blockbusters, the emergence of something even a little new can create hyperbolic acclaim. Guardians of the Galaxy, which blends comedy with the superhero genre, is courting near-universal praise — even from those who deem it "a mess" with "overdone humor," and a "a spaghetti tangle of individual character arcs" that lack "depth and dimension."
Guardians is an inevitable evolution for Marvel — but the novelty of a superhero movie not taking itself so seriously made some critics gloss over its weaknesses.
It's the same thing that happens anytime a Hollywood movie breaks rank and includes some diversity: when change is long overdue, every step out of the norm is treated like a watershed moment. Kathryn Bigelow wins a Best Director Oscar — cine-sexism must be over! Gravity kicks ass at the box office — women are the new action stars! Patty Jenkins is hired to direct Thor 2 — men don't control the superhero genre anymore!
Subscribe to The Week
Escape your echo chamber. Get the facts behind the news, plus analysis from multiple perspectives.
SUBSCRIBE & SAVE
Sign up for The Week's Free Newsletters
From our morning news briefing to a weekly Good News Newsletter, get the best of The Week delivered directly to your inbox.
From our morning news briefing to a weekly Good News Newsletter, get the best of The Week delivered directly to your inbox.
Unfortunately, no one moment can change everything. Bigelow's history-making win didn't crack Hollywood's glass ceiling; Gravity, The Hunger Games, and other female-centric moneymakers haven't prompted a femme-blockbuster movement (and can't even convince Marvel head Kevin Feige to have one female-led superhero movie); Jenkins was fired from Thor 2 and no superhero film since has had a female filmmaker on the shortlist for directing — let alone actually getting the gig.
In reality, no single breakthrough will ever break the norm. What it really takes is many smaller advancements coalescing into a larger movement. It is only when we see distinct and palpable change in Hollywood's subtler bad habits that we'll know progress is truly being made. When we see habits like the five below disappear, we can truly celebrate.
1. Turning a female action lead into a love interest and/or sexpot
There is no better example of the disconnect between big-buzz diversions and old Hollywood habits than the female action star. Though Alien's Ellen Ripley and Terminator's Sarah Connor continue to be praised decades after their original ass-kickery, modern female action heroines tend to follow the more antiquated Barbarella route. They wear tight, cleavage-revealing ensembles, they tempt stupid men seductively, and they can't help but follow their hearts — their sexual resolve fading when they're faced with the charms of roguish, womanizing heroes.
Every now and then, a woman bucks the trend. Gina Carano spent much of Haywire challenging our view of female action stars. When Anne Hathaway co-starred as Catwoman in The Dark Knight Rises, her sexy ensemble wasn't just a collection of sexy pieces, but tools that helped her fight better. But these are exceptions. From The Avengers' Black Widow to Guardians of the Galaxy's Gamora, these women break habit while still falling into it, their strength undermined by romantic sub-plots and tantalizing seductions.
There are hopeful signs, however, that the trend might be starting to change. Though a topless Gamora scene was all over the trailers for Guardians of the Galaxy, the scene was cut from the film, freeing it from something like the gratuitous and maligned Alice Eve scene from Star Trek Into Darkness.
2. Devoting rom-coms to frazzled women & romantic mansplaining
Despite the warnings of some writers, big-screen romance is never going to die — but it is in crisis, for both its stale treatment of love and the way that women are generally treated. The quirky but intelligent women from films like Annie Hall and When Harry Met Sally eventually evolved into frazzled women who could barely get a handle on life, let alone love.
This evolution into utter incompetence has resulted in rampant mansplaining. At its most puerile, the carefree loser will help balance the manic heroine; at its most insidious, the chauvinist will teach the heroine about life's truths (The Ugly Truth). Even a movie that seems to deserve celebration — like an all-African American cast leading the mainstream franchise Think Like a Man — is actually a story about young, modern women who only find romantic happiness after they listen to an out-of-touch, fifty-something man.
3. Body shaming
Melissa McCarthy is one of Hollywood's most popular actresses, but her success doesn't mean Hollywood is finally loosening its rigid expectations for the female form. In fact, McCarthy's rise encapsulates them. Instead of rising on the skill of her charmingly idiosyncratic performances, McCarthy's star power is dependent on many versions of the same trope: "weird outsider with a weight problem." McCarthy is never just funny — her characters and storyline are always geared to accentuate her body's so-called otherness.
Yes, she personally contributed to that trend by co-writing this summer's Tammy, but her work doesn't exist in a vacuum. Tammy is what she could sell to a studio, in a system that likes to continue what "works." Mainstream film isn't comfortable with women having diverse bodies unless it's to comedic ends. It's a gendered habit that ignores a woman's ability to be funny outside of weight, and it leads to narrowed opportunity. But McCarthy's talent and success wasn't always tied to her weight. Before her stardom, McCarthy was Sookie St. James — one of the scene-stealing and beloved characters from Gilmore Girls. Her weight was never an issue or plot point; she was simply allowed to be funny.
4. Fearing age and young motherhood
Meryl Streep is so good, she'll get an Oscar nomination any time she walks into the frame, and Helen Mirren is so sexy that the world just can't get enough of her. But those are anomalies who make us think cinema embraces age. For every Streep or Mirren, there are actresses like Kristin Scott Thomas, Emma Thompson, and many more revealing the struggles most older actresses face. There are few roles for many talents — and to make matters worse, those roles are usually matriarchs.
As Faye Dunaway once neatly put it: "I am furious that they think I'm too old to play the love interest of guys like Jack Nicholson and Clint Eastwood. Why should I play sisters and mothers while guys like Jack and Clint, who are older than me, have on-screen lovers half their age?"
It's one of Hollywood's oldest habits, and it plagues the careers of most actresses over 40. Tammy features a granddaughter and grandmother only 24 years apart; Anne Bancroft was only six years older than Dustin Hoffman in The Graduate; and — in one of the most egregious examples — Angelina Jolie played mother to Colin Farrell in Alexander, though she's only one year older.
5. Failing to promote creative diversity
A white person could write a great character of color, and a man can write a great female character — but ability doesn't equal intent and execution. Matt Reeves recently exemplified this problem. When Dawn of the Planet of the Apes came out, some noted that the film had exactly two female characters — neither of whom had much screen-time or value in the narrative. It wasn't on purpose; when asked, Reeves said, "Gosh, I don't know...it's sort of a shame that, as you say, that's sort of true."
Like many habitual problems, this comes down to close-mindedness: if no one forces the creative to think outside the box or explain themselves, the practice will continue unchecked. It's one of the best arguments for the value of diverse creatives — to break out of the habits that unintentionally create women-free or white worlds, reductive characterizations, or Bechdel-failing narratives.
Hollywood also has to be willing to retain diversity when it is present. As Ursula K. Le Guin wrote when her Earthsea was whitewashed: "With all freedom comes responsibility."
Girls on Film is a weekly column focusing on women and cinema. It can be found at TheWeek.com every Friday morning. And be sure to follow the Girls on Film Twitter feed for additional femme-con.
Continue reading for free
We hope you're enjoying The Week's refreshingly open-minded journalism.
Subscribed to The Week? Register your account with the same email as your subscription.
Sign up to our 10 Things You Need to Know Today newsletter
A free daily digest of the biggest news stories of the day - and the best features from our website
Monika Bartyzel is a freelance writer and creator of Girls on Film, a weekly look at femme-centric film news and concerns, now appearing at TheWeek.com. Her work has been published on sites including The Atlantic, Movies.com, Moviefone, Collider, and the now-defunct Cinematical, where she was a lead writer and assignment editor.