Life in public housing
New York's public housing projects have more residents than the entire city of Cleveland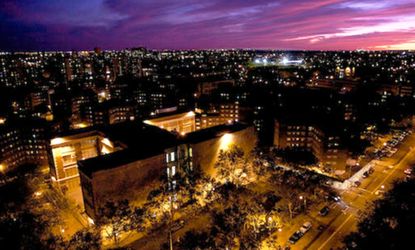 (Image credit: (<a href="http://narrative.ly/hanging-in-there/life-in-public-housing/">Shino Yanagawa/Narratively</a>))
More than 400,000 New Yorkers live in housing developments overseen by the New York City Housing Authority — towers more commonly known as "the projects." Yet the public's collective image of life in these communities is far more simplistic than the true, complicated stories of the people who actually live there.
Over the course of 12 months, journalist Rico "Superbizzee" Washington and photographer Shino Yanagawa facilitated a series of candid interviews and photo shoots with current and former residents of various housing projects throughout the city, including seminal hip-hop icon Afrika Bambaataa, author/filmmaker Nelson George, and hip-hop artist/actor Yasiin Bey (formerly known as Mos Def). Inspired by the documentarian works of Jacob Riis, Gordon Parks, and Ruiko Yoshida, Washington and Yanagawa aimed to explore and challenge the stigmas and stereotypes associated with blacks and Latinos in New York City's public housing community.
Seven of those stories are told below.
Subscribe to The Week
Escape your echo chamber. Get the facts behind the news, plus analysis from multiple perspectives.
SUBSCRIBE & SAVE
Sign up for The Week's Free Newsletters
From our morning news briefing to a weekly Good News Newsletter, get the best of The Week delivered directly to your inbox.
From our morning news briefing to a weekly Good News Newsletter, get the best of The Week delivered directly to your inbox.
JAMEL SHABAZZ
Photographer/Author
Former NYCHA Resident: Red Hook Houses (Brooklyn)
For the past 30 years, Jamel Shabazz has documented the world and his community through captivating still images, including the acclaimed books Back In The Days and A Time Before Crack. He is actively involved in community arts education through initiatives such as Rush Arts Philanthropic Foundation and Plays For Living.
What are your earliest memories of your housing project?
Growing up in Red Hook Houses was a beauty. It was a joy as a child, because most of my family was out there. My grandmother lived in the same court as me. My uncles lived there. It was family. Everybody had family. It's so interesting to reflect back on those times and know that everybody had a father in the home. If you didn't, for the most part it was because he died in war.
(More from Narratively: The town of trash)
All the families knew and respected one another. It was always "Mrs." Beverly, or "Mrs." Gail, or "Mrs." Johnson. There was respect. It was just amazing to experience that.
We never saw poverty out there. We had a stadium, where schools from all over the city would have track meets. We had a baseball field. We had a serious swimming pool. We had a center where we could learn martial arts and play ball. It was just beautiful.
We never saw poverty until I got a little older. Hard times befell on many of us and people got caught up from public assistance. I remember my parents would have the kids go. I would go with my cousin to go get public assistance. It was interesting, because we would go with our shopping carts and the whole entire project would be there. Everybody was on that line. There was an embarrassment and a stigma attached to it, but we were all poor at that time. We were all struggling to survive.
SUSIE MUSHATT JONES
Centenarian
NYCHA Resident: Vandalia Houses (Brooklyn)
At 112 years old, the Alabama native owns the distinction of being the oldest living resident of NYCHA's collective housing sites. Over the past decade, she has received numerous proclamations from local and state politicians as well as from President Barack Obama and his wife Michelle.
How long have you been living at Vandalia Houses?
Ever since it has been here. I was the first tenant. I've been here a long time. The only thing is, I don't like Brooklyn.
Why not?
You see, I was in Westchester County. That's where I lived when I first came to New York. I came from Asbury Park, New Jersey. All my friends were there.
What would you say to people who think that housing projects are bad places to live?
I haven't found anything bad since I've been here. I can't say anything bad about it. I really can't . . . I live here and I think it's very nice.
You were a member of the tenant patrol for many years. What was it like?
I used to sit in the lobby and greet people as they came in. I knew everybody here. I was able to see then. I lost my eyesight about 10 years ago. If I could see, I would talk you to death! There's so much I could tell you if I could go back, but it's been such a long time. Do you know how old I am?
(More from Narratively: Please punch me)
Did you ever think that you would live to see your 100th birthday?
No I didn't. I really didn't. But I'm not sorry to be this age. I have another friend that reached 100.
What is your secret to a long life?
Just living.
EPHRAIM BENTON
Actor
Former NYCHA Resident: Tompkins Houses (Brooklyn)
Ephraim has appeared in several television series, including Law & Order, The Sopranos, and Chappelle's Show, as well as films such as Baby Boy, American Gangster, and the Oscar award-winning Precious. He is also the founder of Chillin' On Da Corner & Beyond, a series of outdoor film screenings, health fairs, and community resource events held in his native Bedford-Stuyvesant.
What are your strongest memories of your neighborhood?
When it used to be fun. Before you find out what life is truly about in these harsh realities. Especially growing up in the hood. When friends were friends. When things were innocent, simple. Then as you get older, friends stray away from each other and become enemies. I miss the good times. I miss my friends that are no longer here, whether they're locked up or dead. Playing childhood games, whether it was basketball, softball, baseball, football. All that stuff, we used to play together. Running around, bike riding through different neighborhoods, playing tag and skelly. These kids nowadays don't know what any of that is about. That's the sad part.
Do you think there were programs that the city could have put in place that could have saved your fallen comrades?
When I was growing up there were things still in place like after-school programs. Not educational, but recreational. So you could at
least do something constructive with your time. But slowly, people feared that violence would occur. So they just stopped the programs. So after a while, all the kids did was hang out in the streets.
(More from Narratively: The pigeon queen of Riverside Drive)
My whole thing is to come back. The kids see me on television and in films, so I'm setting positive images out there and trying to be a positive role model for them. They can say, "Yo, E is really doin' it." I've seen, I've conquered, and now I'm bringing it back.
In housing projects, there seems to be an ever-pressing theory of "getting out and staying out." But it appears that you have countered that theory.
There are plenty of successful doctors and lawyers from the hood, not just entertainers or athletes, that tend to give to charities for cancer and AIDS, to move up in society. They want to put an image out there that would look good to upper-class society. They want to fit in. The charity that I want to give to is the place I grew up. That's in line with my morals, values, and beliefs.
At 18, I made it out of the hood. I went to live in California and stayed for five and a half years. But I always came back. I don't want to put any names out there, but there are famous people who are from Tompkins Houses who claim they're not from here because it's a blemish. They don't want to reach back and help. If you've made it and you have money, what's wrong with taking one of these vacant buildings and opening a space to help out — a space to teach job training skills? You'll sit up there and buy a $50,000 to $100,000 watch, but that kind of money in the hood could go a long way in starting programs. That doesn't add up to me.
Read the rest of this story at Narratively.
**EMBEDDED IMAGE: Shino Yanagawa/Narratively**
Narratively is an online magazine devoted to original, in-depth and untold stories. Each week, Narratively explores a different theme and publishes just one story a day. It was one of TIME's 50 Best Websites of 2013.

Continue reading for free
We hope you're enjoying The Week's refreshingly open-minded journalism.
Subscribed to The Week? Register your account with the same email as your subscription.