The media still hasn't learned enough from its Iraq debacle
The savaging of Dick Cheney's op-ed was the exception, not the rule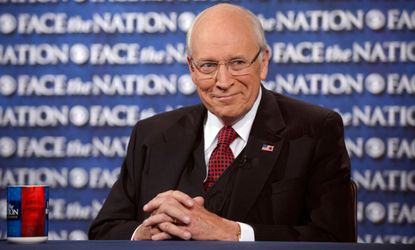 (Image credit: (AP Photo/CBS, Chris Usher))
Sign up to our 10 Things You Need to Know Today newsletter
A free daily digest of the biggest news stories of the day - and the best features from our website
Thank you for signing up to TheWeek. You will receive a verification email shortly.
There was a problem. Please refresh the page and try again.
With Iraq's Sunni insurgency now making a comeback, Americans have been confronted with another resurgence: That of the Iraq war's architects. It is just the neocon's latest campaign to salvage their reputations, pin the blame for Iraq on the current president, and reinvigorate the case for an ultra-militaristic foreign policy — but it is getting a lot of airtime.
In most cases, the claims being made by these folks are self-refuting. But the fact that, for example, former Vice President Dick Cheney and his daughter Liz recently published the most instantly mockable op-ed in recent memory — "Rarely has a U.S. president been so wrong about so much at the expense of so many"? Really, Dick? Really? — shouldn't distract us from the actual problem here.
The big problem isn't that these voices are heard — it's at they are too often given an unskeptical hearing. Fox News' Megyn Kelly's confrontation of the Cheneys, in which she demanded he answer for past mistakes, was notable precisely because it was so rare.
Subscribe to The Week
Escape your echo chamber. Get the facts behind the news, plus analysis from multiple perspectives.
SUBSCRIBE & SAVE
Sign up for The Week's Free Newsletters
From our morning news briefing to a weekly Good News Newsletter, get the best of The Week delivered directly to your inbox.
From our morning news briefing to a weekly Good News Newsletter, get the best of The Week delivered directly to your inbox.
Sure, right now most Americans find the neoconservatives' arguments about as appealing as a Hootie and the Blowfish reunion. They overwhelmingly oppose putting U.S. troops back into Iraq, and concluded years ago that the war was a bad idea. Polls over the last several years have consistently shown that Americans have developed a strong aversion to large-scale military interventions in the wake of the Iraq debacle (something that deserves to be listed among the war's very few benefits.)
The problem is, this probably won't last. At some point, there will likely come a moment when the memories of Iraq have faded, and perhaps in the grip of a new crisis, Americans will once again be susceptible to neocon fairy tales of adventure, heroism, and dragons that need slaying. The question is whether the mainstream media will treat those fairy tales with the probing skepticism they deserve, something they so disastrously failed to do in the run-up to Iraq.
The signs aren't great. On Sunday, The New York Times' Jason Horowitz penned a fawning profile of neoconservative historian Robert Kagan and his advocacy for a more "muscular" (i.e. blowing more stuff up) foreign policy. Readers unfamiliar with Kagan's strident support of the Iraq War, and the numerous now-discredited claims upon which his support was based, would learn only that Kagan "is hardly apologetic about the current mess." And thus a key advocate for one of the biggest blunders in American history is transformed into a bold, outside-the-box thinker challenging the reigning Washington consensus.
Senator John McCain (R-Ariz.), one of the most outspoken Iraq War advocates, remains a fixture on the Sunday morning talk shows, and is rarely if ever confronted with his own impressively long record of bad calls. Indeed, despite that record, and despite the fact that he currently has no genuine popular consistency for his vision of aggressive global U.S. hegemony, McCain was scheduled to give an address earlier this month at the Brookings Institution, one of Washington's most prominent think tanks, on "The Future of U.S. Foreign Policy." Moderating the event? Robert Kagan.
Then there's the Cheney's new venture, "Alliance for A Strong America," which, if it's anything like Liz's previous effort Keep America Safe, will mainly work to Keep American Scared. Among other scurrilous attacks, that organization went after lawyers who had represented terrorism suspects — that is, who did their jobs. But nevermind, the important thing was that this resulted in many television appearances for Liz.
"It's odd how some in the Beltway media elite grant Ms. Cheney a kind of protected status that allows her to say literally anything about these issues," wrote The Washington Post's Greg Sargent at the time. Given that Liz has clearly inherited her father's habit of saying things that are untrue, let's hope that that status has changed.
"[T]heir appeals to fear and canny marketing give them a continuing place in American life, as long as they can raise money for a media booker and a website," Heather Hurlburt wrote recently in The Daily Beast. "It's a strategy the extremists and Saddamists who melted away when the U.S. 'cakewalked' into Baghdad and Kabul, and waited for us to get distracted, would recognize."
So let's hope we don't get distracted. Because the speed with which America gets into another stupid war will be partly determined by how much those who got us into the last one can avoid any genuine scrutiny of their ideas.
Continue reading for free
We hope you're enjoying The Week's refreshingly open-minded journalism.
Subscribed to The Week? Register your account with the same email as your subscription.
Sign up to our 10 Things You Need to Know Today newsletter
A free daily digest of the biggest news stories of the day - and the best features from our website
Matthew Duss is president of the Foundation for Middle East Peace, based in Washington, DC.