Rectify is the successor to Mad Men you've been looking for
As its second season begins, the SundanceTV drama distinguishes itself as one of TV's smartest, most complex dramas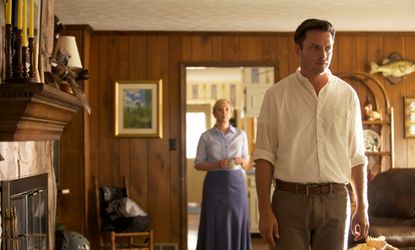 (Image credit: (Blake Tyers/SundanceTV))
A few weeks ago, AMC premiered Halt and Catch Fire, a dead-in-the-water drama about the personal computing boom of the early 1980s. The show follows Joe MacMillan, a brilliant, charismatic innovator with a murky, traumatic past. I'd hardly be the first critic to point out that Joe bears a conspicuous resemblance to Don Draper, the brilliant, charismatic innovator with a murky, traumatic past who lies at the center of Mad Men. (This is not a new trick for AMC; last year, the network attempted a similar feat with Low Winter Sun, a drama about a bald antihero's descent into corruption that was heavily promoted during Breaking Bad.)
AMC hasn't gone so far as to call Halt and Catch Fire "the next Mad Men," but it would be lying if it said it didn't want it to be. Mad Men has just seven episodes left before it goes off the air next year, which means that AMC is on the verge of losing the critically beloved drama on which it built its entire network — and the only replacement it currently has lined up is a poorly rated, critically maligned imitation of the real thing.
But while AMC's growing pains continue, Mad Men fans don't have to go without. Mad Men's true spiritual successor, Rectify, quietly arrived on AMC's sister channel SundanceTV last year. Over its beautiful, heartbreaking six-episode first season, Rectify unfolded the first act of a delicate and thoughtful story about pain and redemption. (If you have Netflix, you can watch them all there.) This year, Rectify's episode order has been bumped up to 10, and the beginning of season two finds the series as intelligent and compelling as ever.
Subscribe to The Week
Escape your echo chamber. Get the facts behind the news, plus analysis from multiple perspectives.
SUBSCRIBE & SAVE
Sign up for The Week's Free Newsletters
From our morning news briefing to a weekly Good News Newsletter, get the best of The Week delivered directly to your inbox.
From our morning news briefing to a weekly Good News Newsletter, get the best of The Week delivered directly to your inbox.
Rectify tells the story of Daniel Holden, a man convicted of the rape and murder of his girlfriend when he was a teenager. The story picks up nearly 20 years later, when Daniel is released due to exonerating DNA evidence. But his time on death row has permanently changed him, and his release reopens deep wounds, sending unexpected and far-reaching shockwaves through both his family and his small Georgia town.
On paper, Rectify might not sound like a Mad Men successor — but anyone who appreciates the AMC drama's deliberate pacing and emphasis on character will get a similar thrill from Rectify. For a time, Rectify was bound for AMC; an earlier version of the show, with Justified's Walton Goggins attached to star, was in the works as early as 2008. But after spending years mired in development, the series eventually bounced over to SundanceTV — then called the Sundance Channel — with Aden Young in the role of Daniel Holden.
You'd be hard-pressed to find a bigger fan of Walton Goggins, but Rectify is uniquely well-served by its lesser-known leading man. Young plays Daniel as a kind of ghost, wandering a world he barely understands, and the belated "freedom" he receives often seems like a kind of curse. His tentative stabs at redemption remain deeply compelling, even as they're complicated by the fact that — regardless of the so-called "exonerating" evidence — there's a very real chance that Daniel is actually guilty of the crime.
But for the considerable pathos of Daniel's situation, Rectify's true strength lies in its perfectly cast ensemble. Both inside and outside the prison, the years have taken their toll; Daniel's father died while Daniel was incarcerated, and his mother (J. Smith-Cameron) has since remarried, adding a complicated dynamic to an already difficult familial situation. Daniel's interactions with his new family members are electrifying: a skeptical, scheming step-brother (Clayne Crawford) with a gentle, religious wife (Adelaide Clemons), and a teenaged half-brother (Jake Austin Walker) to whom Daniel, in his stunted growth, can most easily relate. (Mad Men fans will also recognize the terrific Abigail Spencer, who plays Daniel's fiery sister Amantha, as Don's onetime lover Suzanne Farrell.) As the story goes on, it's clear that none of the characters can be easily dismissed; while their actions can be frustrating, they're grounded in a situation so fundamentally warped that there's no telling how a person would react.
Rectify's first season took place over six consecutive days, allowing viewers the chance to get to know each of the characters on a near-microscopic level. The second season picks up right where the show left off, complicating and evolving the narrative in ways that gain immense power by being so personal. We live in an era where, with the exception of Mad Men, TV's most acclaimed dramas hinge on life-or-death stakes — and the "death" part generally overwhelms the narrative.
Rectify is different. While the story began with the murder of a teenage girl, it never treats her death as cheap, or treats violence as something that comes without dramatic consequences. Rectify is the refreshing drama that takes on life-or-death stakes but focuses on the "life" part of the equation. A tragic death has poisoned the lives of all these characters, but the series is about them discovering how to live anyway.

Continue reading for free
We hope you're enjoying The Week's refreshingly open-minded journalism.
Subscribed to The Week? Register your account with the same email as your subscription.