The aluminum can's strange and eternal circle of life
You drink your beer; you toss the container. Do you know it comes back?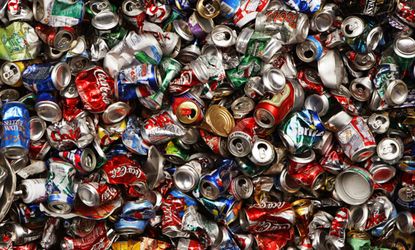 (Image credit: (Justin Sullivan/Getty Images))
Sign up to our 10 Things You Need to Know Today newsletter
A free daily digest of the biggest news stories of the day - and the best features from our website
Thank you for signing up to TheWeek. You will receive a verification email shortly.
There was a problem. Please refresh the page and try again.
1. Aluminum Forever
"If aliens land in 200,000 years to perform an archeological autopsy of the human species, they will find concrete foundations, Mount Rushmore, and billions of curious metallic lumps."
Eternity lived three floors below my apartment window. You could hear it in garbage lids lifting and in laundry carts clinking down my street like sad music boxes. Between the chime of the bottles you'd hear the crinkle of beverage cans, those echoes of ancient aluminum, those barrel-shaped objects salvaged by the poor for a reason. They were sounds that signaled money for people who knew to listen, though not for the hipsters of East Williamsburg and certainly not for me. My entire life I'd taken the aluminum can at face value. I would take it in my hand, cold, and press it to my face, and I was kissing an object that would outlive me. When you consider the can, it opens not to sweetness and experience but to the limits of human achievement.
Subscribe to The Week
Escape your echo chamber. Get the facts behind the news, plus analysis from multiple perspectives.
SUBSCRIBE & SAVE
Sign up for The Week's Free Newsletters
From our morning news briefing to a weekly Good News Newsletter, get the best of The Week delivered directly to your inbox.
From our morning news briefing to a weekly Good News Newsletter, get the best of The Week delivered directly to your inbox.
These were the noises of people at work: the scraping of metal on metal, fights in other languages, grunts of people stacking a heavy bag onto a cart filled with thousands of other hand-picked cans. Peering down three stories, I watched them mining in the sun. They wore wide-brimmed hats and yellow dishwashing gloves. Who was the boss of them? Who wanted what they found? Day after day, they dove their hands into my building's trash, mostly invisible. I had to train myself to see them, since (for the most part) poor is not the story in North Brooklyn. In this, the land of single-batch whiskeys and crane-assembled condos, we're home to four of the nation's top twenty-five fastest gentrifying zip codes.
(More from The Big Roundtable: Paralyzed)
One of these workers was a neighbor I knew named Fabian Puma. I knew her first name because my superintendent spoke it loudly whenever she showed up every Thursday to forage through our clear blue bags. I learned her last name because I asked. Fabian lived just down Powers Street on the route where I walked my terrier to Cooper Dog Park. Wednesday nights, her garbage would carve out the street in front of her first-story apartment. "You gotta fortress out here!" I heard a man in a business suit stop and say. Fabian, a fifty-two-year-old mother of three, would feign surprise at the containers and smile at this, the occasional onlooker. Standing five feet tall, with a baby-doll face, she looked innocent in her work. She playfully wiped her hands on her flower-print apron, which she wore like a uniform. This spectator, after all, was part of her benefactor class — emitting the stream of cans that flows across Williamsburg, from which she cobbles together her family's rent. An Ecuadorian immigrant, Fabian speaks no English and assumes that a mutual laugh will smooth things over. She giggled with the man, who shook his head and continued on towards Bushwick Avenue. Surrounding her were sixty-one boxes of empty bottles and fifty-two ten-gallon bags, each filled with more than 200 empty cans.
Fabian's work has multiple names. Williamsburg hipsters call them the "bottle people." Fabian calls herself a "canner," while many longtime practitioners prefer the term "ecological engineer." Like thousands of members of the working poor and immigrant communities across New York City, Fabian gathers recyclable cans to redeem their cash deposits en masse — one nickel per one container.
Back to work, she straightened her plain blue cap and re-tied the band on her ponytail. She dove her hands into mountains of glass and aluminum. On the back of each can she grazed was a block of text. Its message read:
"ME-MA-VT-CT-MA-NY-IA-OR-5¢
MI-HI 10¢ CA CRV."
NY was a bottle deposit state.
She moved with mesmerizing rhythm, seizing one silvery can and stowing it a moment later. There was method to these movements. Contrasting brands in the trash bags left out on garbage day made their way to clear recycling bags, sorted according to their nature. SixPoint tallboy cans went with Bronx Brewery tallboy cans, as both were the dispersed by Union Beer Distributors, the largest distributor of craft beers in New York City. Bud Light went in the big bag with Budweiser. Side by side, these two major brands represented the number one and the number three best-selling beers in America — both brewed by Anheuser-Busch InBev and, likewise, distributed to Brooklyn retailers by Union Beer.
As dusk approached, cracks of light between the tenement buildings caught the occasional can as she held it. Even drained and empty they shimmered. "Where'd you find all these?" I asked in Spanish. "McCarren Park," she answered. She'd fished these treasures from outside the hundreds of bars and brunch eateries near the heart-shaped park in the center of Williamsburg. Gentrified Brooklyn drinks a lot of beer, which is good for canners like Fabian. As the white population of Williamsburg's own Community District 1 increased more than 12 percent between 2000 and 2009, binge-drinking habits also expanded — rising from 16.7 percent to 19.4 percent of all residents, according to the 2012 Brooklyn Neighborhood Report. Almost one in five locals on a typical night on Bedford Avenue or McGuiness Boulevard consumed five or more alcoholic drinks, which represented the highest reported levels of binge drinking in Brooklyn.
(More from The Big Roundtable: The man who would save jazz)
Such demand draws eager suppliers and eager scavengers. Distributors like Chris Sheehan, the general manager of Union Beer, calls New York City, "The world's largest beer market." His warehouses pump half a million cases of beer into the city every thirty days. After all, New York City is not just a metropolis but also the largest tourist destination in the U.S. With a resident population of 8.3 million, the city welcomed an additional 54.3 million visitors in 2013. Eleven million of those visitors came from abroad, people who altogether shelled out the highest overnight spend of any destination city in the world: $18.6 billion, according to MasterCard Worldwide.
Grabbing a lipstick-red Coca-Cola container and squinting at the logo, Fabian paused to consider the can for a moment.
The aluminum beverage can is a marvel of industrial design. Everything about it is designed to please you. It's easy to stack, satisfying to open, easy to grip with your thumb and forefinger, convenient to purchase in quantity. The can never rusts, due to the non-ferrous properties of aluminum, and its byproduct from exposure to air is a protective layer. The can is easy to crush when empty and nearly impossible to crush when sealed. Its cylinder will withstand up to ninety pounds of direct pressure. Four six-packs of beer can support a two-ton car. With its perfect seal and imperviousness to light, the can will shelter its contents from sun and air — two enemies that rapidly break apart the enzymes in hops and sugar. More recently, the perfection of a polymer lining inside the can has eliminated the metallic aftertaste that once plagued canned beer. The act of pouring through its wide mouth aerates the beer and improves its flavor. These innovations have made believers out of flavor-conscious brewers like Two Brothers and New Belgium, who've become confident that the can is as effective as the bottle for stowing their precious cargo.
As of April 2014, 406 craft breweries offered their beer in a can. In 2011, a craft newcomer, The Bronx Brewery, decided to go exclusively with a sixteen-ounce "tallboy" to provide a point of differentiation on crowded shelves. "We're a young, urban brewery, and this just fits our brand," says Damian Brown, founder and brewmaster. "You can take it to the beach, sporting events, a lot of places glass can't travel, and we wanted the beer to be sort of ubiquitous. You know, New York City's pale ale." Sierra Nevada premiered their signature Pale Ale in a can in 2012. The Boston Beer Co., the nation's largest independent brewery with 1.3 percent of the U.S. beer market, spent a million dollars to design a can with a flared lip for its Samuel Adams Boston Lager. Due to a practice of continuous design improvement called lightweighting, the aluminum can also weighs less and less with each passing year. The first RC Cola cans in 1964 weighed about three ounces. Crushing one represented a display of strength. Using more complex alloys, today's cans weigh about half an ounce. Small children can crumple them. Most of the weight in your hand, in fact, comes from the liquid. This lighter, stronger object will travel across the country more cost-effectively than its bulkier glass cousin. A fifty-three-foot trailer truck will hold about 1,000 cases of bottles or 2,000 cases of cans. By those estimates, cans offer the chance for 100 percent more product per shipment. This differential is especially significant for west coast breweries like Sierra Nevada Brewing Co., who ship their product almost 3,000 miles from Chico, California to New York.
The twelve-ounce can is also perhaps the most powerful branding device in the world. Each four and three-quarter-inch cylinder contains half a square foot of billboard space. The can is a canvas for 96.6 billion roving advertisements in the U.S.; that's just the number of new cans we ship annually. One cultural figure, Beyoncé, became godlike in 2013 when she put her image on a Pepsi can as part of a pre-album marketing push. Each can makes — and delivers — an emotional appeal with vivid colors, fonts, and graphics. Perhaps that's why, as the historians Waverly Root and Richard de Rochemont observe, for Americans, "packaging is an almost mystical concept." Cans cram a variety of messages, both conscious and subliminal. The red "bowtie" Budweiser can, which hit the shelves in 2011, devotes forty-six words in a seldom-read arc of type, which many consumers take to be a decorative graphic. "This is the famous Budweiser beer," the text begins, the start of a brand creed. Countless marketing studies have proven that consumers can picture their favorite soda or beer can in their minds. Play the game now: Sprite, Fanta Orange, Coors Light. This visual information has been encoded into our collective imaginations. Perhaps that's why Coca-Cola executive Ivan Pollard once described the packaging as "the most enduring symbol of our brand promise."
The experience of consuming from a can is so personal and sensual that it's easy to forget how the container continues to exist once it is used. It's as if the can exists not to worry you. It leverages the same single-serving psychology as countless other disposable items popularized by '60s over-the-counter culture — the sugar packet, the paper plate, the TV dinner: one person, one delivery device, one kiss of flavor at a time.
As if waking from a reverie, Fabian shook her head and stowed the can back in a bag. Much like her surname, Puma, the apex hunter venerated as a sacred animal in her home nation of Ecuador, Fabian rose before dawn this morning, and she'd be up again tomorrow with the light. Sleep would be sparse in the months of long days, when raw resources were there for the taking. For these were the nights and weekends when people drank at outdoor festivals and in backyards. This was canning season. She and her husband, Manuel, would leave with two shopping carts to make the mile-long walk to McCarren Park. They'd pounce on troves of metal or, as they thought of them, nickels, that grow outside the watering holes of the wealthy and young. The work would be physically taxing and require strategy, much too demanding for someone half-committed to the task. They'd obey the canner code: first to the pile, first to that and every other pile on your side of the block; don't claim it if you can't handle it, can't carry it, can't squeeze it in your cart and heave it back home. "I'm a hard worker, but I give them credit," says my apartment superintendent, Michael "Super Mike" Serrano, who's observed the Pumas at work for the past four years. "They walk miles picking up the cans." There would be competition, too, in the form of other canners, hundreds of them. "You have to learn which spots, which days, which times and what is the system," says Sister Ana Martinez De Luco, fifty-nine, a Roman Catholic nun who earned her canning credentials on the streets of New York.
(More from The Big Roundtable: The light in Beirut)
At dusk, the Pumas would drag their heavy cache home past the swollen-faced winos on park benches. So many Williamsburg residents seemed to mix up New York's homeless for people like her canning family — people with apartments and Facebook pages. It's a common misconception. In 2002, when Michael R. Bloomberg, the billionaire mogul turned New York mayor, proposed doing away with the nickel deposit on cans, he quipped, "If we're going to help the homeless, there are better ways than having them go through our garbage." In late afternoon, for Fabian, the sorting would begin, hours of it. "Sometimes," she said in Spanish as she wiped her hands together, "I dream about cans."
These cans haunt Fabian because they're endlessly recyclable and, thus, incredibly valuable to entities bigger than herself. "Infinitely recyclable" — that's what it boasts on the side of Dale's Pale Ale, the first craft beer to go with the can in 2003. Like so few things in this world, aluminum can be recreated from itself. Yes: an old can, with a minor infusion of alloys, can melt down and make a new one. According to Aluminum Association figures, 68 percent of the cans we hold today are made of recycled metal. As an elemental material, sitting on the second row of the periodic table, aluminum cannot decompose into smaller parts. Each can thus faces two paths in its lifespan: to continue on indefinitely in its present form or be reincarnated, regenerated brand new, like Dr. Who, at any period in its existence. If aliens land in 200,000 years to perform an archeological autopsy of the human species, they will find concrete foundations, Mount Rushmore, and billions of curious metallic lumps. Aluminum is highly mixable and malleable, and perhaps that's why we rest so many aspects of our society upon this material. Aluminum alloys make jetliners, skyscrapers, antiperspirants, Apple computers, and tiny cans that feed our consumer patterns. Into these alloys, old cheap aluminum fished by canners like Fabian is just as effective as the expensive new stuff mined from equatorial nations like Venezuela, Guinea, and India. Through a complex system of vertical integration and market incentives — involving governments, scavengers, and the largest corporations — the beverage can shines again and again.
Read the rest of this story at The Big Roundtable.
This story originally appeared at The Big Roundtable. Writers at The Big Roundtable depend on your generosity. All donations, minus a 10 percent commission to The Big Roundtable and PayPal's nominal fee, go to the author. Please donate.
Continue reading for free
We hope you're enjoying The Week's refreshingly open-minded journalism.
Subscribed to The Week? Register your account with the same email as your subscription.
Sign up to our 10 Things You Need to Know Today newsletter
A free daily digest of the biggest news stories of the day - and the best features from our website