How John Kerry can find success in the ashes of Middle East peace
He'll have to aggressively reevaluate the way he approaches his job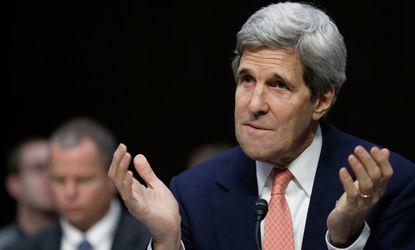 (Image credit: (Win McNamee/Getty Images))
Sign up to our 10 Things You Need to Know Today newsletter
A free daily digest of the biggest news stories of the day - and the best features from our website
Thank you for signing up to TheWeek. You will receive a verification email shortly.
There was a problem. Please refresh the page and try again.
Secretary of State John Kerry's push for Middle East peace has come to this sorry impasse: The Israelis demanding the United States release a traitor before they are willing to proceed with previously agreed releases of Palestinians, and the Palestinians playing for international recognition over U.S. objections. Put another way, the Israelis want to impose a penalty on their main international backer for moving forward on a plan that is clearly not of their making, while the Palestinians think they can circumvent Washington's main leverage over them, which is recognition of Palestine as a state. Suffice to say that it's pretty difficult to see how the negotiations proceed from here to a stable two-state solution, despite Kerry's frenetic efforts and best intentions.
Kerry's effort to start his tenure as secretary with a major peace initiative was a reasonable gambit: It is one of the few things countries in the region want that also aligns with U.S. interests. And it's certainly one of the only things ostensibly achievable by "smart power" alone. Many countries in the region argue that if only the United States would put a little effort and attention to the problem, if it would lean just a little on the Israelis over whom we have such enormous leverage, there could be justice for Palestinians, thus removing a major obstacle to public support for the United States throughout the region. Ambitious strategists in Washington take that even further — envisioning a Middle East wherein the Arab states not only extend diplomatic recognition to Israel, but cooperate openly with Israel to counter Iran. It's an appealing vision, but runs aground on how very little each of the parties (including those pressing hardest for U.S. involvement) are willing to give to achieve those outcomes.
So here we are again, with Kerry left pleading that "the leaders have to lead and they have to be able to see a moment when it's there." The political heads of Israel and Palestine see a moment, but it's not the moment Kerry sees. More worryingly, the Obama administration cannot seem to grasp the fundamental contradiction in its approach to diplomacy. The problem with leading from behind is that it necessitates others leading from the front ... and if others were willing and able to lead, they wouldn't need United States involvement.
Subscribe to The Week
Escape your echo chamber. Get the facts behind the news, plus analysis from multiple perspectives.
SUBSCRIBE & SAVE
Sign up for The Week's Free Newsletters
From our morning news briefing to a weekly Good News Newsletter, get the best of The Week delivered directly to your inbox.
From our morning news briefing to a weekly Good News Newsletter, get the best of The Week delivered directly to your inbox.
Perhaps Kerry will yet channel Palestinian President Mahmoud Abbas's inner Anwar Sadat and find Benjamin Netanyahu's inner Menachem Begin. But right now that has about the same odds as Warren Buffet's March Madness bracket bet. The smart money says that yet another push for Middle East peace will sink into the sands and Kerry will be left with the recriminations of all parties believing if only Washington had pushed others more, their preferred outcome could have been achieved. It will be a stinging defeat for the secretary, who alone in the Obama administration has argued for the peace process as a priority.
It should (but probably won't) occasion a reconsideration by the Obama White House of what diplomacy can achieve on its own. It should (but surely won't) occasion a reconsideration by the Obama White House of how their choices have diminished American standing in the world — we are not more respected because they eschew a forceful role. Instead, as the Middle East peace negotiations illustrate, hesitance and unreliability causes other states to reposition themselves in ways that reduce our ability to affect them. Call it insulation from our indifference.
If the Middle East peace negotiations crumble — much like negotiations to produce a unified opposition or alignment of U.S. and Russian interests in Syria, or negotiations to persuade Moscow to end its occupation of Crimea and quit its revanchist threats to any state that happens to have Russians among their population — Kerry should pause and reconsider how he is approaching diplomacy, what he might do differently to produce better results. Here are five suggestions:
1. Motion does not equal progress
Both Kerry and Secretary Hillary Clinton before him have operated on the "mileage plus" model of diplomacy, traveling constantly. Clinton even trumpeted it as a major achievement. There is advantage to showing up, but it is not the central element of a secretary's job nor the appropriate metric for determining effectiveness. Kerry should travel less, sending deputies and bringing leaders to Washington, tying his presence abroad to the concrete achievement of a diplomatic objective. The arrival of an American secretary of State should be a form of leverage to achieve diplomatic outcomes, not a routine part of the diplomatic process.
2. Strengthen the institution
Most secretaries of State run the department from the seventh floor (the secretary's suite in Foggy Bottom), caring little about the foreign and civil service or the institutional weaknesses of the State Department. That absolutely should not be the case for an administration whose approach to the world is fundamentally diplomatic. The Obama administration is committed to reducing the role that military force plays in American strategy, but that cannot happen without a dramatic strengthening of the non-military means of national power. The Treasury Department has succeeded brilliantly in the past 10 years at developing new tools that can target sanctions on individuals, track terrorist money flows, and identify banks laundering money. The State Department is long overdue for just such a muscular effort to identify and develop new means of diplomatic leverage.
The State Department is also overdue for another Quadrennial Diplomacy and Development Review — one that doesn't celebrate the process as its main achievement or recommend more senior positions for its organizational chart.
Our diplomats deserve a secretary of State who will develop a vision for the organization that will inspire, orient, and involve them. They deserve investment in their professional education and development. They deserve a government that funds their activity as fulsomely as it does the military — and one that then holds them as accountable for producing results. Kerry has involved himself in none of those things.
3. Play team sports
Kerry and Secretary of Defense Chuck Hagel made a joint appearance at the Munich Security Conference in an attempt to persuade the world that America was not withdrawing from the world. They made a joint appearance before Congress in an attempt to persuade wary legislators that the administration had a policy on Syria. Kerry and Hagel should make this a habit. President Obama's foreign policy is suffering from the widespread perception that military force is not an option. Closer and more visible cooperation across the Potomac River would go some way to deflecting that perception. Having the secretary of State lead the development of truly integrated strategies — policies that have diplomatic, economic, and military components working in tandem to support clear political objectives and identifiable end states — would go even further.
4. Prioritize
Kerry has done this pretty well: One can see his priorities from the allocation of his time. The question is whether those are the right priorities. It does seem odd that Afghanistan figures so little, especially with the election looming and Obama's exit strategy so dependent on that election producing a cooperative political order — instead of the country going up in flames, as Iraq has. Given the behavior of both Israel and the Palestinians, a shift in effort is in order: What about shoring up states like Jordan that have been a force for good for a future without a peace agreement and that have borne the brunt of a bad Syria policy? Or come up with a policy for dealing with Gen. Sisi's Egypt? Closer to home, energy issues and political change in Mexico are creating new opportunities for North American integration — an enormous strategic opportunity Washington has failed to take advantage of.
5. Stop compartmentalizing
The Obama administration persists in believing that its choices on Iraq, Afghanistan, and Syria do not affect how allies and enemies alike see the United States. It is a parallel to their belief that the wars are ending, when in fact all that is ending is our participation in them. The war in Iraq is not over for Iraqis; the war in Afghanistan will not be over for Afghans or Pakistanis. The administration develops exclusive policies without considering how they are fundamentally interrelated. For example, the administration continues to believe that even after the stand-off in Crimea, Russia will continue to advance the president's pet project of cooperative nuclear non-proliferation, including U.S. involvement in securing nuclear materials in Russia and upholding the Iran sanctions effort. That is transparently wishful thinking, and it clouds the ability to fireproof the most important U.S. policies. What is needed is a perspective of how our actions in one arena will ricochet into others.
Israel and Palestine once again foregoing the opportunity for a peace treaty is a great disappointment, but Kerry could profitably reflect on the opportunities it provides to focus his attention and strengthen America's hand for future rounds. It is a silver lining worth grasping, not least by the secretary of State who invested so much in trying to foster a new era of defenseless diplomacy.
Kori Schake is a research fellow at the Hoover Institution. During the 2008 presidential election, she was senior policy adviser to the McCain-Palin campaign, responsible for policy development and outreach in the areas of foreign and defense policy.
More from Foreign Policy...
Continue reading for free
We hope you're enjoying The Week's refreshingly open-minded journalism.
Subscribed to The Week? Register your account with the same email as your subscription.
Sign up to our 10 Things You Need to Know Today newsletter
A free daily digest of the biggest news stories of the day - and the best features from our website