The wonderbrewer of Nowheresville
Drink up!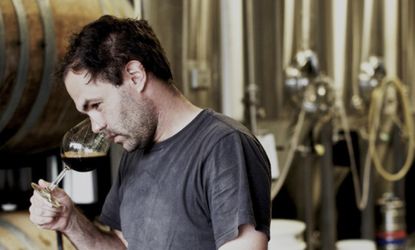 (Image credit: (<a href="http://narrative.ly/drinking-buddies/the-wonderbrewer-of-nowheresville/">Narratively/Bear Cieri</a>))
Sign up to our 10 Things You Need to Know Today newsletter
A free daily digest of the biggest news stories of the day - and the best features from our website
Thank you for signing up to TheWeek. You will receive a verification email shortly.
There was a problem. Please refresh the page and try again.
I'm a bit nervous when I finally turn down the long dirt road to the brewery after a two-hour drive. The road doesn't seem to lead anywhere. I'm in the middle of nowhere and there is no brewery in sight. It certainly doesn't seem like the most logical place for one. There is no major city nearby. The town is small, at best. There are no college kids or young professionals in the area and the roads to the brewery aren't paved — they're packed dirt and gravel. There is one store in town — it's a grocery store, department store, and hardware store all in one, with a lone gas pump outside. But Greensboro, Vermont, is home to Shaun Hill, the master-brewer and philosopher behind The Hill Farmstead Brewery, where he produces some of the world's most sought after beers on family land that has been passed down through the centuries.
I turn down Hill Road, its apt name reassuring me that my iPhone knows where we are despite dodgy service, and hope for the best. Eventually I see a large black banner with Hill Farmstead's logo. As soon as I pull into the small parking lot I realize this isn't any normal brewery. It's two buildings, both the size of a two-car garage, and I hear none of the industrial uproar associated with a large suds operation. The only noises at 9 a.m. are the chirping of crickets, music coming from the main building, and a tractor that is moving pallets of glassware.
(More from Narratively: Tales from drinking in New York)
Subscribe to The Week
Escape your echo chamber. Get the facts behind the news, plus analysis from multiple perspectives.
SUBSCRIBE & SAVE
Sign up for The Week's Free Newsletters
From our morning news briefing to a weekly Good News Newsletter, get the best of The Week delivered directly to your inbox.
From our morning news briefing to a weekly Good News Newsletter, get the best of The Week delivered directly to your inbox.
Not only is Hill, 34, brewing great beer here — RateBeer.com named this the best brewery in the World for 2013 — but he's setting himself apart with what he wants his brewery to be, a place driven more by idealism than profits. Yes, Hill wants to live comfortably and be able to pay his employees enough so that they can do the same. But what makes him stand out is that despite the line that forms at 11:30 a.m. every Wednesday morning, a half-hour before the retail store opens, his brewery can't meet customers' growing demands and frankly, he's not all that interested in trying to meet them.
Shaun Hill's family helped found Greensboro with 60 or so other families in the 1780s. They originally lived in what was downtown Greensboro, until, as Hill jokes, the town became too crowded.
"I always joke the town was overpopulated at that point — there were probably like 200 people there — and we're all misanthropes and stoics in the hills, so we're not really people-people. I guess he [Hill's great-great-great grandfather] was like, 'F--k this, I'm getting out of here, there are too many people around.'"
His great-great-great grandfather, Aaron, founded the family's original farmstead on Hillcrest Road, only a few hundred feet from where the brewery now sits.
Hill now lives on part of that farmstead, in a white farmhouse next to the brewery. His parents live across the street, just a couple hundred feet away, and other family is sprinkled around the area — his cousin lives on nearby Hillcrest Road and feeds the spent grains from the brewery to his cows.
Aside from all the family around, Hill is largely isolated from society, and seems to have inherited a bit of his ancestor's stoicism. He has no time for people, not because he doesn't like people, but because he is constantly busy working. He has no patience for chitchat, ignoring the customers in line to buy his beer as he brusquely moves from one task to the next. He looks tired: his hair, thinning through the middle, is the definition of bed-head, and his round face is marked by a perpetual five o'clock shadow. He looks like someone who has stayed up late plotting the future.
(More from Narratively: A eulogy for the ultimate dive bar)
He has little time to rest because his operation is tiny: the seven employees are a mix of old friends, family, and experienced brewers. Hill's father helps with odd jobs at the brewery, while his mother helps organize the tasting sessions during the summer, serving beer and explaining the nuances of each draught on tap. His brother is the master woodworker who built the original brewhouse, as well as the new larger brewery.
It's a small-scale operation that forces Hill to wear many hats. Brew days start at 6:30 in the morning and end at seven in the evening, after two batches of beer have been brewed. It's a long day with a lot of work and not much time to sit, talk or even think for more than a few minutes.
"Part of being an efficient brewer without hiring someone is you have to do realistically 12 things at once," says Hill.
"It's all because of neurotic, psychotic issues, need for perfection, low self-esteem, overcompensating," says Hill. "The greatest misconception people have is that I'm some sort of arrogant asshole, where it's the opposite of that. I just take what I do extremely serious because that's the kind of person that I am.
"People my whole life have mistaken intensity and directness for ego and, like, arrogance basically, which is totally unfair. If people just come down to earth and talk to you they realize, but instead they don't. I know lots of people that are the same way.
"There are people who are very laid back and sort of 'whatever' and let shit go wrong and not be right. It's just a different way of living."
Hill wanted to be a doctor when he went off to college, but quickly decided philosophy was a better fit.
"I took general chemistry, but, you know, it was at f--king eight o'clock in the morning, one hundred kids in auditorium, lots of cute girls, and whatnot," says Hill. "So, I also took a philosophy class, and I had already been interested in Buddhism and meditation and all of that from a young age, so sitting outside with eight other students reading Plato was far more interesting for me at that point."
The other thing that appealed to him at the time was brewing beer, which he had first done in high school for a science fair project requiring research on yeast, aeration, and fermentation. While he was still too young to legally drink, the "hybrid of malt and fruit fermentation" that came out of his experiment set the stage for the home-brewing club that Hill started at Haverford, with permission from the student council to use stoves on campus to brew. Hill brewed imitations of popular beers using copycat recipes that he modified and improvised. He loved exploring how to make beer better, whether working with different types of yeast or improving on steadfast recipes.
Hill's first brewery job came when he was given a chance to wash kegs at The Shed Restaurant and Brewery in Stowe, Vermont. He eventually worked his way up to main brewer and began developing his process and routine. Honing that process while working with different brewers around the world, he discovered that making beer was the prefect meld of personal philosophy and scientific experimentation.
(More from Narratively: The great Brooklyn vodka experiment)
"I started to realize what separates an OK, mediocre brewer, an enthusiastic brewer [from a great one], is process and science," says Hill. "[Hill Farmstead] is not the most scientific brewery in the world, but there is a lot to be said about routine and process and process variables.
"It took six or seven years, but I started realizing what the most critical control checkpoints are to make a really great beer," Hill continues. "And, fortunately, I haven't met many other brewers who have the same checkpoints. They're focused on things that don't really impact beer at all."
While Hill refuses to reveal much about his actual process, which he safeguards as a trade secret, the best way he can explain it is by relating brewing to cooking.
"All I'm doing is making a big f--king batch of soup every day," he says. "I'm making a big stock."
Cooking soup, or any food, requires a logical procedure. Brewing beer is the same. If brewers don't follow the basic rules they can't expand on what they're making. They're just messing around with a recipe. Hill messes around with recipes, but in a systematic fashion. He breaks them down, following the correct procedures, but expanding them to create something new and refreshing.
"It's like, 'oh man I always overcook chicken.' Well, it's because you're not using a meat thermometer, you're not setting a timer," says Hill. "There are simple things you can do to be a great cook, but there are people that make good-tasting food and then there are those people that expand on the canon of what good food can be."
Read the rest of this story at Narratively.
Narratively is an online magazine devoted to original, in-depth and untold stories. Each week, Narratively explores a different theme and publishes just one story a day. It was one of TIME's 50 Best Websites of 2013.
Continue reading for free
We hope you're enjoying The Week's refreshingly open-minded journalism.
Subscribed to The Week? Register your account with the same email as your subscription.
Sign up to our 10 Things You Need to Know Today newsletter
A free daily digest of the biggest news stories of the day - and the best features from our website