Why How I Met Your Mother chose the right ending
The series finale destroyed Ted Mosby's previous conceptions about love — and that's a good thing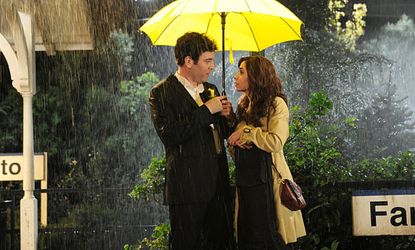 (Image credit: (Ron P. Jaffe/Fox))
The overall response to last night's How I Met Your Mother finale — in which protagonist Ted Mosby (Josh Radnor) meets the mother, stays with her until she dies, and subsequently resumes his pursuit of longtime love interest Robin Scherbatsky (Cobie Smulders) — has been largely negative. One particularly disappointed critic complained that the episode "betrayed the series' ideals" about human relationships. But for viewers who stuck with the show throughout its nine seasons, the final plot twist shouldn't have been a surprise — it was the perfect conclusion to a story that shows just how far Ted Mosby has come.
When How I Met Your Mother premiered in 2005, CBS was looking for another series that could build on the ratings of hits like Two and a Half Men. On the surface, How I Met Your Mother was to be a conventional sitcom, with a multi-camera setup, a frequently visited bar, and a laugh track.
But it also quickly became clear that series creators Carter Bays and Craig Thomas wanted to use the traditional sitcom format to subvert the romantic tropes commonly seen on television. The show's protagonist is a thirty-something New Yorker navigating the dating scene, desperately looking for commitment. But bucking rom-com convention, that character is a man, not a woman — a depiction that turns a big stereotype on its head. Mosby's counterpart, Robin Scherbatsky, is another careful subversion: a Canadian who loves guns, and a career-driven woman who has no interest in marriage or in having children. But unlike other, similarly premised characters, Robin isn't caricatured as selfish or "bossy."
Subscribe to The Week
Escape your echo chamber. Get the facts behind the news, plus analysis from multiple perspectives.
SUBSCRIBE & SAVE
Sign up for The Week's Free Newsletters
From our morning news briefing to a weekly Good News Newsletter, get the best of The Week delivered directly to your inbox.
From our morning news briefing to a weekly Good News Newsletter, get the best of The Week delivered directly to your inbox.
In How I Met Your Mother's first season, Ted employs all the rom-com staples in pursuing Robin, including stealing a gift in the most elaborate fashion and showing up at her apartment with flowers and a live band. She continually rejects his advances, and rightly; at this point, Ted is more in love with the idea of a successful relationship than with Robin herself. He is a likeable and kind-hearted optimist, but one who clearly needs a lot of personal growth before he can marry anyone.
As Ted embarks on years of friendship with Robin and actually gets to know her, the show's romantic focus shifts to the relationship between Lily and Marshall. Except for the fact that they're college sweethearts who have never slept with anyone else, their marriage isn't what you'd expect in a sitcom. Lily is a staunch feminist who openly disagrees with Marshall's mother about the role of a wife. Whether it's her refusal to cook with the other women while their husbands cavorted outside, or her stubbornness in keeping her last name after the wedding, Lily becomes a stay-at-home mother of three without ever succumbing to traditional "mom" stereotypes.
At times, How I Met Your Mother was almost too earnest and straightforward in its quest toward progress. When Barney lectures his brother's baby about marriage (a thinly veiled criticism of gay marriage detractors) or when Marshall is determined to raise his children to believe in Bigfoot (the show's way of depicting the role of religion in family life), How I Met Your Mother felt overly preachy, as if it were trying too hard to push a message to CBS' aging sitcom viewers. How I Met Your Mother was at its strongest when its plot naturally lent itself to glaring messages of cultural iconoclasm — the biggest of which occurred in its final episode.
Over the ninth and final season, Ted (and the audience) gets to know Tracy McConnell, the titular mother. Tracy is more or less a female version of Ted — someone who unironically hangs a Renaissance Fair sword on her bedroom wall, and whose idea of fun is viewing pennies at Coin Con. Like Ted, Tracy also has the baggage of an intense former love (though in her case, her first love is deceased).
Ted's relationship with Tracy is the final step on an emotional journey — someone who reminds him not to "live in his stories" and overblown romantic ideals. While Ted originally planned an elaborate wedding at a castle, he eventually realizes that it's the everyday aspect of his relationship with Tracy that makes their love work. When they finally do tie the knot, it's at a small, last-minute ceremony on a Thursday, after seven years and two children together.
For many critics, Ted's story should have ended there. He's found someone who is, quite literally, his perfect match. But it's also an ending that's too pat, especially for the How I Met Your Mother universe. It would be fine for a romantic comedy or even another sitcom, but How I Met Your Mother has consistently proven to be smarter than that.
Such a sugar-coated ending would have been a disservice to the first eight seasons, undoing the show's repeated efforts at rom-com subversiveness. When we first meet Ted Mosby, he is intent on finding "the one." In season nine, he finally does — but "the one," however special, isn't the end of a story. By recounting his history with Robin (and with a bit of nudging from his children), Ted learns that his once unshakable idea of "the one" isn't accurate for many people, including himself.
In the show's first season, Ted joins an online dating service that promises to find him a perfect match, but he eventually bails on meeting her. "I don't want [someone] perfect," he tells Marshall. "I want Robin." After finding and losing love with that perfect person, his words are no less true. Ted's circuitous, messy experiences with love make his story one of the most honest and accurate depictions of love on a contemporary sitcom.
Yes, How I Met Your Mother was a CBS sitcom with a laugh track. But it was also a surprisingly forward-thinking work of cultural analysis — and that makes its ending all the more poignant.

Continue reading for free
We hope you're enjoying The Week's refreshingly open-minded journalism.
Subscribed to The Week? Register your account with the same email as your subscription.