How could Russia strike back against U.S. sanctions?
The West is starting to flex its economic and social muscles. What leverage does Vladimir Putin have?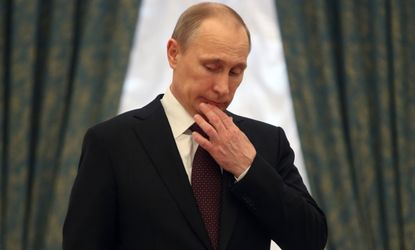 (Image credit: (AP Photo/Sergei Chirikov))
Sign up to our 10 Things You Need to Know Today newsletter
A free daily digest of the biggest news stories of the day - and the best features from our website
Thank you for signing up to TheWeek. You will receive a verification email shortly.
There was a problem. Please refresh the page and try again.
The Obama administration is slowly — some might say gently — tightening the screws on Russia in retaliation for Moscow's decision to occupy, then annex the Ukrainian province of Crimea. Last Thursday, President Obama announced new sanctions against 16 Russian billionaire businessmen and government officials close to his Russian counterpart, Vladimir Putin, and one Kremlin-linked bank. Obama also signed an executive order to cut off various sectors of the Russian economy if Putin escalates the conflict with Ukraine.
It's early days, but the new sanctions — including similar moves by Europe — and the threats of even more to come already seem to be causing Putin's cronies some pain. On Thursday, credit-rating giants Standard & Poor's and Fitch downgraded Russia's credit outlook to negative, from stable, feeding a broad, sharp selloff in Russian stocks. Visa and MasterCard (at least temporarily) stopped processing payments for the blacklisted bank, Rossiya. The Russian oligarchs must be getting nervous.
Many analysts predict that Europe will take a lighter touch with Moscow, because EU countries depend on Russia for a good portion of their gas and sell Russians nearly $200 billion worth of goods each year. But the U.S. isn't so dependent, with imports and exports relatively low between the two countries. "U.S.-Russian trade relationship? There really isn't one," says Fortune's Christopher Matthews.
Subscribe to The Week
Escape your echo chamber. Get the facts behind the news, plus analysis from multiple perspectives.
SUBSCRIBE & SAVE
Sign up for The Week's Free Newsletters
From our morning news briefing to a weekly Good News Newsletter, get the best of The Week delivered directly to your inbox.
From our morning news briefing to a weekly Good News Newsletter, get the best of The Week delivered directly to your inbox.
Russia responded to the new sanctions by banning several U.S. lawmakers from entering Russia — not exactly a counterpunch that will inflict much damage. If Russia continues to absorb Crimea, as expected, or even expands into mainland Ukraine, and the U.S. responds by cutting Moscow off economically and kicking it out of prestigious multilateral bodies like the G8 (already the G7 until further notice), is there anything Russia can really do to hit back?
The short answer is yes, but probably not in any way that would really hurt the U.S. For the longer answer, let's evaluate some of Russia's levers of influence, from its biggest to its weakest:
Nuclear weapons
Russia may not be much of a financial superpower these days, but it still has 7,700 nuclear warheads, with almost 2,000 of those ready to launch at the U.S. As one colorful RT news anchor put it last week, Russia is "the only country in the world capable of turning the U.S.A. into radioactive dust." Of course, the U.S. has more than enough nukes to return the death and destruction, a bleak stalemate that has kept these weapons holstered for almost 70 years.
Still, Russia's nearly 8,000 nukes are in the back of everyone's minds as they try to figure out what to do about Crimea and the broader Ukraine situation. Even if Russia didn't deploy its nukes, it could export its materials and technology to nations like North Korea and Iran, if it so chose (and there's no reason to believe it would choose to). In a more likely scenario, Russia could stop reducing its own nuclear arsenal and withdraw from the New START treaty with the U.S., undermining one of Obama's signature diplomatic initiatives and dealing a blow to nonproliferation efforts. Sadly, Russia's massive nuclear stockpile is one of the reasons it still matters in a world where economic power has taken center stage.
Iran and Syria
Before Crimea pushed Russia toward international pariah status, Putin had made his country an important diplomatic actor again on the world stage by helping broker deals to destroy Syria's stockpiles of chemical weapons and freeze and roll back Iran's nuclear program. Western leaders and diplomats assume Russia wants both a chemical-weapons-free Syria and non-nuclear-armed Iran, but Western diplomats and leaders have misjudged Putin's view of self-interest before.
The latest round of Iran nuclear talks ended last Wednesday, for example, and though all parties said the negotiations toward a permanent deal were constructive, Russian delegate Sergei Ryabkov threatened to rope the Iran discussions into the Ukraine situation.
"We wouldn't like to use these talks as an element of the game of raising the stakes, taking into account the sentiments in some European capitals, Brussels, and Washington," said Rybakov, a deputy foreign minister, according to Russia's Interfax news agency. "But if they force us into that, we will take retaliatory measures here as well."
Russia is the closest ally to both Syria and Iran among the P5+1 negotiation parties (Russia, the U.S., Britain, France, China, and Germany), and the most obvious thing Russia could do to undermine the fledgling Iran deal is to undermine the tough economic sanctions against Tehran. "If you're Putin and you think you're going to be a target of sanctions, the most obvious leverage is in the Iranian file, where Russian cooperation is so important," Mark Dubowitz at the Foundation for Defense of Democracies tells The New York Times.
Will Putin link the two or three conflicts? Well, U.S. Defense Department analysts are split, says The Daily Beast, quoting an unidentified Pentagon analyst on Russia: "We have seen a willingness on their part to compartmentalize Ukraine away from the Middle East," the analyst said. On the other hand, "there are some of us who think Putin will do everything he can to spite us."
And even if Russia does try to undermine the Syria deal or Iran talks, it's not clear how damaging that will be: If Iran wants to negotiate a way out of the sanctions, it needs to talk to the U.S. and Europe; if Syria breaks its agreement on chemical weapons, there are other players helping enforce it besides the U.S. and Russia.
Energy and metals
Russia's direct trade with the U.S. is limited, and its economy is much smaller — Russia's gross domestic product (GDB) is a little above $2 trillion, America's is about $16.25 trillion:
But Russia is the world's largest exporter of energy and industrial metals, and if Putin disrupted the supply of any of its international commodities, it could indirectly hit the U.S. by raising the prices of oil and the materials needed to build airplanes, cars, and scores of other big-ticket items.
Still, "independent economists say Russia in fact has more to lose economically from a tit-for-tat campaign of sanctions" or other reprisals, says The Associated Press' Nataliya Vasilyeva, "mainly because European and U.S. companies have strong trade ties with other regions as well, such as Asia and Latin America."
Use Europe as hostage?
If the U.S. is relatively safe from Russian reprisal, it does have a weak spot in its European allies. Not only does Europe currently rely on Russia for a sizable amount of its natural gas — especially Germany and Italy — but European nations have deeper bilateral trade ties and complicated relationships with Russia's billionaire tycoons and oligarchs. If Moscow decides to play economic hardball, Europe will get bruised, and that will be America's problem, too.
More directly, the U.S. is obliged to help out any NATO member threatened by an outside player like Russia. Ukraine isn't a NATO member, but other countries potentially in Russia's sights — the Baltic states, Romania, and Poland — are nervously seeking assurance that NATO (meaning the U.S., largely) will come to their aid should Russia pull a Crimea.
Would it be in Russia's interest to threaten a neighboring NATO member or annex impoverished regions in need of heavy social and infrastructure spending? Probably not. But if Putin wants to use what leverage he has against the U.S., he has some tools to do that. That's the nature of asymmetrical warfare.
Continue reading for free
We hope you're enjoying The Week's refreshingly open-minded journalism.
Subscribed to The Week? Register your account with the same email as your subscription.
Sign up to our 10 Things You Need to Know Today newsletter
A free daily digest of the biggest news stories of the day - and the best features from our website
Peter Weber is a senior editor at TheWeek.com, and has handled the editorial night shift since the website launched in 2008. A graduate of Northwestern University, Peter has worked at Facts on File and The New York Times Magazine. He speaks Spanish and Italian and plays bass and rhythm cello in an Austin rock band. Follow him on Twitter.