The wrongheaded law that's making your food less safe
If the cows providing your milk were being drugged up and abused, you'd want to know, right?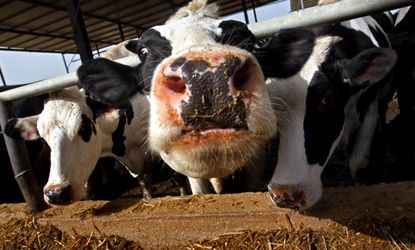 (Image credit: (David Silverman/Getty Images))
Sign up to our 10 Things You Need to Know Today newsletter
A free daily digest of the biggest news stories of the day - and the best features from our website
Thank you for signing up to TheWeek. You will receive a verification email shortly.
There was a problem. Please refresh the page and try again.
Late last month, Idaho Gov. C.L. "Butch" Otter signed into law a measure that makes it a crime, punishable by up to a year in prison, for someone not authorized to be in an "agricultural production facility" to "make audio or video recordings of the conduct" inside that facility. Under the new law, the "guilty" party is required to pay damages for the "injury" caused to the facility's owners by publishing those recordings. The idea is to bluntly dissuade animal advocates or journalists from secretly taping the grim work at these places.
"The problem we have here," one state lawmaker who supported the new Idaho law said last month, "is you can be tried and convicted in the press or on YouTube."
The law's enactment comes nearly three years after the Boise Weekly published an award-winning investigative series about Idaho dairies and the "high levels of drugs found in cattle." It comes about 18 months after the newspaper published graphic video showing dairy workers kicking and beating cows inside a barn.
Subscribe to The Week
Escape your echo chamber. Get the facts behind the news, plus analysis from multiple perspectives.
SUBSCRIBE & SAVE
Sign up for The Week's Free Newsletters
From our morning news briefing to a weekly Good News Newsletter, get the best of The Week delivered directly to your inbox.
From our morning news briefing to a weekly Good News Newsletter, get the best of The Week delivered directly to your inbox.
Indeed, one could argue that the most serious "problem we have here" in Idaho — and in other states with significant "agricultural production facilities" and powerful agriculture lobbies — is not so much the scourge of unfair publicity but the fact that too many employees working around animals are abusing or neglecting them, often grotesquely so, in a way that jeopardizes the safety of the food we eat and the milk we drink. The new Idaho law won't solve that problem; it will only make it worse by punishing those people who seek to bring this cruelty out into the open.
To animal rights advocates, these so-called "ag-gag" laws represent self-defeating attempts by lawmakers to provide special legal protections to favored industries that, in turn, have contributed to the political campaigns of the lawmakers moving to protect them. The conduct being criminalized here, falsifying employment information and trespassing upon private property, is already a crime, these advocates say. And, in an age when "whistleblowers" are widely recognized for their selfless contributions to society, these laws send the opposite message: The truth about what goes on inside these factories may not be revealed, under penalty of prison.
This is precisely why these laws also have alarmed food safety specialists, who see them as worrisome steps away from the sort of transparency and public accountability that makes our food safer. It has been 108 years since Upton Sinclair wrote The Jungle, his muckraking masterwork about American slaughterhouses (read Chapter 3 just to get a flavor). Since then, an entire regulatory industry has arisen to make sure that our food is processed as safely and cleanly as possible.
And yet, despite all the rules and regulations and inspectors, in spite of all of the new public sensitivity about how our food gets to us, awful cruelty and deplorable conditions in processing plants persist (like, for example, those in Vermont and Iowa and California and Wyoming).
To Big Agra, these new criminal laws are necessary to protect facilities from outside "interference." To plant operators, who naturally want to run their private operations beyond the public glare, and who have little financial interest in dropping a dime on their employees, the whistleblowers who infiltrate these plants and bear witness to what happens inside are criminals seeking to ruin the business. To the people who control these industries, who understand they cannot argue against what people see with their own eyes on these videos, the solution is to seek to limit the number of such videos that ever see daylight.
I have been writing about these corporate-friendly laws for nearly 20 years. One of my very first columns as a working journalist, in fact, was in 1995 in the now-defunct Rocky Mountain News about a misguided effort to enact an ag-gag law in Colorado. But the current generation of these laws is different and more dangerous in one vital aspect — they are being pushed thanks to the coordinated involvement of the American Legislative Exchange Council (ALEC), the same folks who brought us "stand your ground" laws and voter suppression. These new measures, in other words, have been politicized in a way they were not two decades ago.
In the end, what these laws do and are depends entirely upon your point of view. What these so-called laws do not do, however, is directly implicate First Amendment protections. Idaho, in other words, won't likely have its new law overturned by the courts solely on constitutional grounds. "First Amendment law says nothing about whether states can punish people who apply for or get jobs by failing to reveal their true purpose," University of Virginia School of Law professor Frederick Schauer told me via email. "Similarly, the First Amendment has very little to do, under current law, with a state's attempts to protect the premises or privacy of a business."
This helps explain why animal rights activists have fought so hard against these laws. The Humane Society of the United States, for example, has made the compelling argument that the public interest in transparency over the conditions in these plants trumps whatever concerns plant operators have about sharing their secrets with the world. "For farmers treating their animals well, they need not fear a video recording of the treatment of the animals," HSUS President Wayne Pacelle told me via email. "The only people who need be worried are those who are mistreating the animals or confining them in cages or crates so small that the animals cannot move."
So while the Idaho law is a loss for these advocates, Schauer warns that there are limits to how far Idaho can go to enforce it. The First Amendment, he says, prohibits the state from blocking the publication of any material gleaned from inside these facilities by anyone who risks criminal prosecution by recording animal abuse or neglect. This, he says, would be an impermissible "prior restraint." Are there people in this country willing to go to prison to highlight the abuse of these animals and the lack of sanitary conditions in which our food is prepared? You bet. And you can bet that those trials will bring more publicity to this cause, and more clicks on those accompanying videos, than anything else.
Continue reading for free
We hope you're enjoying The Week's refreshingly open-minded journalism.
Subscribed to The Week? Register your account with the same email as your subscription.
Sign up to our 10 Things You Need to Know Today newsletter
A free daily digest of the biggest news stories of the day - and the best features from our website