North Korea isn't Nazi Germany — in some ways, it's worse
The U.N.'s brutal report on the Hermit Kingdom's crimes against humanity makes for horrifying reading. But what happens next?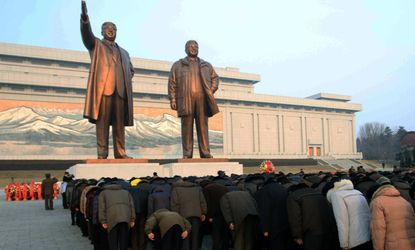 (Image credit: (AP Photo/Jon Chol Jin))
On Monday, the United Nations released a scathing report on North Korea, strongly criticizing its alleged human rights abuses as without "any parallel in the contemporary world." The 36-page report and its 373-page addendum add gruesome details to what the world already knew or at least suspected: North Korea is a totalitarian state that, as official policy, does some pretty awful things to its citizens and quashes most basic freedoms.
The United Nations Commission of Inquiry on human rights in the Democratic People's Republic of Korea, led by retired Australian judge Michael Kirby, based its report on a year of public hearings with about 80 witnesses and private, confidential interviews with another 240 victims, including people who'd spent time in North Korean prison camps, and other experts. North Korea did not allow the U.N. team into the country to collect information firsthand.
Pyongyang's "crimes against humanity entail extermination, murder, enslavement, torture, imprisonment, rape, forced abortions and other sexual violence, persecution on political, religious, racial and gender grounds, the forcible transfer of populations, the enforced disappearance of persons, and the inhumane act of knowingly causing prolonged starvation," the report says. It includes satellite photos and grisly cartoon images of life inside North Koran gulags, based on interviews with survivors:
Subscribe to The Week
Escape your echo chamber. Get the facts behind the news, plus analysis from multiple perspectives.
SUBSCRIBE & SAVE
Sign up for The Week's Free Newsletters
From our morning news briefing to a weekly Good News Newsletter, get the best of The Week delivered directly to your inbox.
From our morning news briefing to a weekly Good News Newsletter, get the best of The Week delivered directly to your inbox.
"At the end of the Second World War so many people said, 'If only we had known, if only we had known the wrongs that were done in the countries of the hostile forces,'" Kirby said at a press conference on Monday. The North Korean human rights violations are "strikingly similar" to the atrocities committed by the Nazis, he added. "There will be no excusing the failure of action because we didn't know — we do know."
To illustrate the comparison, Kirby told reporters about a former prisoner who testified that one of his duties at the North Korean camp was burning the bodies of prisoners who died of starvation, then hauling the ashes and unburned body parts to fields, where they were used as crop fertilizer.
This is one case where the usual comparisons to Nazi Germany isn't hyperbole — Godwin's Law, about the first person mentioning Adolf Hitler automatically forfeiting the argument, doesn't apply to Kim Jong-un. But the Kim dynasty's North Korea is not Hitler's Nazi Germany.
The big difference is the technical lack of attempted genocide. Over 12 years, the Nazis killed an estimated six million Jews and another five million Roma, artists, homosexuals, political dissenters, mentally and physically disabled people, and others deemed unfit for German society. Genocide, notes Chico Harlan at The Washington Post, "is a technical term, involving extermination along national, ethnic, racial or religious lines." North Korea, he adds, "tends to target people for their beliefs."
In North Korea, "hundreds of thousands of political prisoners have perished in these camps over the past five decades," the report estimates. "The unspeakable atrocities that are being committed against inmates of the kwanliso political prison camps resemble the horrors of camps that totalitarian states established during the 20th century." There's a pretty big quantitative difference between 11 million and hundreds of thousands, though.
In terms of racial/ethnic profiling and sheer numbers, then, the DPRK doesn't match the horrors of the Holocaust. And while Kim Jong-un may be close to having a working nuclear missile, nobody outside of Pyongyang considers North Korea a world power like Nazi Germany was at its peak.
Still, in several important ways, North Korea is worse than Hitler's Germany.
For one thing, most of North Korea's roughly 25 million inhabitants are chronically hungry, malnourished, or straight-out starving. The citizens of wartime Germany faced hardships and shortages, but nothing near the same levels North Koreans routinely deal with, especially in times of crop failure.
The other big differences are longevity and technology. Hitler's propaganda, indoctrination, and surveillance techniques were weak or primitive compared with the Big Brother apparatus the Kim family and its retainers have developed over the past six decades. WWII-era Germans didn't have press freedoms or freedom of expression or congregation or exercise of religion, but most of them — targeted groups obviously excluded — were encouraged to go about their business, making money (and wartime goods and munitions) for the fatherland.
In North Korea, from loudspeakers hard-wired into every house to distribute government news and information to crude and sophisticate methods of eavesdropping, "state surveillance permeates the private lives of all citizens to ensure that virtually no expression critical of the political system or of its leadership goes undetected," the U.N. report says. It starts young. Here's an example:
The U.N. report can't do much by itself. It will raise awareness of the conditions inside North Korea, but Pyongyang is certain to ignore the panel's sensible recommendations on how to modernize and democratize the DPRK.
Former U.S. ambassador to the U.N., Bill Richardson, tells Agence France Presse that in "an isolated, unpredictable country" like North Korea, the shockwaves from the report "could be a source of pressure for moderates in Pyongyang who realize that there have to be some changes." But the panel's strong recommendation that North Korea, and Kim personally, be subject to prosecution at the International Criminal Court, is almost certain to be blocked by China.
Unless North Korea invades or bombs another country, or China gives up its patronage of the Hermit Kingdom, it's hard to see much concrete coming out of the report. Paul Whitefield at the Los Angeles Times remembers the post-Holocaust slogan, "Never Again," then throws up his hands in resignation:

Continue reading for free
We hope you're enjoying The Week's refreshingly open-minded journalism.
Subscribed to The Week? Register your account with the same email as your subscription.