Black Sails: Starz's big, risky gamble on a pirate TV show
The premium channel's newest original series has promise, but hits some rough waters in its first episodes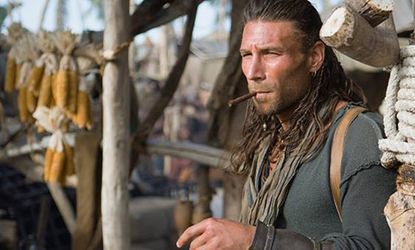 (Image credit: <a href="https://www.facebook.com/photo.php?fbid=212013928961643&amp;set=a.171824426313927.1073741828.170483746447995&amp;type=3&amp;theater">(Facebook.com/Black Sails)</a>)
Sign up to our 10 Things You Need to Know Today newsletter
A free daily digest of the biggest news stories of the day - and the best features from our website
Thank you for signing up to TheWeek. You will receive a verification email shortly.
There was a problem. Please refresh the page and try again.
In the second episode of Black Sails — Starz's splashy new pirate series, which premieres tomorrow at 9 p.m. EST — Captain Flint (Toby Stephens) tells a group of his fellow brigands a story. "Odysseus, on his journey home to Ithaca, is visited by a ghost," says Flint. "The ghost tells him that once he reaches his home — once he slays his enemies and sets his house in order — he must do one more thing before he can rest. The ghost says he must take up an oar and walk inland, and keep walking until someone mistakes that oar for a shovel. For that would be a place where no man has ever been troubled by the sea, and that's where he'd find peace."
It's a story that Hollywood itself might do well to remember. For all the cultural icons to go through cycles of popularity with audiences, pirates have always been the biggest gamble. Apart from the weird outlier of the Pirates of the Caribbean franchise, which was buoyed by the insane level of buzz around Johnny Depp's supporting performance, audiences have largely turned up their noses at pirate movies. Cutthroat Island in 1995 was named the biggest flop of all time in the Guinness Book of World Records, and Disney's Treasure Planet — an animated film that transposed the story of Treasure Island onto a sci-fi adventure — earned a pitiful $38 million domestically on a $140 million budget.
If audiences have never been entirely sold on pirates, studios have had even less reason to gamble on them. In addition to some extremely justifiable concerns about audience interest, production problems tend to arise whenever filmmakers take to the sea. Filming on water is notoriously expensive, and unexpected snags can be costly. Take Waterworld, which began with a $100 million budget that skyrocketed to $175 million due to setbacks that included an on-set hurricane. Even the most expensive TV shows are cheaper to produce than top-tier blockbuster movies, but they also require a far greater degree of consistency — in locations, in weather, and in cast — that can't necessarily be guaranteed when you introduce water into the equation.
Subscribe to The Week
Escape your echo chamber. Get the facts behind the news, plus analysis from multiple perspectives.
SUBSCRIBE & SAVE
Sign up for The Week's Free Newsletters
From our morning news briefing to a weekly Good News Newsletter, get the best of The Week delivered directly to your inbox.
From our morning news briefing to a weekly Good News Newsletter, get the best of The Week delivered directly to your inbox.
How, then, do you account for Starz's big gamble on Black Sails? Maybe because the network had nothing to lose. Starz has spent the past few years in a mad search for a network-defining show — what The Sopranos was to HBO, or Mad Men is to AMC, or Homeland is to Showtime. The closest Starz has come to a comparable show is the enjoyably silly Spartacus, but its more serious-minded attempts at a prestige series — Crash, Boss, and Magic City — have failed to reach the heights of their timeslot rivals.
But the failure of those shows is also an opportunity. Of all the networks launching new original programs, Starz has the cleanest slate; its only ongoing show is Da Vinci's Demons. Period dramas are reigning supreme on TV right now, and Black Sails takes place in a fascinating time and place that's been entirely unexplored on television. Starz was impressed enough by the first few episodes of Black Sails' first season that it ordered a second season before audiences had seen a single episode. That's the kind of investment you make in a flagship series.
But judging from the first four episodes, it's still not clear whether Black Sails is the show Starz needs it to be. The setting is strong, the cast is solid, and the ambition is certainly there. (If anything, the show's scope is too broad; we meet at least a dozen important characters in the pilot alone.) Those are the basic building blocks of a quality TV show, but the sum of those parts are still more than Black Sails' whole.
Black Sails is at least wise enough to build on the pirate genre's most solid foundation: Robert Louis Stevenson's 1883 novel Treasure Island. Black Sails serves as a direct prequel to the events of Treasure Island, and for once, the idea of a prequel is actually warranted. Much of Treasure Island's narrative hinges on a backstory that the protagonist, Jim Hawkins, only hears secondhand: Captain Flint, who is dead before the novel begins, has amassed and hidden a massive amount of treasure that his former shipmates are trying to track down. Black Sails places Flint at the center of the narrative, and introduces characters like Billy Bones and Long John Silver long before the events of Treasure Island. You don't need any of that information to enjoy Black Sails, but it does provide a helpful compass for where the story is going.
Unfortunately, the winks to the genre begin and end there. At a recent event, Black Sails creator Jon Steinberg explained that the show goes out of its way not to use the word "pirate." (A similar philosophy drives AMC's The Walking Dead, which has never used the word "zombie.") It's a concentrated effort to distinguish Black Sails from the campier entries in the genre, but it's a mistake. Black Sails would be wiser to lean into the pulpier aspects of pirate lore; Game of Thrones is one of the most acclaimed shows on television, but it's never shied away from the fact that its dense, adult-oriented story also happens to include knights and dragons.
You won't see any peg legs or parrots in Black Sails. You won't even see all that much sailing. Instead, you'll see a lot of pirates hanging out in rooms, arguing and scheming against one another. (That's actually more interesting than it might sound.) At times, you can feel Black Sails straining at the limits of its budget; the episodes are uniformly gorgeous to look at, but the pirates spend an inordinate amount of time hanging around New Providence Island.
But even that would be okay if Black Sails and its pirates were having a little more fun. There are joyful, exciting moments scattered throughout Black Sails' opening episodes, but the prevailing mood is dour. Everyone is desperate, everyone is selfish, and no one can be trusted. It may be historically accurate, but it's a little too bleak without anything rousing to balance it out.
For a show with so much ambition and promise, it's frustrating to see Black Sails' strengths get drowned out by its flaws. However, despite those problems, I'm hopeful for the future of Black Sails. Starz's two-season order means that, at the very minimum, we'll be seeing 18 episodes of Black Sails. Few premium shows get so much rope to work with, and it's more than enough time for the show's creative team to figure out what's not working about the series and get it to where it needs to be. It's a tall order, but pirates may have a future on TV, and Black Sails could still turn out to be the answer — if it can put a little more wind in its sails.
Continue reading for free
We hope you're enjoying The Week's refreshingly open-minded journalism.
Subscribed to The Week? Register your account with the same email as your subscription.
Sign up to our 10 Things You Need to Know Today newsletter
A free daily digest of the biggest news stories of the day - and the best features from our website
Scott Meslow is the entertainment editor for TheWeek.com. He has written about film and television at publications including The Atlantic, POLITICO Magazine, and Vulture.