A bad accident opens old wounds
When a man is struck on a highway in Maryland, his wife is thrown into her past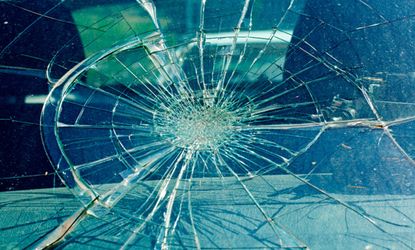 (Image credit: (Thinkstock))
Sign up to our 10 Things You Need to Know Today newsletter
A free daily digest of the biggest news stories of the day - and the best features from our website
Thank you for signing up to TheWeek. You will receive a verification email shortly.
There was a problem. Please refresh the page and try again.
State of Maryland Motor Vehicle Accident Report
Local Case Number: 9580910: All witnesses stated ped. walked out into the roadway to retrieve some type of debris after doing so he stepped into Lane #4 & was struck by Veh #2. Veh #2 was traveling S on Rt. 32 headed toward Rt. 108.
***
Subscribe to The Week
Escape your echo chamber. Get the facts behind the news, plus analysis from multiple perspectives.
SUBSCRIBE & SAVE
Sign up for The Week's Free Newsletters
From our morning news briefing to a weekly Good News Newsletter, get the best of The Week delivered directly to your inbox.
From our morning news briefing to a weekly Good News Newsletter, get the best of The Week delivered directly to your inbox.
On the morning of Wednesday, Oct. 25, 1995, a Ford Explorer hurled my husband's 52-year-old, 230-pound body onto the hood of the decelerating automobile. Bo tumbled over the roof, fell to the pavement, and landed on his left side, skidding across the blacktop. His wrists, arms, and face were lacerated. His pelvis cracked. The hip socket broke in two. The femoral head snapped off the femur.
Just before it happened, Bo had been in a minor accident with a woman in a sedan. She'd tapped his van from behind as they both slowed for the traffic light, the fender doing its job, cushioning the impact. He'd walked onto the off ramp to retrieve his mangled bumper.
Christopher, the 32-year-old driver of the Ford, lived only a few miles from us across Route 32 in the rural suburbs of Maryland. He could have slipped his SUV into the stream of rush-hour traffic at any one of numerous side streets, but the country road changed to a limited-access highway before the intersection of 32 and 108. Christopher would travel behind Bo in the single, southbound lane for several minutes, long enough for Bo to be involved in the fender bender, pull his van to the shoulder, get out, ask the woman if she was all right, observe the damage, and dash into the roadway.
In a deposition two years later, Christopher would answer to lawyers for the plaintiffs that the dawning, autumn sun had momentarily blinded him. But, he said under oath, his sun visor had been down, he'd worn his sunglasses, he'd braked as he approached the crossroads, he'd acted responsibly. I liked Christopher when I met him at the lawyer's office. His eyes exuded compassion, his chin integrity.
And I believed him. I'd already stood on the spot on the first anniversary of the accident to see from his perspective. The dazzling shards of sunlight crested the distant horizon and intersected with the slight rise in the landscape at the moment Christopher's vehicle traveled through the cosmic convergence to slow for the signal as my husband stepped onto the road.
(More from The Big Roundtable: The man who hid in an airplane bathroom)
The surgical waiting room seemed like an architectural afterthought. It was not a space with four walls and a door for privacy but a large cubbyhole off a deserted hallway. Cheap prints of a sunrise and a spring meadow decorated graying walls and industrial upholstery covered hard-bottomed chairs. A television looped game-show reruns. It was night, hushed, and the florescent lights were dimmed. A wall clock ticked off the hours. Bo's surgery would last until daybreak exposed downtown Baltimore, with its tattoo parlors and office buildings empty of commerce, its homeless and its lapping inner harbor. I waited alone.
Bo's children were scattered across the country. Anne, his younger daughter, was holed up in an apartment in North Carolina, 350 miles away, with her law-school books and her yellow tabby, Cecil. Florence, the older child, was in Arizona, raising her son, Wilson, making a married life for herself near their mother.
A phone sat on a corner table to connect family members to the operating room and updates. I timed my calls. I didn't want to annoy anyone, but when a surgical nurse picked up I felt connected to my husband. How is he? He's holding his own. He's tough. When we hung up I felt destitute, cut off. I watched the clock until I could reasonably call again. How is he now? Still holding his own. I didn't know it at the time, but Anne was calling, too.
"Mrs. Stukes?" A surgeon stood in the shadowed hallway.
Tired, soft-spoken, scientific, he explained Bo's 12-hour surgery to me. He and his colleagues had clamped together the broken socket of Bo's left hip. They bolted the ball and socket onto the femur, calculating he'd not lost too much blood, chancing that the femoral head would live. All of the blood supply comes into the ball through the neck of the femur bone, the doctor explained. If this blood supply is damaged, no other blood vessels provide backup. "It can lead to osteonecrosis," he said, meaning bone death. He chose his words: "The bone, which makes up the femur ball, can actually die." They also stabilized the longest of the three pelvic fissures with a pin, which on X-rays later would look formidable enough to secure a broken tractor fender.
I asked numbed questions: When will he come home? When will he be able to go back to work? When will the life we have labored so long for be ours again?
"A while," he replied, cautious. "So much depends on the amount of blood loss, your husband's general health, if there are complications." I'm sure I asked what those could be.
A nurse guided me to Bo through silent, antiseptic corridors that took us farther and farther into the inner sanctum of the hospital. She pushed through doors marked "authorized persons only" into the ICU surgical recovery room, empty except for medical machinery to support the living. "Now, he may not know who you are," she said, her voice low, shushing me. She explained that he was still waking up from the anesthesia and in a great deal of pain. "You can stay for just a few minutes."
Flat on a stiff, hospital mattress, he lay alone. His sheets bulged from the gauze padding protecting his left hip. Intravenous lines pumped morphine, fluid, and electrolytes into his body. He had a tube inserted into his mouth, which helped him breathe while under anesthesia. The doctors hadn't removed it yet. His neck was stabilized in a cervical collar. His eyelids were crusty.
I held my breath. I whispered into his ear and smoothed his damp hair from his forehead. Bo couldn't move his head, but he blinked his eyes to let me know that he knew I was there. I kissed his soft lips.
I was born in 1960. While I was toddling up and down the pinewood hallway of my parents' one-bathroom rancher in the new suburbs of south Charlotte, Bo was in his first year of college at Emory. An ATO man, he enjoyed the fraternity of his house brothers and the foolery of shooting — and having Ernest, the cook, prepare, and Mother Baird, the unsuspecting housemother, eat for Sunday supper — one of the prized fat geese of Emory President Dr. Sanford Atwood. Bo and a fraternity compatriot had awakened in the December predawn to prowl across campus in a borrowed Corvair and lay in wait in the hard frost for first light. On Candler Lake in front of the president's mansion, Lullwater House, they took a lazy hunter's shot. Mother Baird pronounced, as she presided over the head table that night:"My goodness, this goose is so tender it almost tastes like it was pen raised."
(More from The Big Roundtable: The girl who wouldn't die)
There were two automobile accidents in college: Bo rolled a Porsche on a midnight road. Ejected but only bumped and bruised, he hitched a ride into Atlanta. A passenger in the second, his face crashed into the windshield as the car rebounded off a telephone pole. He walked 25 yards to an all-night grill. "The fry cook behind the counter looked up," as Bo tells the story, "saw the blood pouring out of my face, and yelled to someone, 'Jesus Christ. Sit him down.'" The man gave him a towel to hold up to his face, which was cut all to pieces, and called the ambulance.
Bo survived college and married Josie, his first wife who became the mother of their two daughters. Florence was born in 1968. Josie would give birth to Anne a year later in 1969.
I would meet Josie on the phone after the accident. She called the house one morning to check on Anne and Florence, who'd arrived by plane the day after. "Hello," I said, on the first ring, eager for a doctor's update from the hospital. We exchanged awkward pleasantries, earnest prayers for Bo's recovery, and I handed the phone to Florence, who listened, comforted, to a mother's assurances. "Mom reminded us to be nice to you," she said to Anne and to me. It was a gesture of kindness — one woman who'd faced lost love to another one who stared into a different abyss. I've never forgotten.
Bo was sworn into the Army on his birthday, Feb. 6, 1967, and was married in July of that same year. By December 1968, with a wife, toddler, and infant on the way to provide for, he was promoted to 1st Lieutenant and then made a company commander at Fort Gordon, Ga. He was responsible for 165 soldiers and 14 sergeants and loved that job. It suited him. He thrived being his own man, and the men under his command respected him.
After the Army he took a job as a district representative for Libbey Glass, a division of Owens-Illinois, a Fortune 500 company. "I had to take the first position that came along. I had a family to support," he reminded himself over the years when he wondered what else he might have done with his life. And he was loyal. He remained with the same company for his entire working life.
Bo had been transferred from Atlanta to Houston, New Orleans, Des Moines (where his marriage to Josie ended after eleven years), Charlotte (where we met), and finally to Columbia, Md. — a bedroom community equidistant between Washington, D.C., and Baltimore — as a district manager. With his last move, he returned to the state he grew up in and where his aging mother, Gertrude, still lived. Born in Georgia, he had been raised in Maryland by Gertrude and her kin. Gertrude was a self-sufficient woman with a teaching degree. She chose divorce in the late forties rather than tolerate the shenanigans of her drinking husband.
(More from The Big Roundtable: The hotel of enlightenment)
I met Bo in 1984 when I was 24, he 41, and his job had brought him to Charlotte, my hometown. Sober for five years when he arrived, he unpacked some of his life in a scrubby apartment, scrimping on frivolities, assuring himself he would live securely in his next permanent home. He attended a twelve-step meeting that first Friday night. There, he found me.
I'd been sober for two years. I worked to present a mature face to the world. I lived in a little attic apartment I dusted and vacuumed every week. I held a little job as a secretary for a non-profit, and I paid my little bills. I'd begun college when I was 23, after a year of sobriety, studying late into the night before work the next day.
Wishful alcoholics have a theory: In the first half-dozen years of sober purgatory, the sober person gains a year of maturity for every year of sobriety. But as the continuous, abstaining years stack up, the hypothesis promises exponential emotional strides, like dog years for drunks. I was twelve years old when I began to drink. After I quit, at the age of 22, I waited, cigarette in hand in greasy cafes, for a growth spurt.
When Bo and I married, in 1988, Florence was 20, Anne going on 19 and I was 28 going on 18. I still hadn't bloomed, and my six years of sobriety hadn't gained me any psychological advantage. Childhood had raised me to be a mistrustful, defensive, paranoid woman.
Read the rest of this story at The Big Roundtable.
This story originally appeared at The Big Roundtable. Writers at The Big Roundtable depend on your generosity. All donations, minus a 10 percent commission to The Big Roundtable and PayPal's nominal fee, go to the author. Please donate.
Continue reading for free
We hope you're enjoying The Week's refreshingly open-minded journalism.
Subscribed to The Week? Register your account with the same email as your subscription.
Sign up to our 10 Things You Need to Know Today newsletter
A free daily digest of the biggest news stories of the day - and the best features from our website