No, Yeezianity is not a real Kanye West–worshipping religion
Sometimes a story is too good to... read all the way through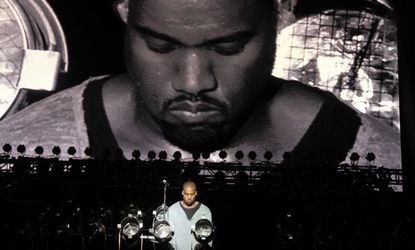 (Image credit: (Walik Goshorn/Retna Ltd./Corbis))
Sign up to our 10 Things You Need to Know Today newsletter
A free daily digest of the biggest news stories of the day - and the best features from our website
Thank you for signing up to TheWeek. You will receive a verification email shortly.
There was a problem. Please refresh the page and try again.
Most religions are founded in ways that probably seem outlandish to outsiders — Joseph Smith and his golden plates; L. Ron Hubbard's (possibly apocryphal) Scientology-founding bar bet with fellow sci-fi writer Robert Heinlein; the bodily resurrection of a crucified, virgin-born Nazarene; the divine promise to nonagenarian Abraham of a nation and innumerable descendants. That doesn't controvert any of those religions.
This week the media was quick to pronounce the birth of a new religion, Yeezianity, with an especially questionable provenance: Kanye West and his critically acclaimed 2013 album, Yeezus. Yeezianity has its own website laying out its five doctrinal "pillars," a new Golden Rule, a creed, its own icon (see to the right), and these words about "Our Savior":
His real name is never to be spoken.
He is known to us only as Yeezus.
He has shown the world the creative potential of a human being and he serves as a model for behavior and ethic.
This is the kind of story that no click-dependent news and entertainment site can resist — it's catnip, an invitation to virality.
Subscribe to The Week
Escape your echo chamber. Get the facts behind the news, plus analysis from multiple perspectives.
SUBSCRIBE & SAVE
Sign up for The Week's Free Newsletters
From our morning news briefing to a weekly Good News Newsletter, get the best of The Week delivered directly to your inbox.
From our morning news briefing to a weekly Good News Newsletter, get the best of The Week delivered directly to your inbox.
It's also mostly nonsense. There is no religion called Yeezianity, and nobody worships Kanye West as a deity. (No, not even Kanye.)
It's not that successful religions can't spring up these days, even if they seem like an elaborate joke — the Church of the Flying Spaghetti Monster is less than a decade old, and it has already grown big enough that one of its adherents, or Pastafarians, was just sworn in as a member of the Pomfret, N.Y., City Council. And cults of personality can turn into real religions: Jamaica's home-grown religion, Rastafarianism, was founded on the belief of the divinity of Ethiopia's Emperor Haile Selassie I, who ruled from 1930 to 1974.
There's even precedent for a musician to be the inspiration for a new religion, as Aaron Sankin points out:
But Yeezianity is none of those things. Don't take my word for it: Vice's Eric Sundermann took the time to actually talk to the anonymous founder of what Sundermann calls "the first religion based on Kanye West." One of his first questions: "Is Yeezianity for real?" Here's the answer:
The anonymous founder (apparently a young, cat-owning white artist with hipster glasses and a philosophy degree) obviously thinks highly of Kanye — "He is the most honest person in our culture. He has the highest moral standards and highest integrity. He is the most creative person. And as it's typical with creative people, he gets a lot of flack from the lower minded masses." But the English language already has a word for that: Fandom.
When he writes, on his website, that Yeezians "are an anonymous group who believes that the one who calls himself Yeezus is a divine being who has been sent by God to usher in a New Age of humanity," you just get the sense that he's pulling your leg. In his interview with Vice, the head Yeezian says that he wants himself and his fellow adherents to remain anonymous so that the religion isn't focused on them, but anonymity also means there are no followers to talk to, no way to judge membership numbers (or lack thereof), and accountability.
But let's say, for the sake of argument, that he is dead serious and believes everything on the Church of Yeezus website. Yeezianity still isn't about the worship of Kanye West, or even really a religion. It's a form of humanism. Kanye isn't a god any more than you are, but "you're a god," he tells Vice's Sundermann. Humans are gods, and the reason he named the "religion" after Yeezus is "because Kanye is the one who believes that the hardest, so that's why he's the model for behavior." You catch that subtle dig at Kanye?
"I believe I Am a God," starts out the Yeezianity Declaration of Faith. "I believe Yeezus Is a God," it says next. But a better expression of the Church of Yeezus is its Five Pillars:
And here's the kicker: By the end of the interview, the guy's not even trying to keep up the pretense. He says that of course Kanye West is just a person (albeit one in a creative pantheon with Steve Jobs and Walt Disney), that he himself actually believes in a divine god, and that the driving purpose of creating the Church of Yeezus was that "I want to attract Kanye to the point where I can meet him at some point."
If that was the creative impulse, what' the "ultimate goal with Yeezianity?" asks Vice's Sundermann. This is the one part of the interview I wholeheartedly believe:
Mission accomplished. Well played, Yeezianity.
Continue reading for free
We hope you're enjoying The Week's refreshingly open-minded journalism.
Subscribed to The Week? Register your account with the same email as your subscription.