Girls on Film: How Frozen killed Prince Charming
Good riddance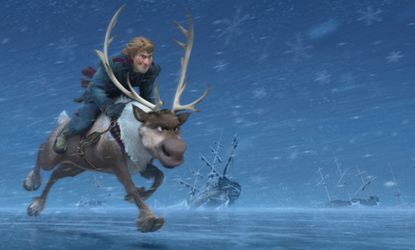 (Image credit: <a href="https://www.facebook.com/DisneyFrozen/photos_stream">(Facebook.com/Frozen)</a>)
It was 1937 when Snow White, Disney's original princess, first danced onto movie screens. In Disney's telling, she was invariably kind and happy — even if the world around her wasn't. The wicked Queen, who was Snow White's mother-figure, envied her beauty and sentenced her to die. When that failed, the Queen tricked her into a death-like coma. The dwarves placed Snow White in a glass coffin, where she laid only briefly — until the dashing prince she barely knew strutted down, smooched her dead lips, and brought her back to life with "love's first kiss."
In that moment, an age-old archetype was reborn on screen: The dashing Prince Charming, who can make a young princess fall deeply in love in mere moments. It is an archetype that has served Disney well, and been an important building block in the company's billion-dollar global business — until the arrival of 2013's record-setting Frozen, which questions the entire foundation of Disney's romantic royalty.
… Or does it? In a piece last week for The Atlantic, Akash Nikolas argued that Prince Charming wasn't an archetype in need of correction:
Subscribe to The Week
Escape your echo chamber. Get the facts behind the news, plus analysis from multiple perspectives.
SUBSCRIBE & SAVE
Sign up for The Week's Free Newsletters
From our morning news briefing to a weekly Good News Newsletter, get the best of The Week delivered directly to your inbox.
From our morning news briefing to a weekly Good News Newsletter, get the best of The Week delivered directly to your inbox.
There are two huge flaws in Nikolas' argument: The assertion that Prince Charming is "harmless," and the assumption that Frozen's Prince Hans is the Prince Charming.
"The Prince is just an object of desire," Nikolas writes — but it's a very particular form of desire. Prince Charming's problem partially lies in his name. His defining characteristic is charm: The power to please, or attract someone, sometimes framed as a magic act that casts a spell or bewitches. This charm allows the suitor to quickly win favor through superficial means. They meet, they act charming, and they earn "true" love. It is the most simplistic form of love, but it's one of the most prevalent in stories about romance.
Nikolas also argues that Prince Charming is "aspirational, the way superhero films encourage boys to emulate honor and honesty." But it's ridiculous to conflate the two fantasies: One is outward, and the other is inward. Superhero movies encourage a focus on the self, to foster well-regarded attributes. The Prince Charming narrative encourages girls to rely on boys, who can save them from harm and give them a happy ending.
Prince Charming is about a very narrow form of pleasure created by men under Walt Disney's employ. It reduces female attraction to narrow and superficial charm. This isn't Prince Good. It's Prince Charming. Complaints against Prince Charming aren't about high or low art; they are about ideology. Goodness and worth are equated to superficial charm, often with little to back it up. Sure, over time, Prince Charming characterizations have broadened a little — especially if the boys are in the lead, and not just the love interest — but their superficiality always invoke a sense of mistrust, which has led fans to question their practicality and their suitability (and made viewers wonder which matches would inevitably end in divorce).
If you search the term "Prince Charming" in Amazon's book section, there are more than 4,000 results. There are fictional romances about Prince Charmings who sweep women off their feet, and a slew of self-help books aiming to help women manage soaring expectations. There are treatments about chastity and religion, about the myth of the "perfect mate," about money management, and countless others seeking to disenchant women infatuated by the trope.
But setting all this aside, and assuming for a moment that Prince Charming is an ideal partner, who would ever consider Frozen's Prince Hans to be him? The film presents young Anna with two suitors: Hans and Kristoff. One turns out to be evil, and the other is good. Frozen does not question the worth in finding a good romantic partner. It only skewers an essential part of the Prince Charming mythos that Disney itself has fostered: That worth, goodness, and love can be ascertained immediately after meeting a person.
Frozen is a calculated and explicit questioning of the Disney films that came before it. It isn't about romance, but sisterhood, told through Disney's long-established fairy tale language. It both reflects the long-established elements and skewers them. There are castles and magic, girls and boys, love and danger, wacky sidekicks and life lessons. The key difference is that they don't unfold as Disney has long conditioned us to expect.
Unlike many of Disney's princess movies, Frozen doesn't pit women against each other. There are no evil mothers or stepsisters making life miserable, nor any wicked witches cruelly threatening the lives of our heroes. There are just two sisters, Anna and Elsa, learning how to trust each other and find their place in the world as they navigate life (and in the case of Anna, romance).
Early in the film, Hans offers Anna immediate infatuation, while Kristoff grounds her — and by extension, us — in reality. Shortly after meeting Anna, Kristoff asks what every cynical Disney viewer has asked for years: "You mean to tell me you got engaged to someone you just met that day? Didn't your parents ever warn you about strangers?"
But pivotally, Hans isn't an obvious evil-doer who audiences can suss out at first glance. He's a more subtle villain; one who can seem good or devilish as the situation warrants. He is there not to make us question Anna's judgment or to showcase her naiveté. Hans is there to throw into question the very idea that you can know anyone immediately, and that a person's initial qualities reveal how they will be forever.
Kristoff forces us to question Hans and put down the rose-colored glasses Disney usually offers us — but he also adds humanity to impetuousness. He questions marrying a stranger, but he isn't immune to his own passions and assumptions. When Anna is facing death, he thinks his kiss will heal her, and quickly falls into Prince Phillip from Sleeping Beauty's shoes. As the princess faces peril, the elements rise from the earth to challenge the would-be prince and keep him from his seemingly doomed heroine.
But Frozen is groundbreaking because its final resolution comes down to sisterhood, not romance. Anna chooses to go to Elsa, to help her sister rather than wait for Kristoff to arrive with love's (presumed) true kiss. The act of true love necessary to save Anna is sisterly love: Something palpable, established, and proven over years, which bears no resemblance to infatuation. Anna has realized what true love is. This doesn't negate her genuine romantic connection with Kristoff; it merely shows that her lifelong sisterhood is more powerful than her attraction to a boy she's just met.
If Kristoff is a good, charming guy whom Anna falls for, is he not Prince Charming? Frozen throttles the idea that you can know Prince Charming immediately, and that he'll be instantly recognizable due to his mix of looks, brawn, and charm. Instead, it's the truly charming "prince" who wins the day in Frozen; a modernized Disney love interest who finds it important to get to know a person before committing — and who, even after falling in love, prefers to tread cautiously and thoughtfully.
Frozen only vilifies the Prince Charming fantasy as it currently stands: The idea that Prince Charming can be recognized in a moment, and that true love can come from a single kiss on dead lips or a perfectly sized shoe. In Frozen, Kristoff is the one because he falls in love with the girl he's taken the time to know — for her attitude and resourcefulness, and for her spirit and candor. If Kristoff offers her passionate, respectful, and reciprocal love, how can Hans' villainous twist shame girls' fantasies? The fantasy remains, but in a more worthwhile form.
The real danger now lies with our own expectations for the Prince Charmings of the future. Frozen is a major step, but it's a step in one film — not a mission statement about Disney's future or a flawlessly inclusive piece. As The Dissolve noted in its review, Disney is known for having a lot of "firsts." Though Frozen is a wild success, it could easily be framed as a one-off story and not a worthwhile ideology for Disney's future.
And there are other problems Frozen doesn't fix. This is a film that took "The Snow Queen" — a story with almost exclusively female characters — and traded it in for a more male world. And, though wildly feminist, it's still a modern tale told through the language and structure Disney is familiar with. There is no diversity in these worlds outside of the stories that specifically require it (like Mulan), and even their most diverse princesses have been whitewashed and thinned for the Disney Princess product line. Moreover, there's still Lino DiSalvo, the head of animation on Frozen, revealing an ongoing truth — that animators struggle to animate female faces because they must "keep them pretty." And let's not forget that Anna, Elsa, and the earlier Rapunzel all have the same face.
But there's still so much to admire here. When all is said and done — the land is no longer covered with snow and ice, Hans is put behind bars, and Elsa regains her throne — Anna and Kristoff share a moment alone. She gives him a sleigh to replace the one he lost while helping her. He's so happy that he wants to kiss her. But still, he doesn't grab Anna and assume consent.
Instead, he asks her.
There is nothing that celebrates girls' fantasies more than the romance of mutual consent. "May I?" Kristoff asks, and Anna replies: "We may."
Girls on Film is a weekly column focusing on women and cinema. It can be found at TheWeek.com every Friday morning. And be sure to follow the Girls on Film Twitter feed for additional femme-con.

Continue reading for free
We hope you're enjoying The Week's refreshingly open-minded journalism.
Subscribed to The Week? Register your account with the same email as your subscription.