Girls on Film: The best and worst for femme-centric film in 2013
As 2013 comes to an end, a look back at a tumultuous year for female directors and femme-centric films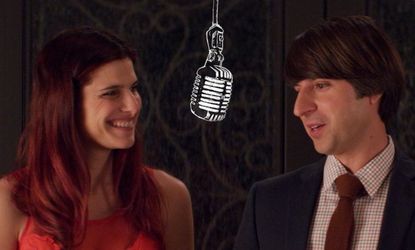 (Image credit: (Facebook/<a href="https://www.facebook.com/inaworldmovie" target="_blank">In A World</a>))
Sign up to our 10 Things You Need to Know Today newsletter
A free daily digest of the biggest news stories of the day - and the best features from our website
Thank you for signing up to TheWeek. You will receive a verification email shortly.
There was a problem. Please refresh the page and try again.
THE GOOD
Sundance's equal number of male and female directors in competition
After many years of film festivals featuring few, if any, female filmmakers, Sundance decided to change the narrative for 2013. Park City's list of in-competition films boasted equal numbers of male and female filmmakers. Their films offered an impressive mix of themes from the absurdity of a Jane Austen-themed getaway to prostitution, voice-over artists, and masseuses. Some of the movies screened — notably Stacie Passon's Concussion and Lake Bell's In a World… — have even found their way to "best of 2013" lists and awards chatter.
Subscribe to The Week
Escape your echo chamber. Get the facts behind the news, plus analysis from multiple perspectives.
SUBSCRIBE & SAVE
Sign up for The Week's Free Newsletters
From our morning news briefing to a weekly Good News Newsletter, get the best of The Week delivered directly to your inbox.
From our morning news briefing to a weekly Good News Newsletter, get the best of The Week delivered directly to your inbox.
Sadly, this is starting to look like an anomaly rather than a step towards real change. 2014's slate includes only three female feature filmmakers, and a surprisingly low number of women in documentary film as well (even though it's the one area female directors are close to par in).
Haifa al-Mansour and the record-making Wadjda
We hear of cinematic obstacles all the time, from tales of rigid studio heads to the woes of failed financing. These barriers, however, are nothing in comparison to what debut filmmaker Haifa al-Mansour faced and survived to make Wadjda. She made Saudi Arabia's first feature-length film shot entirely in the country, and she did it as a woman in a society with strict societal expectations that limit her: She had to shoot outdoor scenes from a van, through walkie talkies, to avoid upsetting Saudi social conduct. It is a tale of art imitating life, as Al Mansour's film focuses on a little girl who enters a competition with a cash prize in order to buy a bicycle for herself in a world where girls aren't allowed to ride bikes.
On Rotten Tomatoes, Wadjda boasts a wildly impressive 99 percent fresh rating, with only one "rotten" review. Sadly, the film's story is ending on a sour note, with a shocking and disappointing snub: Wadjda did not make the Oscar shortlist.
Women-centric films breaking records and raking in cash
The year brought a killer summer with films like The Heat and Woody Allen's Blue Jasmine (which boasted the director's best per-screen opening ever). Things got even better in autumn. The Sandra Bullock-led Gravity scored a record-breaking October opening, plus the best opening ever for two of Hollywood's most successful names (Bullock and George Clooney). A month later, Jennifer Lawrence's Catching Fire blew past November records (which includes The Twilight Saga: New Moon and the first Hunger Games opening) to become the fourth best opening for a film ever. And that was while battling another femme-centric film (directed by a woman, no less!), Frozen, which became the most successful Thanksgiving debut of all time.
Cheryl Boone Isaacs elected president of the Academy
After 86 years in existence, the Academy of Motion Picture Arts and Sciences — you know, the people who put on the Oscars — elected its third female president (after Bette Davis and Fay Kanin) and first African-American head. Marketing executive Cheryl Boone Isaacs earned the distinction in July, as the only person in Academy history to serve in every elected office they have.
Women are slowly being added back into cinematic history
For years, popular discourse has described a cinematic history built by men. The conceit, however, isn't true. The dialogue around film history is starting to change, especially this year, thanks to Kickstarter.
The site helped earn support for Be Natural, a documentary focusing on cinematic pioneer Alice Guy-Blaché, one of the first directors of fiction films (beginning just one year after the Lumiére Brothers), whose pioneering techniques influenced icons like Alfred Hitchcock. Indirectly, Kickstarter also illuminated the omissions that led to this filtered history when Spike Lee shared his female director-free list of essential films for filmmakers during a funding push for his own project. After courting controversy over the omissions, he updated it to include the likes of Lina Wertmuller, Euzhan Palcy, Julie Dash, Jane Campion, and Kathryn Bigelow.
THE BAD
The MPAA's ratings practices
For years, the MPAA has been a source of ire for its problematic ratings system, in which curse words and female pleasure are often seen as racier than hetero sex and graphic violence. This year, it got particularly ridiculous.
Dame Judi Dench took to Funny or Die to question the MPAA's ruling that Philomena should be R-rated for having two f-bombs (instead of the allowed one). Evan Rachel Wood spoke out when the MPAA forced her film Charlie Countryman to cut a passionate oral sex scene while violence was unaltered: "This is a symptom of a society that wants to shame women and put them down for enjoying sex," she wrote. Jill Soloway, meanwhile, went public with the cuts she had to make to earn her Sundance-selected Afternoon Delight an R rating. She was forced to cut words and facial expressions of sexual enjoyment deemed "uncomfortable" by the ratings body, something that was particularly egregious in comparison to The Wolf of Wall Street, which earned an R rating with multiple scenes of sex and debauchery including orgies and anal play.
Blue is the Warmest Color and Abdellatif Kechiche
Julie Maroh was focused on the "banalization of homosexuality" when she wrote the graphic novel Blue is the Warmest Color. She was striving to share the relatable experience of love with those who "had the wrong picture." But a tome meant to remove senses of otherness began to exacerbate it with Abdellatif Kechiche's controversial 2013 adaptation.
Explorations of love and identity were replaced with Kechiche's obsession with women as an other, and what showed on-screen was only half the story. After the film's initial Cannes success, his stars spoke out about the "horrible" experience shooting it, as they were directed with exclamations like "hit her!" and "lick her snot!" Kechiche and his stars argued publicly with each other about the film, and in the end, Maroh's story became yet another treatment of women as a mythic other, one that accentuated a divide rather than abolishing it.
The female director drought
When 2013 started, less than five percent of the films slated for released featured female directors, dashing the idea that Kathryn Bigelow smashed the glass ceiling with her 2010 Oscar win. Out of 130 films, only four were made solely by women: Zero Dark Thirty (which technically had a limited release in 2012), Carrie, We the Peeples, and The To Do List. A couple anthologies and the co-directed Frozen rounded out the list.
Though things improved with the smattering of indie films that popped up through the year, it was no surprise that the anemic year led to an awards scene almost devoid of female contributions, leading film critic Manohla Dargis to state: "The movie industry is failing women, and until the industry starts making serious changes, nothing is going to change."
Seth MacFarlane's Oscars
Before Cheryl Boone Isaacs became the latest Academy president and made history, Seth MacFarlane turned their yearly event into a mess of lazy sexism. There weren't just one or two problematic jokes about women, but an ongoing barrage of commentary about women, their bodies, and sex, all kicked off with his rousing boob song that celebrated breasts on-screen, even in harrowing films about rape like The Accused. Margaret Lyons encapsulated the problem well: "Let's be really cognizant of what we compliment each other on, and what that says about what we expect from each other, and what we consider valuable and worth mentioning."
The unheroic attitudes that plague superhero storytelling
Earlier this year we talked about sexism in the superhero comic book industry. Things got worse during a discussion about superhero cartoons Kevin Smith held with television producer Paul Dini.
Dini explained that he continues to struggle to include interesting heroines at all, let alone as starring characters. Execs have explicitly told him: "We do not want girls watching this show." Why? Because they don't buy toys. Dini explained how the Cartoon Network wanted the now-canceled Tower Prep, about a school for kids with special abilities, to have girls "one step behind the boys, not as smart as the boys, not as interesting as the boys." When their female characters expanded the audience to girls and families, the network even complained.
There you have it, folks. Some pretty great things happened this year, but as long as we've got crap like the above, it'll never amount to more than a sliver of the overall pie. Will next year be better? Next week we'll look at what's in store for 2014.
Girls on Film is a weekly column focusing on women and cinema. It can be found at TheWeek.com every Friday morning. And be sure to follow the Girls on Film Twitter feed for additional femme-con.
Continue reading for free
We hope you're enjoying The Week's refreshingly open-minded journalism.
Subscribed to The Week? Register your account with the same email as your subscription.
Sign up to our 10 Things You Need to Know Today newsletter
A free daily digest of the biggest news stories of the day - and the best features from our website
Monika Bartyzel is a freelance writer and creator of Girls on Film, a weekly look at femme-centric film news and concerns, now appearing at TheWeek.com. Her work has been published on sites including The Atlantic, Movies.com, Moviefone, Collider, and the now-defunct Cinematical, where she was a lead writer and assignment editor.