7 surprising things that will make you healthier
This year, studies told us to play more video games and be more pessimistic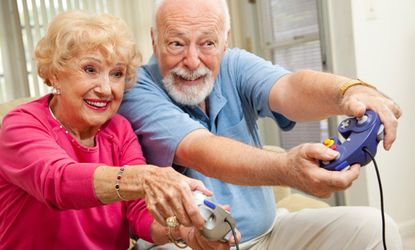 (Image credit: (Thinkstock))
Sign up to our 10 Things You Need to Know Today newsletter
A free daily digest of the biggest news stories of the day - and the best features from our website
Thank you for signing up to TheWeek. You will receive a verification email shortly.
There was a problem. Please refresh the page and try again.
Video games keep older minds sharp. Researchers asked volunteers ages 60 to 85 to play a fast-paced video game that involved driving while identifying signs. Participants' skills were monitored at the outset and after a month of playing three times a week. Not only did their performance improve dramatically, but they also scored higher afterward on tests of short-term memory and long-term focus. The study "shows you can take older people who aren't functioning well and make them cognitively younger through this training," says MIT neuroscientist Earl Miller. "It's a very big deal."
Group singing can create a rewarding feeling of oneness. Swedish researchers monitored the heart rates of 15 choral singers as they hummed, sang, and chanted. The singers' pulses increased and decreased together as the music's tempo changed, and their heartbeats aligned when the songs required them to breathe in unison. "You are synchronizing with other people, and harmonizing your hearts," says study author Björn Vickhoff. That could explain why singing together strengthens solidarity in groups from football fans to work crews. The controlled breathing that singing demands also seems to have a calming influence, achieving "the same effect as breathing exercises in yoga."
Pessimism can lead to a longer life. German researchers asked 40,000 people ages 18 to 96 to rate how happy they thought they'd be in five years on a scale of zero to 10. Checking in five years later, they found that every point by which a person had overestimated his or her future well-being corresponded to a 10 percent higher likelihood of death or disability within the study period. "Pessimism about the future may encourage people to live more carefully, taking health and safety precautions," says psychologist Frieder Lang.
Subscribe to The Week
Escape your echo chamber. Get the facts behind the news, plus analysis from multiple perspectives.
SUBSCRIBE & SAVE
Sign up for The Week's Free Newsletters
From our morning news briefing to a weekly Good News Newsletter, get the best of The Week delivered directly to your inbox.
From our morning news briefing to a weekly Good News Newsletter, get the best of The Week delivered directly to your inbox.
Tylenol can help calm existential dread. To get volunteers to mull their inevitable death, researchers at the University of British Columbia had them watch scenes from the disturbing David Lynch film Rabbits or write about what they thought would happen to their bodies when they died. Those who were given Tylenol beforehand were significantly less upset by such depressing activities than those given a placebo. The medicine's main ingredient, acetaminophen, seems to ease angst, says study author Daniel Randles, because "a similar neurological process is responsible" for physical pain and emotional distress.
Sunscreen can protect against wrinkles. Australian researchers found that fair-skinned volunteers who applied SPF 15 lotion to their head, neck, arms, and hands every morning for four and a half years showed 24 percent fewer signs of aging than those who had not. The benefits were the same for middle-aged participants, those with moderate skin damage, and those with younger-looking skin. Because ultraviolet rays damage the collagen that gives skin its plump, youthful appearance, it makes sense that blocking those rays would slow skin's aging. "If you don't need a flashlight to see outside, you need protection," says dermatologist Doris Day.
Reading fiction makes you a nicer, more empathetic person. Psychologists at the New School for Social Research in New York City asked people between the ages of 18 and 75 to read an excerpt of literary fiction or popular fiction or a nonfiction article and then tested their ability to gauge the emotions of people by looking at pictures of their faces. The subjects who read literary works scored much higher on the tests than the other readers. Study author Emanuele Castano says that's likely because literary fiction takes readers into other lives and forces them to "reconstruct the mind of the character" — an ability that carries over into real social situations.
Nostalgia can ward off loneliness and anxiety. Though often triggered by isolation and challenging life changes, it offers relief by bringing to mind "cherished experiences that assure us we are valued people who have meaningful lives," says psychologist Clay Routledge of North Dakota State University. Such reminiscences are remarkably similar across cultures, centering on being with friends at weddings, holidays, and other special moments. The ability to call up a fond memory to maintain physiological comfort may even be an evolutionary adaptation.
Continue reading for free
We hope you're enjoying The Week's refreshingly open-minded journalism.
Subscribed to The Week? Register your account with the same email as your subscription.
Sign up to our 10 Things You Need to Know Today newsletter
A free daily digest of the biggest news stories of the day - and the best features from our website