4 smart takes on the record-shattering stock market
The stock market is booming again, but like in 2000, not all stocks are reaping the benefits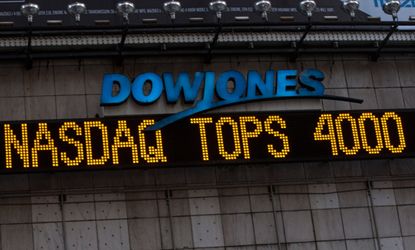 (Image credit: (Andrew Burton/Getty Images))
The stock market is booming again, said Floyd Norris in The New York Times. The Dow Jones industrial average and Standard & Poor's 500 both "flirted with historical highs" last week, trading at over 16,000 and 1,800, respectively. At first glance, those numbers seem impressive — especially when you consider that they're higher than those in "the spring of 2000, when the country was in the midst of a love affair with technology stocks." But the S&P 500 has changed quite a bit since then — both in how it "is calculated and the nature of the bull market that ended in 2000." And many of the stocks that made up the S&P 500 at the 2000 peak turned out to be disasters. Anyone who bought shares in five of the 25 largest firms in that year's S&P 500 index — Lucent Technologies, Northern Telecom, WorldCom, Sun Microsystems, and American International Group — would by now "have lost more than 90 percent of the investment."
Then, as now, many see a rising stock market as "one of life's guarantees alongside death and taxes," said Jeremy Bowman at The Motley Fool. Stocks today are rallying to new heights "despite a weak economy, the government's recurring inability to make the most basic decisions, and federal spending cuts." But just like in 2000, not everyone is reaping the benefits of the boom. Notable losers included Lumber Liquidators, whose shares fell 12 percent in a single day last week after more than doubling this year thanks to the nation's housing recovery. And grocery retailer Fresh Market dropped 19 percent "after an across-the-board poor quarterly earnings report." No one should ever forget that even in a boom market, you can still make poor picks and lose money.
That's why investors should think hard about entering today's record-high market, said Jason Zweig at The Wall Street Journal. "Whether stocks are overvalued or fairly priced isn't the question." The real decision is how much you can afford to lose. "Like a cushy sofa, a bull market can lull even the most anxious people into a drowsy sense of comfort." Assuming returns stay flat through the end of the year, 2013 will rank as the 19th-best annual return since the 1929 crash. Remember: "Financial history never repeats itself exactly, but it always rhymes." Simple research will tell you whether investing in certain assets is risky. Make sure you can handle the losses, "and think more honestly about what you are getting yourself in for."
Subscribe to The Week
Escape your echo chamber. Get the facts behind the news, plus analysis from multiple perspectives.
SUBSCRIBE & SAVE
Sign up for The Week's Free Newsletters
From our morning news briefing to a weekly Good News Newsletter, get the best of The Week delivered directly to your inbox.
From our morning news briefing to a weekly Good News Newsletter, get the best of The Week delivered directly to your inbox.
If this is a bubble, there's something missing, said Michael Sincere at Market Watch: the "mania." After all, "a bubble without a mania is like an ice cream sundae without a cherry." So where are the "intoxicated investors, a buying frenzy, over-the-top speculation, and a get-rich-quick mentality"? We need all those things to have a real bubble, just as we need my fellow financial market writers to stop using the very term. "How can we have a bubble if you keep writing about it?" In all seriousness: In times like these, investors should remember financier Bernard Baruch. When asked how he made a fortune on the stock market, he said, "By selling too soon." Don't wait, in other words, for the pop of the bubble.

Continue reading for free
We hope you're enjoying The Week's refreshingly open-minded journalism.
Subscribed to The Week? Register your account with the same email as your subscription.