Amsterdam's plan to pay alcoholics in beer is actually not a bad idea
Hear me out...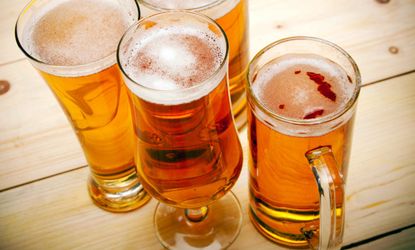 (Image credit: (Thinkstock))
It's not all that surprising that a country that responds to prostitution by designating a now-thriving red light district is responding to alcoholism and public drunkenness with free beer. But it's hard to imagine America mimicking the Dutch government's strategy of paying alcoholics to clean Amsterdam's city streets with five beers, a half-packet of rolling tobacco, and 10 euros (a little over $13).
With support from the government and private donations, the Rainbow Foundation has organized a small group of alcoholics into two groups of three-day shifts of cleaning the streets. They start the day off at 9 am with the breakfast of champions: Two beers and the option of coffee. They work until lunch, when they are given two more beers and a warm meal. They are given one more beer when the workday ends at 3:30 in the afternoon.
To Americans, street-cleaning drunks and workdays that end early enough for you to go home and watch The Young and the Restless may seem absurd. Our general, and historically political, intuition is to strengthen laws against a public disturbance or criminal activity rather than accept it. Our approach runs counter to what Nicolas Delaunay at Agence France-Presse calls "the typical Dutch pragmatism."
Subscribe to The Week
Escape your echo chamber. Get the facts behind the news, plus analysis from multiple perspectives.
SUBSCRIBE & SAVE
Sign up for The Week's Free Newsletters
From our morning news briefing to a weekly Good News Newsletter, get the best of The Week delivered directly to your inbox.
From our morning news briefing to a weekly Good News Newsletter, get the best of The Week delivered directly to your inbox.
The justification for the program speaks to how great the divide is between the two countries' responses to social ills. "Heroin addicts can go to shooting galleries, so why shouldn't we also give people beer," Gerrie Holterman of the Rainbow Foundation tells AFP. Of course, why wouldn't we give heroin addicts free heroin on prescription say the Dutch, while Americans are only recently open to legalizing marijuana (and only two states have actually done so).
Not all problems are helped by accepting rather than outlawing them. A study from the London School of Economics last December showed that countries that legalized prostitution generally experienced increases in human trafficking. But paying alcoholics in beer may actually be doing good by alleviating some of the detrimental societal problems of alcoholism, if not the personal health ones.
"This group of chronic alcoholics was causing a nuisance: Fights, noise, disagreeable comments to women," Holtermansays. But those are no longer major issues. The men have a new purpose: "The aim is to keep them occupied," she says, instead of focusing on curing their alcoholism or making them go cold turkey.
Also, the beer they are given is five percent alcohol, significantly lower than the 11 or 12 percent many of them drink regularly. As a result of these changes, "They are no longer in the park, they drink less, they eat better, and they have something to keep them busy during the day," says Holterman.
And the men feel better about themselves, too. "Lots of us haven't had any structure for years, we just don't know what it is, and so this is good for us," a man named Frank tells AFP. "We feel satisfied, a job well done, contributing to society despite the fact we drink," says another named Vincent.
So while it's easy to laugh at the preposterousness of paying alcoholics in beer, more may be accomplished by recognizing the problem of alcoholism and working within the constraints. Ben Franklin said "Beer is proof that God loves us," and the Netherlands is showing it's proof we love each other, too.

Continue reading for free
We hope you're enjoying The Week's refreshingly open-minded journalism.
Subscribed to The Week? Register your account with the same email as your subscription.