Does your job create real value?
Many Americans no longer understand the results of their labor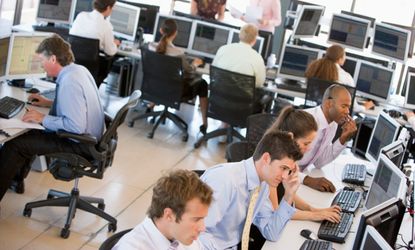 (Image credit: (Thinkstock))
Back in August, the anthropologist and anarchist David Graeber wrote an article for Strike! Magazine entitled "Bullshit Jobs." Graeber asked why we were still working so hard, despite being so much richer than in ages past. Where was the utopia of leisure that we were promised? He concluded that our economic system has invented pointless make-work jobs that keep us busy and distract us from overthrowing the ruling class.
As you might expect, Graeber's article was thoroughly panned by most of the economists who even paid attention. But Graeber is on to something. Though I heavily doubt that many of our jobs represent a diabolic plot by our overlords to keep us in chains, it seems clear that many Americans no longer understand how their work creates value.
According to Econ 101, people are supposed to get paid for the exact value they create. There's a certain simple, compelling logic to this: If you weren't producing at least $50,000 for your employer, why would your employer pay $50,000 to keep you around? More sophisticated economics allow for you to get paid a little more or a little less, but never too far off.
Subscribe to The Week
Escape your echo chamber. Get the facts behind the news, plus analysis from multiple perspectives.
SUBSCRIBE & SAVE
Sign up for The Week's Free Newsletters
From our morning news briefing to a weekly Good News Newsletter, get the best of The Week delivered directly to your inbox.
From our morning news briefing to a weekly Good News Newsletter, get the best of The Week delivered directly to your inbox.
But this kind of thinking ignores a bigger question: What if your employer itself isn't adding value? When companies or governments simply suck value out of the rest of the economy instead of creating it, economists call it "rent," which basically means redistribution. I suspect that many Americans these days wonder how much of their paycheck comes from value-added work, and how much comes from "rent."
In ages past, most Americans could easily see that at the end of the day they had produced something real. If you worked on a wheat farm or a car factory, you would see wheat and cars appear as a result of your labor. And if the market was relatively free and fair, economics would assure you that the wheat or cars were worth what people were willing to pay for them. But in the modern economy, a lot of what we produce comes in the form of intangible services, and — more importantly — there are lingering doubts as to whether the markets for those services are either free or fair.
Let's look at three examples:
1. Finance
Finance takes up fully 8 percent of our economy, up from less than 3 percent in 1950. But is our finance industry giving us anything now that it wasn't back then? First of all, many have come to believe, in the wake of the 2008 crisis, that reckless banks periodically blow up the economy, thus destroying value instead of creating it. But there are even other problems.
A very deep idea in the theory of finance says that people shouldn't trade assets very often. If you offer to sell me a stock for $100, doesn't that mean you think it's worth less than $100? And if so, doesn't that mean I shouldn't buy it? People should be wary, and trade should be rare. Yet in the real world we now see 10 billion shares changing hands every day on the New York Stock Exchange alone!
All that trading, and the infrastructure to support it, occupy a vast number of Americans. But we have no idea how it creates value. Some forms of financial activity, such as high-frequency foreign exchange trading, are almost certainly useless. If people get paid money to do these things, it almost certainly must be because they either use the market to trick people out of their money, or because the government somehow subsidizes them. Our top financial economists are stumped. When I once asked a hedge fund trader how much value his job created for the world, and he cheerfully replied, "Oh, none. Zero. But they pay me a lot of money to do it!"
2. Health care
If finance is big, health care is gargantuan. The health-care sector takes up nearly one-fifth of our entire economy — far more than in other countries — and this share is climbing fast, as costs continue to rise. But despite this orgy of spending, we have little to show in the way of actual health. Our health outcomes are substantially worse than countries that spend half as much per person.
And things are headed downhill. Even as productivity has climbed strongly in most American industries, it has fallen in health care. More and more people are being hired by the industry, but the average amount they produce is going down and down. So whether you measure the value of our health-care industry in terms of how healthy we are or how much people are willing to pay, the picture is not bright.
There is a long list of reasons why health care might not be earning its keep. The industry is probably the most highly regulated in the country. And about half of health-care spending is done directly through the government (though there are good reasons to believe that private-sector spending is even less efficient!). Finally, economists have long known that health-care markets are riddled with information problems that make it hard for people to know whether they're getting what they pay for.
3. Education
Finally, we have the education sector, which at 5.7 percent of GDP is also a big deal. Even as college tuition, already sky-high, continues to drift upward, many economists question whether college is worth what we pay for it. Does college really train students with the skills and life experiences they need to be productive? Or is it just a hideously expensive way of proving to potential employers that you're smart and hard-working? I've often defended college from its detractors, but the jury is still out. And if college's value is controversial, K-12 schooling is even more so.
Together, just these three industries — finance, health care, and education — represent almost a third of America's economy. Obviously, we need all of them in some form: Without a finance industry, businesses couldn't launch or expand; without a health-care industry, we'd live horrible lives; and without education, we'd be unsuited for modern work. But the question is whether these industries, as a whole, create enough value to justify the huge amounts we spend on them. Because if they don't, then every American who works in finance or health care or education has to wonder whether his or her job is a "BS job." And though I've singled out these three because of their size, many smaller industries are likely to have similar issues.
Our jobs are probably not make-work handed to us by crafty overlords. But they may be something more insidious — an elaborate kind of wealth redistribution system, masquerading as value-creating economic activity, sustained and powered by all the economy's loopholes and flaws that Econ 101 barely mentions. If that's the case, then we really ought to ask ourselves: Why are we working so hard, instead of collecting checks to sit on a beach?

Continue reading for free
We hope you're enjoying The Week's refreshingly open-minded journalism.
Subscribed to The Week? Register your account with the same email as your subscription.