How the owners of all 30 NBA teams made their money
Who is "The Most Interesting Owner in the World"?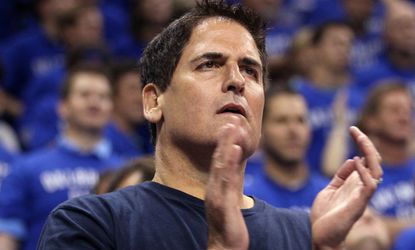 (Image credit: (Christian Petersen/Getty Images))
Sign up to our 10 Things You Need to Know Today newsletter
A free daily digest of the biggest news stories of the day - and the best features from our website
Thank you for signing up to TheWeek. You will receive a verification email shortly.
There was a problem. Please refresh the page and try again.
With NBA action back in full swing, you've probably added "own a professional basketball team" to your list of goals. Here's how the league's current owners earned the cash to make it happen.
1. ATLANTA HAWKSBRUCE LEVENSON, MICHAEL GEARON JR.
Owner since: 2004
Subscribe to The Week
Escape your echo chamber. Get the facts behind the news, plus analysis from multiple perspectives.
SUBSCRIBE & SAVE
Sign up for The Week's Free Newsletters
From our morning news briefing to a weekly Good News Newsletter, get the best of The Week delivered directly to your inbox.
From our morning news briefing to a weekly Good News Newsletter, get the best of The Week delivered directly to your inbox.
The numbers: Forbes estimates the Hawks are worth $316 million, which makes them the third-to-least valuable franchise in the NBA.
Group ownership: Bruce Levenson and Michael Gearon Jr. are the majority partners of Atlanta Spirit Group, a consortium of seven businessmen who own the Atlanta Hawks and operate Phillips Arena (where they play). The original purchase in 2004 included the Atlanta Thrashers, but they sold off the hockey team in 2011 and the new ownership moved the team to Winnipeg.
How they got rich: Levenson co-founded United Communications Group (UCG), a business information corporation, in 1977. Gearon started a telecommunications company when he was 25 and sold it to American Tower, a builder and operator of communications towers, five years later.
2. BOSTON CELTICSBOSTON BASKETBALL PARTNERS L.L.C. (WYCLIFFE GROUSBECK, CEO)
Owners since: 2003
The numbers: Purchased for $360 million in 2003, the Celtics are now worth an estimated $730 million. Seems like a good investment until you realize that they assume partial responsibility for the 1996 Dan Aykroyd vehicle Celtic Pride.
What's in a name?: When the investment group was formed, Grousbeck named it "Banner 17 LLC," symbolizing the quest for the Celtic's 17th NBA Championship. When that moment came in 2008, new business cards were needed.
How he got rich: Grousbeck was a partner at a successful venture capital firm where he specialized in medical technology and health care services.
3. BROOKLYN NETSMIKHAIL PROKHOROV
Owner since: 2010
The numbers: The Nets are worth an estimated $530 million, but operated at a considerable loss of $16 million last year (moving from New Jersey to New York will do that).
The Most Interesting Owner in the World: A shortlist of Prokhorov's quirks and accomplishments:
-In 2012, he ran for president of Russia against Vladimir Putin. He garnered less than 10 percent of the vote.
-He stands 6'8", making him the tallest owner in the NBA.
-One of his favorite hobbies is performing jet ski tricks (check YouTube, there's proof).
-He heads the Russian Biathlon Union.
How he got rich: Nickel mines. Prokhorov bought up "reduced price" shares of the Norilsk Nickel company during Russia's privatization spree after the fall of the Soviet Union. In 2007, when he left the company, his shares were estimated to be worth $7.5 billion. Combined with his other mining ventures, the oligarch is worth about $13 billion.
4. CHARLOTTE BOBCATSMICHAEL JORDAN
Owner since: 2010
The numbers: The Bobcats are worth around $315 million, making them the second-to-least valuable NBA franchise. Michael Jordan and his investment group paid an estimated $175 million in 2010 to achieve majority ownership.
Name change: In 2014, the Bobcats will change their name to the Hornets, restoring basketball order after the team and its name were moved to New Orleans in 2002.
How he got rich: Jordan is worth an estimated $650 million. His shoe brand controls over 50 percent of the basketball market and he maintains lucrative partnerships with Gatorade, Hanes, 2K Sports, and others. He also made a little bit of money playing basketball, a sport few fans are aware the famous baseball player tried his hand at.
5. CHICAGO BULLSJERRY REINSDORF
Owner since: 1985
The numbers: The Bulls are worth $800 million, making them the third-most valuable team in the league.
Packed houses: The team plays in the NBA's largest arena and boast more sellouts than any other team in the league.
How he got rich: Reinsdorf started his career as a tax attorney. He went on to specialize in real estate tax shelters and investments in properties that were under construction. In 1981, he bought the Chicago White Sox and followed that by purchasing the then-financially struggling Bulls in 1985. The next year the team drafted the owner listed directly above and the rest is history.
6. CLEVELAND CAVALIERSDAN GILBERT
Owner since: 2005
The numbers: The Cavaliers are worth $434 million according to Forbes, which is enough to put them right in the middle of the NBA money list at 15.
Tantrum: After LeBron James famously spurned the Cavs in 2010, Gilbert lashed out with an open letter, written late-night in Comic Sans and posted to the team's website. In addition, Fathead, a company Gilbert owns that produces life-sized stickers, slashed the price of their LeBron Fathead to $17.41, the year of Benedict Arnold's birth. What a deal!
How he got rich: Gilbert founded Quicken Loans Inc., the country's largest online mortgage lender. He also helms Rock Gaming, a casino operator that has begun to profit on downtown Cleveland's new gaming eligibility.
7. DALLAS MAVERICKSMARK CUBAN
Owner since: 2000
The numbers: After buying the Mavericks from H. Ross Perot in 2000 for $280 million, the team is currently estimated to be worth $685 million.
NBA's extra income source: Cuban is notoriously outspoken and has been known to go on tirades against NBA management, referees, and even opposing players. All these outbursts have resulted in a total of $1,840,000 in fines paid to the association.
How he got rich: In 1995, Cuban started a small Internet radio company that eventually became Broadcast.com. He sold this venture to Yahoo! for almost $6 billion at the most opportune time — right before the dot com crash. He has now diversified his ventures and owns various entertainment businesses. According to Forbes, his net worth stands at $2.5 billion.
8. DENVER NUGGETSSTAN KROENKE
Owner since: 2000
The numbers: The Nuggets are worth $427 million, coming in at the number 19 spot in the NBA.
Other notable holdings: Kroenke heads Kroenke Sports Enterprises, which owns or holds considerable shares of the Colorado Avalanche, Colorado Rapids, and St. Louis Rams.
How he got rich: As noted in our NFL Owners List, Kroenke is a real estate magnate who runs developments around the country, many of which are anchored by Wal-Mart locations. (His wife, Anna Walton Kroenke, is the daughter of Bud Walton, co-founder with his brother Sam of Wal-Mart).
9. DETROIT PISTONSTOM GORES
Owner since: 2011
The numbers: The Pistons are worth $400 million, which Gores hopes to increase by updating the Palace of Auburn Hills (which he also purchased in 2011).
How he got rich: Born in Nazareth, Israel, Gores moved to Michigan when he was four years old. He is now is based in Beverly Hills and owns Platinum Equity LLC, a private equity firm. He is worth an estimated $2.5 billion.
10. GOLDEN STATE WARRIORSPETER GUBER, JOE LACOB
Owner since: 2010
On the move?: The Warriors hope to move out of Oakland and into a yet-to-be-built arena located in San Francisco near the Bay Bridge.
How he got rich: Lacob is a venture capitalist and Guber is the CEO of film production company Mandalay Entertainment.
11. HOUSTON ROCKETSLESLIE ALEXANDER
Owner since: 1993
The numbers: The Houston Rockets are valued at $568 million, landing them seventh on the NBA's rich list.
Beginner's luck: After purchasing the team in 1993, Alexander's Rockets won their first title. Their WNBA equivalent, the Houston Comets, won the title in 1997 — Alexander's first year as their owner.
How he got rich: Alexander made his fortune trading stocks and corporate bonds. He currently owns and runs a Hamptons vineyard and wine club that requires a $50,000 initiation fee (which buys a lot of Bartles & Jaymes).
12. INDIANA PACERSHERBERT SIMON
Owner since: 1983
The numbers: The Pacers, who Simon bought for $10 million in 1983, are now worth $383 million.
How he got rich: Simon is the chairman of the Simon Property Group, a shopping mall development corporation. He also own Kirkus Reviews, a bi-monthly book review publication. His net worth is estimated to be around $2 billion.
13. LOS ANGELES CLIPPERSDONALD STERLING
The numbers: The Clippers are worth $430 million, less than half as much as their LA rivals, the Lakers.
Ugly legal battles: Sterling has been accused of racially-biased discrimination at some of his California real estate developments and is embroiled in a court battle over these alleged practices. He was also sued by NBA legend and former Clippers General Manager Elgin Baylor for underpayment due to racial discrimination.
How he got rich: Sterling began his career as a divorce lawyer but soon moved on to real estate ownership and investment. He used part of his fortune to buy the San Diego clippers for $12 million in 1981 and moved them to Los Angeles, bringing that famous San Diego sports luck with them.
14. LOS ANGELES LAKERSJIM AND JEANIE BUSS (ALONG WITH A FAMILY TRUST)
Owner since: 1979
The numbers: The Lakers are worth $1 billion, a number that will soon see an increase due to a multi-billion cable TV deal.
The old guard: The Buss family are the longest-tenured owners in the NBA. After patriarch Jerry's death earlier this year, a six-family member trust was assigned to take control and ownership of the team.
How they got rich: Jerry Buss studied to be a chemist, and worked in mining safety as well as aeronautics. He taught chemistry at USC and got involved with real estate to help supplement his income. He proved to be such a successful investor that he started doing it full-time — you can't buy the Lakers on a teacher's salary.
15. MEMPHIS GRIZZLIESROBERT J. PERA
Owner since: 2012
The numbers: The Grizzlies are worth $377 million, according to Forbes' evaluation.
Young'n: At 35, Robert Pera is the youngest franchise owner in the NBA. Tayshaun Prince and Keyon Dooling — the Grizzlies' oldest players — are only two years younger than Pera.
How he got rich: Pera worked as an engineer at Apple before starting his own company, Ubiquiti Networks. The company specializes in providing wireless networks to emerging and developing nations. He is worth a little under $2 billion and is one of the youngest billionaires in the world.
16. MIAMI HEATMICKY ARISON
Owner since: 1995
The numbers: The Heat are the NBA's sixth-most valuable franchise and are worth $625 million.
How he got rich: Arison is the son of Ted Arison, co-founder of Carnival Cruise Lines. Micky worked as the corporation's CEO since 1979 before being replaced this June. Did he step down because of the hit the company took after their infamous "poop cruise" in February? This insider info is unknown, but it's really fun to write "poop cruise."
Arison's net worth is estimated to be around $5.9 billion.
17. MILWAUKEE BUCKSHERB KOHL
Owner since: 1985
The numbers: Worth $312 million, the Bucks are the NBA's least-valuable team. They have a cool mascot, though, and that's priceless.
Politics: Herb Kohl served as a U.S. senator starting in 1989. He didn't seek reelection in 2012 and left the halting quagmire that is Congress in order to watch the halting quagmire that is the Bucks' offense.
How he got rich: Kohl was a stock trader and real estate investor before starting Kohl Investments, a venture that owns various stores and groceries, as well as the department store giant Kohl's.
18. MINNESOTA TIMBERWOLVESGLEN TAYLOR
Owner since: 1995
The numbers: The Wolves' worth is estimated to be around $364 million.
Politics, again: Like Herb Kohl, Taylor spent time as a politician. He was a state senator in Minnesota throughout the '80s.
How he got rich: Taylor bought Carlson Wedding Service — a company he worked for — in 1975. He renamed it "Taylor Corp" and turned the wedding supplier into a commercial printing, marketing, and graphics communications venture. He is worth an estimated $1.7 billion.
19. NEW ORLEANS PELICANSTOM BENSON
Owner since: 2012
The numbers: The Pelicans are estimated to be worth $340 million.
Other properties: Benson also owns the New Orleans Saints, a team whose name isn't quite as stately or weighted with significance as "Pelicans."
How he got rich: As stated in our NFL owners list, Benson runs multiple car dealerships in the New Orleans and San Antonio areas. He also invested in and purchased local banks to form Benson Financial, a company he eventually sold for $440 million.
20. NEW YORK KNICKSJAMES DOLAN
Owner since: 1997
The numbers: Valued at $1.1 billion, the Knicks are the most valuable franchise in the league. Keep in mind that "value" is used purely in the monetary sense here — winning, teamwork, or the willingness to play any semblance of defense are completely unrelated.
Music man: Dolan's first passion is music, and his blues band "JD and the Straight Shot" are going on tour with the Eagles this month. Good idea to get out of New York for the Knicks' slow start.
How he got rich: The son of Charles Dolan, James inherited control of cable television giant Cablevision and is also the executive chairman of The Madison Square Garden Company.
21. OKLAHOMA CITY THUNDERPROFESSIONAL BASKETBALL CLUB LLC (CLAYTON BENNETT, CHAIRMAN)
Owner since: 2006
The numbers: The Oklahoma City Thunder are worth $475 million, and are estimated to have made $30 million in profits last year. They are the 12th richest team in the NBA by Forbes' estimation, making them the ultimate "small market" success story.
Goodbye, Seattle: Feeling good after hearing about the little team that could? If you are from Seattle, that warm and fuzzy feeling is anger-vomit creeping up. In 2006, Bennett and Professional Basketball Club LLC, the ownership group he chairs, bought the Seattle Supersonics and assured fans they would not be moved. Two years later, they were playing ball in OKC.
How he got rich: Clay Bennett is the chairman of the Oklahoma City-based investment firm Dorchester Capital Corp. Other members of the Thunder's ownership group include Aubrey McClendon (chairman of Chesapeake Energy), Tom L. Ward (CEO of SandRidge Energy and a Chesapeake Energy co-founder), Everett R. Dobson (CEO of Dobson Technologies, a fiber optic and data storage business), and four others.
22. ORLANDO MAGICRDV SPORTS, INC. (RICHARD DEVOS, CHAIRMAN)
Owner since: 1991
Ambitious plans: In an interview in The Grand Rapids Press, DeVos stated that one of his goals was "to reform the Christian Reformed Church." That's a lot of reforming.
How he got rich: DeVos co-founded Amway in 1959, a company that sells products directly and through a series of independent businessmen and women who are free to recruit and train salespeople of their own.
23. PHILADELPHIA 76ERSADAM ARON (CEO OF THE 76ERS' OWNERSHIP GROUP)
Owner since: 2011
The numbers: The Sixers are estimated to be worth $418 million.
Big Willy Style: Will Smith and Jada Pinkett Smith are investors in the team. This investment marks Smith's first time on a basketball court in Philadelphia since he got in one little fight while shooting some b-ball outside of the school, frightening his mother, and prompting her to send him to Bel Air, California to live with his aunt and uncle.
How he got rich: From 1996 to 2006, Aron was the CEO of Vail Resorts, the lucrative ski destination.
24. PHOENIX SUNSROBERT SARVER
Owner since: 2004
The numbers: Forbes estimates the Suns are worth $474 million.
How he got rich: Sarver is the son of a prominent Tuscon businessman Jack Sarver. Robert Sarver has started, sold, acquired, and headed various banks in the southwest, including National Bank of Arizona, Western Alliance Bancorporation, and California Bank and Trust.
25. PORTLAND TRAIL BLAZERSPAUL ALLEN
Owner since: 1988
The numbers: The Trail Blazers are worth an estimated $457 million.
Other notable holdings: Allen also owns the NFL's Seattle Seahawks and the Seattle Sounders of the MLS. If you like watching professional sporting events in the rain, Paul Allen has you covered.
How he got rich: In 1975, Allen founded Microsoft with Bill Gates. He is now worth around $15 billion, making him the NBA's richest owner.
26. SACRAMENTO KINGSVIVEK RANADIVÉ
Owner since: 2013
The numbers: The Kings are estimated to be worth $525 million and are ranked 11th in Forbes' NBA money list.
Close call: The Kings were nearly sold by their previous owners, The Maloof family, and relocated to Seattle before Ranadivé and his ownership group swooped in and bought the team. Kevin Johnson, the mayor of Sacramento and a former NBA point guard, was also instrumental in making sure the team stayed put.
How he got rich: Born in India and trained at MIT and Harvard, Ranadivé is a technology pioneer who helped take pencils, papers, and runners out of Wall Street trading and replaced them with computers in the 1980s. He is now the CEO of TIBCO, a real-time software company specializing in sports news and statistics.
27. SAN ANTONIO SPURSPETER HOLT
Owner since: 1993
The numbers: The Spurs are the ninth wealthiest team in the league — their net worth is estimated to be $527 million.
How he got rich: Holt is the great-grandson of Benjamin Holt, inventor of one of the first types of tractors. The company he started eventually merged with another manufacturer to form Caterpillar. Peter Holt owns the largest CAT dealership in America.
28. TORONTO RAPTORSMAPLE LEAF SPORTS & ENTERTAINMENT (TIMOTHY LIEWEKE, CEO)
Owner since: 1998
The numbers: The Raptors are worth $405 million, or if you want to be more impressive, over 421 million Canadian dollars.
Other ventures: Other than the Raptors, Maple Leaf Sports & Entertainment group owns the Toronto Maple Leafs, Toronto FC of the MLS, and the Toronto Marlies of the American Hockey League.
How he got rich: Leiweke is the former CEO of the Anschutz Entertainment Group, a consortium that owned the L.A. Kings, Galaxy, and a portion of the Lakers. They also run much of Downtown Los Angeles' entertainment properties, as well as various stadia in the U.S. and around the world.
29. UTAH JAZZLARRY H. MILLER SPORTS & ENTERTAINMENT, JAZZ BASKETBALL INVESTORS, INC. (GREG MILLER, CEO)
Owner since: 1985
The numbers: Purchased in 1985 for $24 million, the Jazz are now worth $432 million.
How he got rich: Miller's father, Larry, was a prominent Salt Lake City businessman who owned movie theaters, entertainment complexes, dozens of automotive dealerships, and a television station. He died due to complications with diabetes in 2009 and passed along control of the team to his son Greg.
30. WASHINGTON WIZARDSTED LEONSIS
Owner since: 2010
The numbers: The Wizards are worth $551 million, nearly enough coin to sign five Gilbert-Arenas-caliber free agents.
Other ventures: Leonsis is also the majority owner of the Washington Capitals and the WNBA's Washington Mystics. All three teams play in the Verizon Center, a property he also owns.
How he got rich: Leonsis sold his marketing company Redgate Communications to America Online in 1993 and served as an executive there until 2006. He is also the chairman of the board of directors at Groupon.
All images courtesy of Getty.
More from Mental Floss...
Continue reading for free
We hope you're enjoying The Week's refreshingly open-minded journalism.
Subscribed to The Week? Register your account with the same email as your subscription.