The NFL's latest indignity: Victim-blaming Jonathan Martin
Telling Martin to "man up" is a horrible response to a serious problem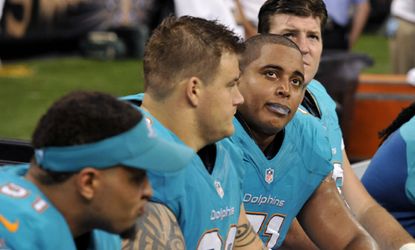 (Image credit: (AP Photo/Bill Feig))
Has this ever happened to you? You show up for your first day at a new job and a co-worker demeans you with a racist slur, threatens your family, demands part of your paycheck to finance his own trip to Vegas, and says he's going to defecate on your face.
You complain to an HR rep who chuckles and says that it's just part of the office culture, a rite of passage, and that you should quit complaining and do your job like an adult.
No? Then you probably don't work for the NFL.
Subscribe to The Week
Escape your echo chamber. Get the facts behind the news, plus analysis from multiple perspectives.
SUBSCRIBE & SAVE
Sign up for The Week's Free Newsletters
From our morning news briefing to a weekly Good News Newsletter, get the best of The Week delivered directly to your inbox.
From our morning news briefing to a weekly Good News Newsletter, get the best of The Week delivered directly to your inbox.
The Miami Dolphins suspended guard Richie Incognito this week for allegedly bullying teammate Jonathan Martin so extensively that Martin suffered an emotional breakdown and left the team. While the initial reaction to the story was almost uniformly critical of Incognito — he's been called at best a jerk, at worst a sadistic racist — some in football circles are now downplaying his sins.
The Incognito defense has two interconnected parts. First, the logic goes, hazing is totally normal in football, so Incognito is not a bully, but merely an overenthusiastic hazer who went a bit too far. And second, Martin is at fault here, too, because he wasn't tough enough to defend himself and hence should probably go play soccer.
The latter point is the more problematic of the two because it's tantamount to victim-blaming, suggesting that Martin should have manned up and stood up to an oaf like Incognito. Here's Giants safety Antrel Rolle on that point:
Others have made the same argument, adding that Martin should have at least dealt with the issue in-house. They say that bringing the problem to the NFL and letting it spill out in public only made the abuse look worse than it actually was, and exposed Martin as a crybaby.
"Things are handled in [the locker room] and said in there that shouldn't be brought out to the media," former lineman Tony Siragusa said, "because the media, and really the real world, can't handle a lot of those things and things that happen in that locker room."
"There's no room to play the victim or to be bullied or to even have that discussion when it comes to the NFL," former player Ricky Williams agreed. "If you're having that discussion it means that maybe you don't belong in the NFL."
(Sports Illustrated's Jim Trotter rounded up some more eye-opening quotes from around the league.)
Pretty much every workplace has loudmouths, jerks, and people who are the quintessential that guy. Except while most offices use trust falls and happy hours and weekend retreats in the Catskills to build a sense of team, football encourages pranks and harassment.
That mentality fits right in with the sport itself, where players are extolled for their on-field toughness and rewarded for laying out the opposition with a crushing hit. It's a sport where a team offered cash bounties to its players for deliberately injuring opponents.
In this case, the Dolphins coaches reportedly asked Incognito to "toughen up" Martin. Meaning, the pro-hazing mentality is institutionalized, endorsed from the top down.
That doesn't, however, mean Martin did anything wrong in complaining about the abuse. There's a huge difference between shaving someone's hair into a penis-shaped Mohawk and calling him a "half-nigger" and threatening his family.
That kind of behavior in any other workplace would result in immediate termination, if not a lawsuit. That Incognito and Martin are football players shouldn't alter that one bit.

Continue reading for free
We hope you're enjoying The Week's refreshingly open-minded journalism.
Subscribed to The Week? Register your account with the same email as your subscription.